Making VOIP calls from Salesmate just got easier!
Salesmate now gives you an ability to customize which app you would like to make calls from, making it possible to set up Skype calls or SMS, calls with Lync, call via Google voice and many SIP-based phone systems.
Note: User with administrator profile can do this.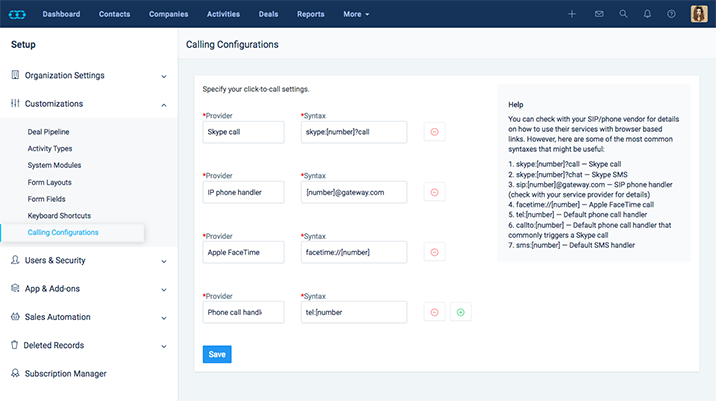 To setup the calling configuration:
Go to Setup >> Customizations >> Calling configurations
You can setup multiple click-to-call options from page
Each click to call option will require following fields
Provider label, which will be shown at the time of initiating calls from the screen.
Syntax, which will be used by Salesmate to call protocols which will be listened by the browser or installed apps.
Hit save to store all those options. After this, if you will hit on any phone numbers or mobile number in the system then it will give you the option to select your calling choice.
You can check with your SIP/phone vendor for details on how to use their services with browser based links. However, here are some of the most common syntaxes that might be useful:

skype:[number]?call — Skype call
skype:[number]?chat — Skype SMS
sip:[number]@gateway.com — SIP phone handler (check with your service provider for details)
facetime://[number] — Apple FaceTime call
tel:[number] — Default phone call handler
callto:[number] — Default phone call handler that commonly triggers a Skype call
sms:[number] — Default SMS handler