Sales Rep's needs to perform various activities in order to close a Deal during its final stages. Whenever a Deal has been closed and marked as Won there are sets of actions that are needed to be performed by different verticals of employees.
Remembering and executing these Activities manually is a tedious task, hence Salesmate has come up with the possibility to have an activity triggered when a deal is marked 'Won' using Salesmate Workflows.
Here is an Article and steps to help you through the process of setting up your workflow once the status of the deal is changed to WON:
Click on your Profile Icon at the top right corner of your screen
Go to Setup
Sales Automation >>Workflow Management
Add a Workflow - Create a "New Rule"
Workflow :
1. Basic Information
Module: Deal
Rule Name: Create Activity when a Deal is marked as WON ( You can provide any rule name, which helps you to understand flow)
Rule Description: Create Activity when a Deal status is changed to WON (Any description, which helps you to understand your flow afterward)
Click Next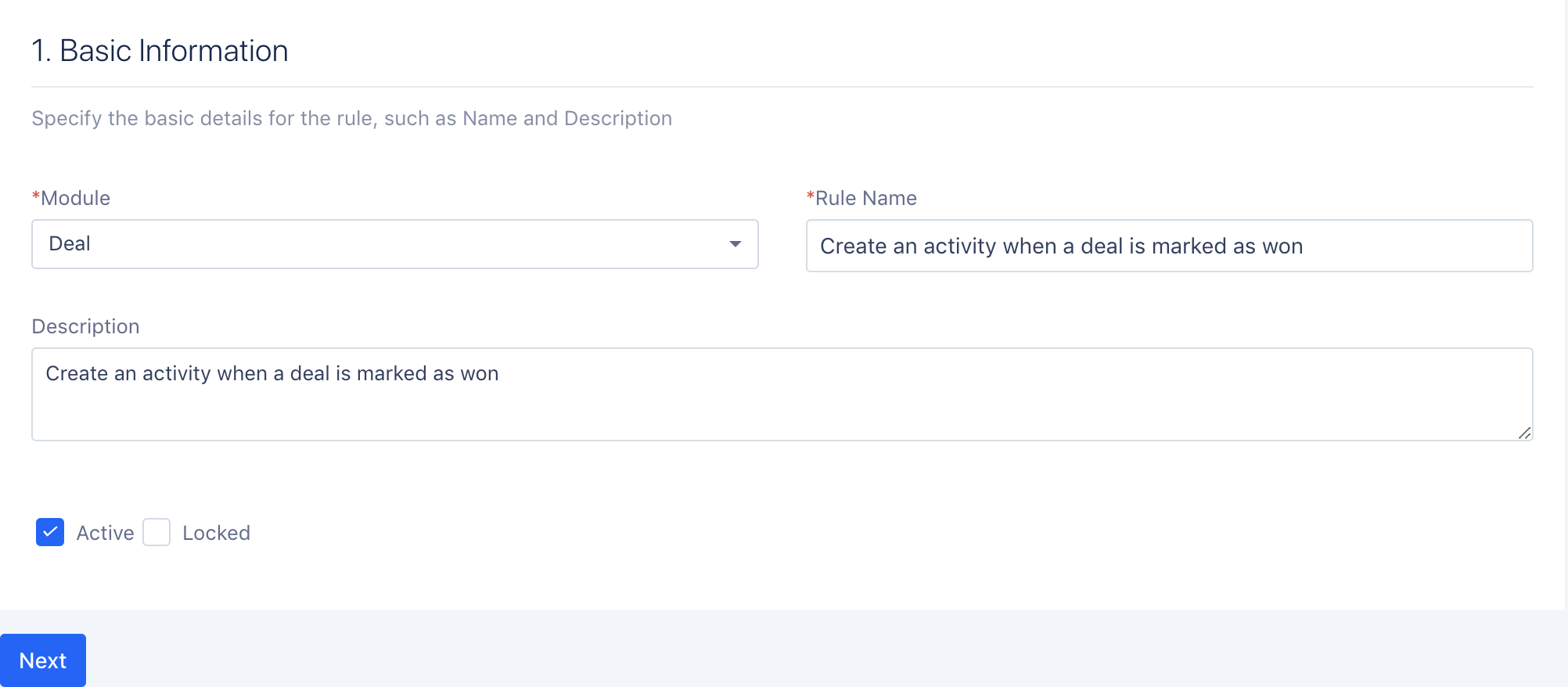 2. Executes On
Action: Field Update (Choose an action based on which the rule will be executed)
Executes the Workflow Rule when the specified field(s) are updated.
You will get an option "From" and "To" please select your choices
Select field: Status from Any to WON
Click NEXT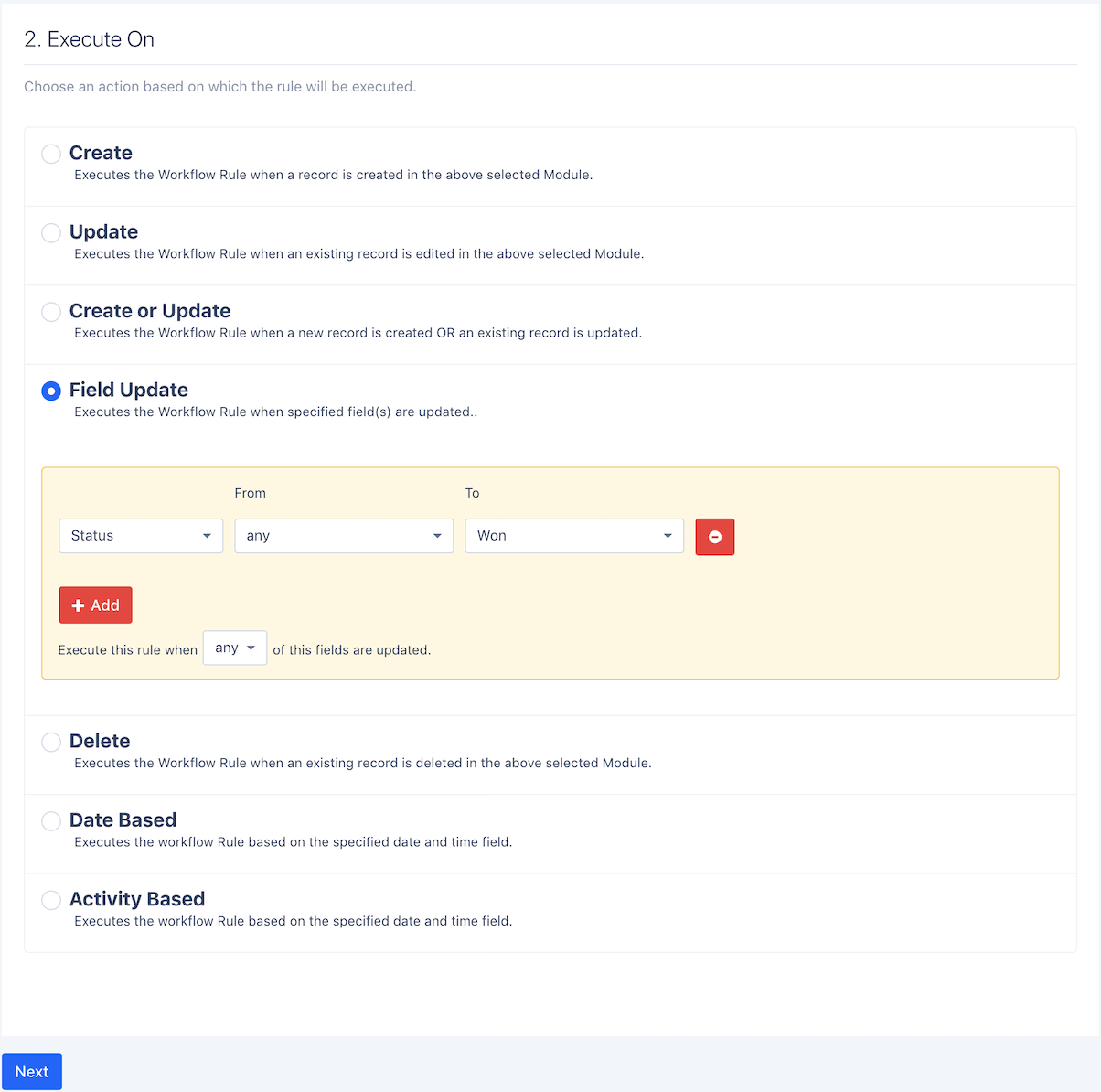 3. Rule Criteria
Do not place any conditions in case if you want to execute the workflow for the field update
Click Next

4. Actions
Assign Activity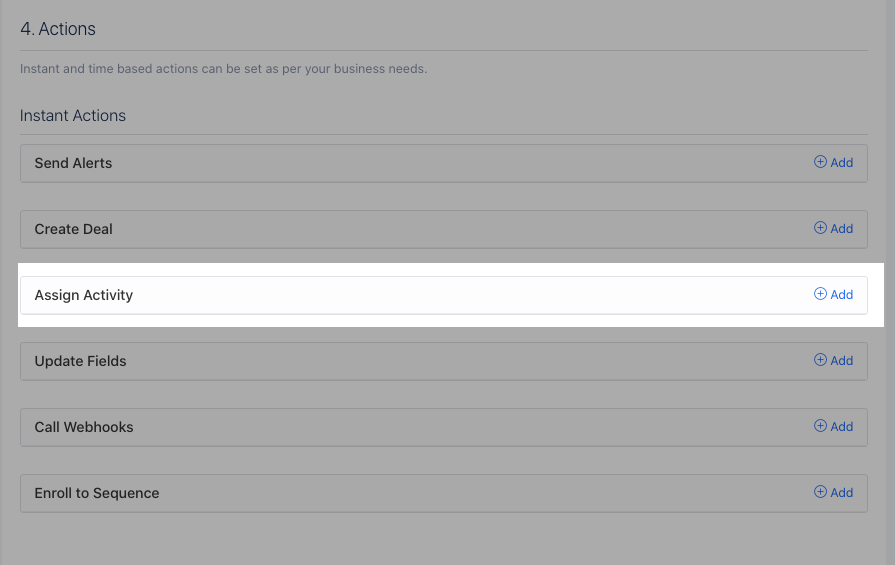 Type: Choose the "Type" of Activity you would like to create - Call, Task, Meeting, Appointment, Reminder, Etc.
Title: Provide a suitable "Title" for the Activity that would be created after a workflow execution
Due date:
WFRule Trigger Date (Today) plus 0 means that the activity will be due today itself
Estimated Close Date select plus as operator and specify the integer number as the Due date in case of Activity to be performed after a certain period of time.
Note:
Do not select the owner if you want the Deal owner to be the owner of the activity
Trigger today + 2 = Activity will be due for after 2 days when a stage is updated.
If you select plus 0, then it will be assigned right away and marked to be completed on the same date.
If you add 2, it will be assigned right away and marked to completed in next 2 days.
Tags: It's recommended to add "Tags" to your Activities to identify if they have been executed from a particular workflow ( this will help you to Filter your Activities at a later stage)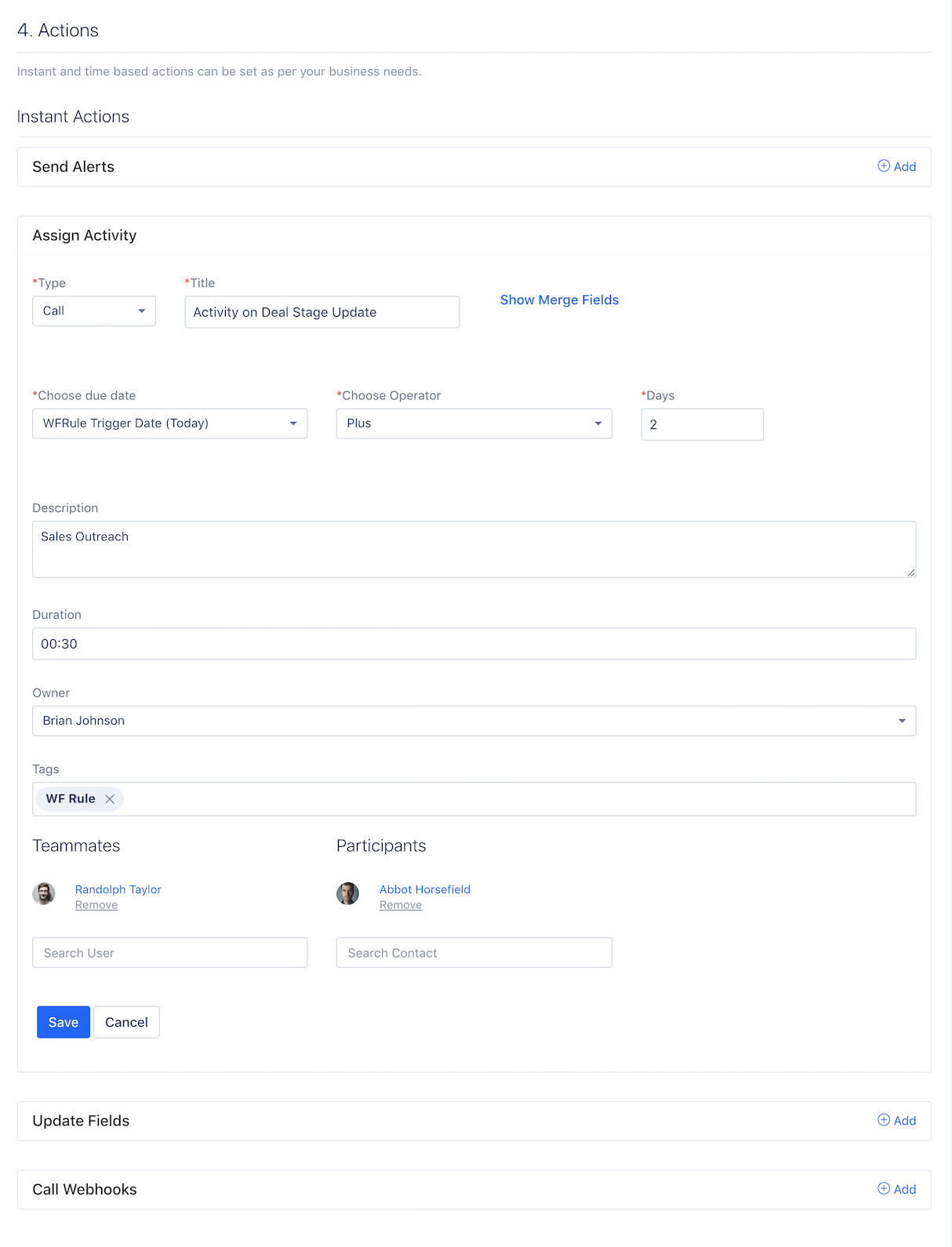 Other Information:
Add teammates, participants, and activity descriptions as per your requirement
Select owner if you want to assign it to a particular user, in case you have more members in your team, to whom you want to assign it
If the owner field is left blank, the task is assigned to the user who has updated the deal stage
Specify the duration of the activity if required, else you can leave it blank
Add Description if you want to explain the Activity to the user in Detail
Save and Associate