Out of the 80+ different countries for which you can buy phone numbers in Salesmate, 17 of them require a valid address proof from you. When you try buying phone numbers for these countries, a pop up to fill in your address appears.
Ensure that you fill in all the mandatory fields.
Fill in a valid address with proper format, most importantly ensure the pin code is a valid one.
Click Purchase Number
If you enter an invalid address, an error message is displayed.
All your address fields need to be in English, even though your address is in a different language.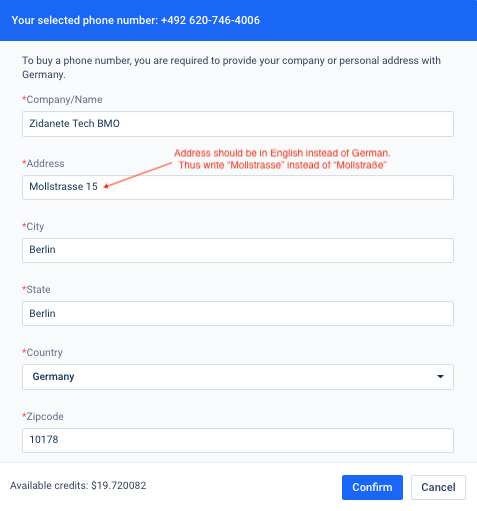 Below is the list of countries which require a local address as proof to purchase local numbers:
Countries
1.  Australia
2.  Belgium
3.  Bulgaria
4.  Czech Republic
5.  Finland
6.  Germany
7.  Hong Kong
8.  Itlay
9.  Latvia
10. Luxembourg
11. Mexico
12. Romania
13. Slovakia
14. South Africa
15. Spain
16. Sweden
17. Switzerland