Salesmate allows you to choose when and how you'd like to answer your calls - in your browser or via your mobile device. This gives your sales reps the flexibility to take calls at ease - when they are away from their browser, they can answer calls on their mobile.
To change your availability to answer calls :
Click on the

Phone Icon

followed by

Settings.
Toggle the Settings

button to switch between available and unavailable.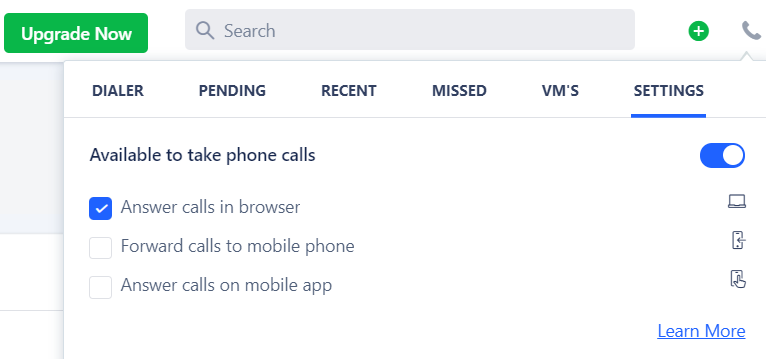 Note:
Salesmate by default forwards calls to your Mobile number under My Account. If you don't have a Mobile number or if that number is incorrect, Salesmate does not log the calls.

The number mentioned on your My Account should be in the proper dialing format and should be prefixed by your own country code. Example : +1-541-754-3010


Note the difference in formatting domestic numbers. In the US, the convention is 1 (area code) extension, while in Germany it is (0 area code)/extension.

If you have set your availability to unavailable and the number is only assigned to you, calls will be logged as a

Missed Call Activity

and you will receive email alerts for the same otherwise it will ring out to the next available person on that number.
To choose how you'd like to answer your calls,
From the phone widget, click the

Phone Icon

followed by

Settings

.

If you choose

Answer calls in the browser -

You can attend all incoming calls directly inside Salesmate when it's open in your web browser.

If you choose

Forward calls to mobile phone -

Salesmate will redirect the incoming calls directly on your linked phone when you are not using Salesmate web app or on the move. You must provide your

Mobile

number under your

My Account > General.

If you select

Answer calls on Mobile App

- You will receive all the calls in your Salesmate Mobile App.

If option number 1 and 3 are turned ON together-

You can attend all incoming calls either in your browser OR your phone at the same call rate.
Note: You will be charged a different call rate to receive calls on the Mobile Phone which is usually higher than the one for attending calls in your Browser.