To send an SMS once a Contact is created or updated with a "Tag" using workflows, follow below-mentioned steps:
Note: This workflow can only be used in the case of an active "Salesmate Voice & Text" feature with a valid Salesmate number enabled for Text Messaging. It will not log the SMS sent out via this method.
Click on your Profile Icon
Click on Setup
Sales Automation
Workflow Management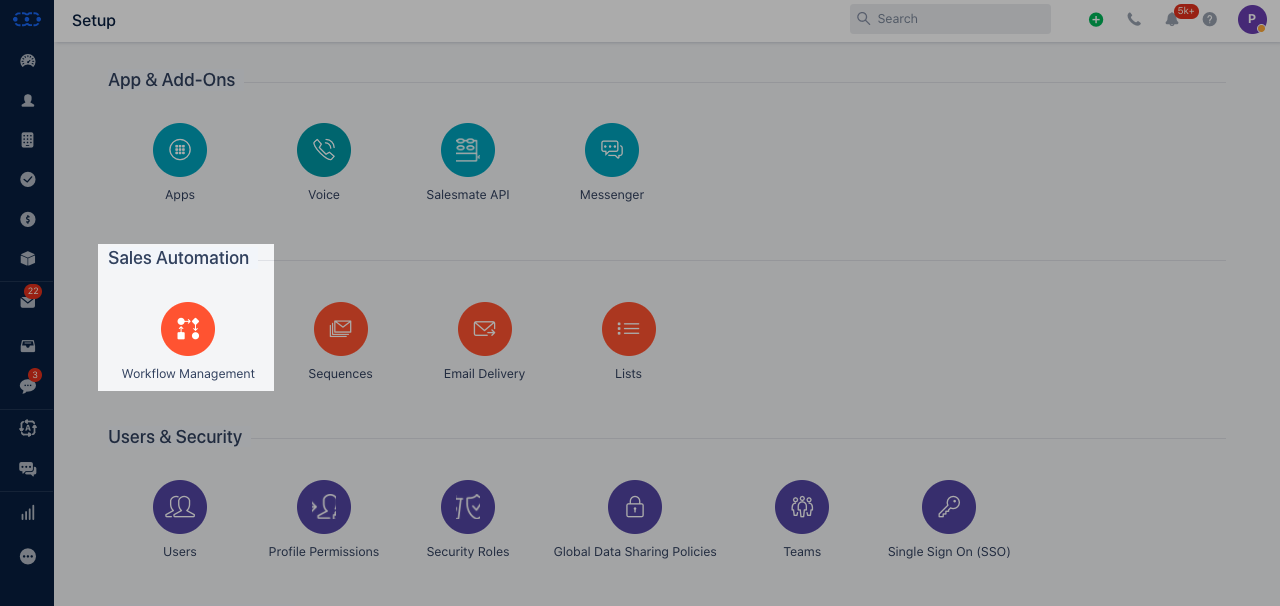 Add a Workflow - Create a "New Rule"

Under Basic Information,
Select Module: Contact
Give it a Name: Send Text
Description: Send text when contact is created or updated with a "Tags" equals to "SMS". Add STOP condition "Tags" not equals to "SMS_Sent" to avoid sending SMS again to the same contact.

Execute On (Choose an action based on which the rule will be executed): Create or Update

Criteria: Add Condition
Tags - equals to - SMS [ checks this tag exists on the contact being created / updated / imported ]
Tags - not equals to - SMS_Sent [ is a STOP tag that prevents the text to be sent again to the same contact ]

Choose Actions:
Call Webhooks
Give the action name: Send SMS
Method: POST
URL To Notify: https://apis.salesmate.io/v1/messages
Headers Tab: Add the key and values as below for your salesmate domain
| | | |
| --- | --- | --- |
| # | key | value |
| 1 | Content-Type | application/json |
| 2 | sessionToken | 817bb2f0-a486-11e7-8d3c-************ |
| 3 | x-linkname | *********.salesmate.io |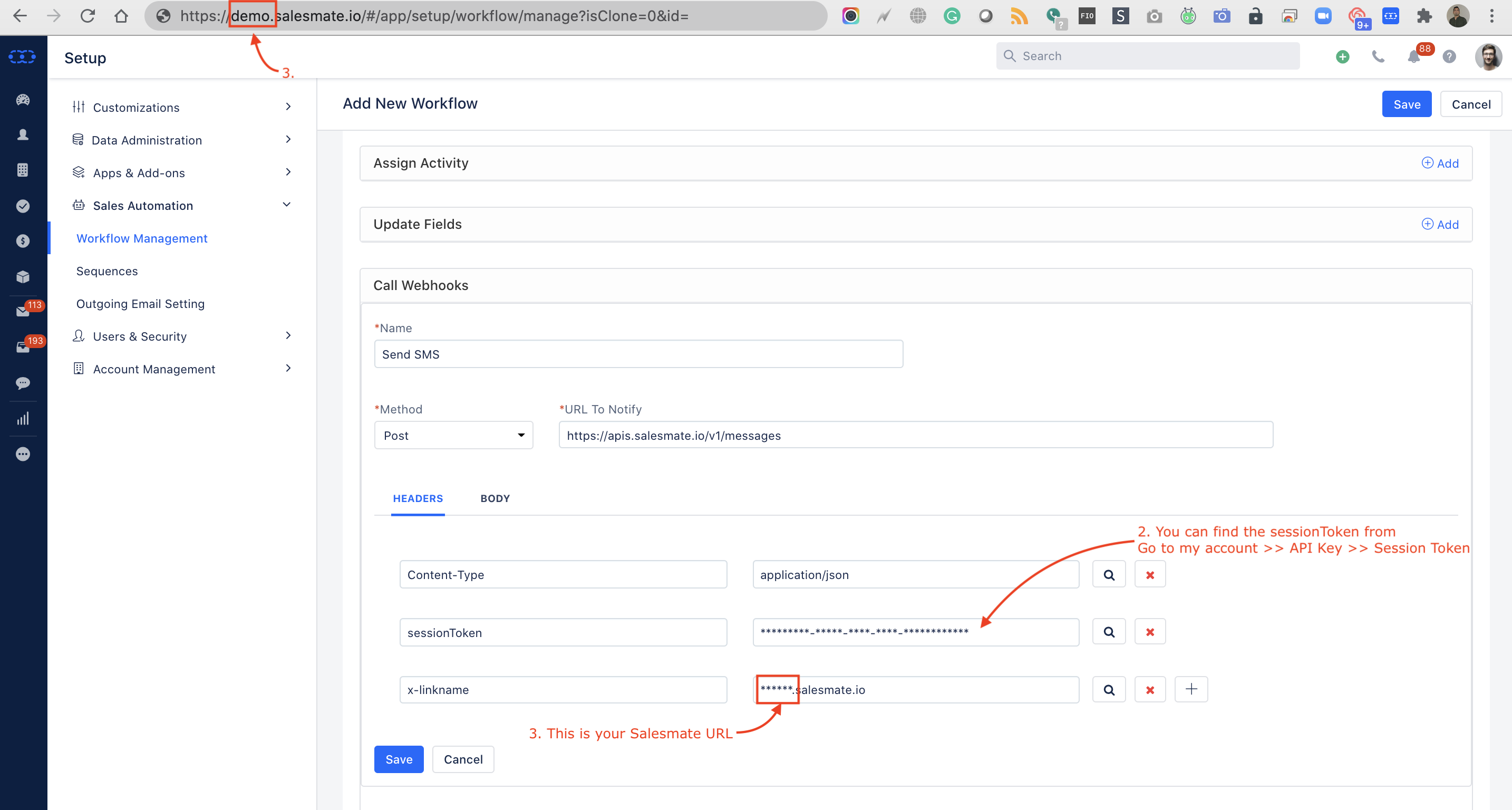 Body Tab: Select option : raw: Json(application/json)
Copy the below content to the body area and change the fields as needed
{
"body": "Sample",
"to": "{{Contact.mobile}}",
"from": "+1704xxxxxx1",
"associatedModuleId": 1,
"associatedObjectId": "{{Contact.id}}"
}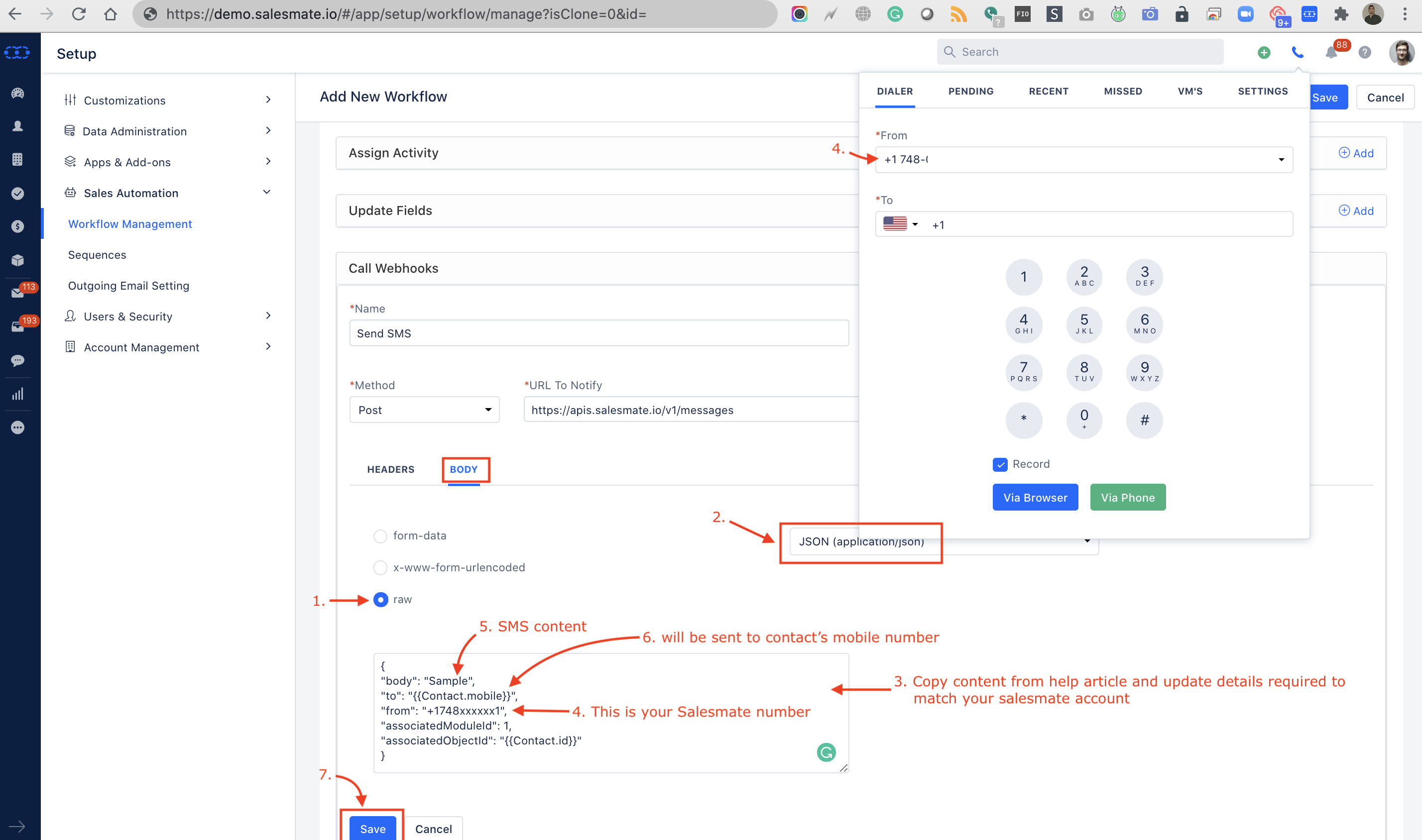 Note : body is the text message you would like to send (In case you want to use a field where you will enter the text message you can use that field variable example: {{Contact.description}} ), to is the number on which you would like to send the message ( Here we have mapped it to Contact's mobile number ), from is your Salesmate number, associatedModuleID is the contact's module ID where the text message will appear on its timeline after being sent, associatedObjectId is the related Salesmate contact to whom the message is being sent
Click Save
Then Click Save button on the top right

Status should be Active - Marked in Blue Colour for the workflow to execute