Salesmate gives you some predefined report options for deals as below. You can also choose to create your own reports based on the Salesmate data source you have connected with.
Our Google Data Studio Template includes predefined reports around:
Contacts

Companies

Activities

Deals
To create your own report,
Open the Salesmate Google Data Studio Template

Copy this Data template and create your own

You will be asked to connect to the data source of your choice from the drop-down menu

On Salesmate Data Source icon

Click Create Data Source

Click Authorize to allow your Google account to use the connector.

Click Authorize again to connect your Salesmate account.

Enter your Salesmate Link name, Session token, Record type to authenticate, and connect your Salesmate account.

Salesmate Link name syntax - abc.salesmate.io (domainname.salesmate.io)
Session Key -

Click on the profile icon top right-hand corner >> Head to "Go to My Account >> Access Key" to locate your Session key.

Record Type - Select either contacts, companies, deals, or activities based on the report you intend to create.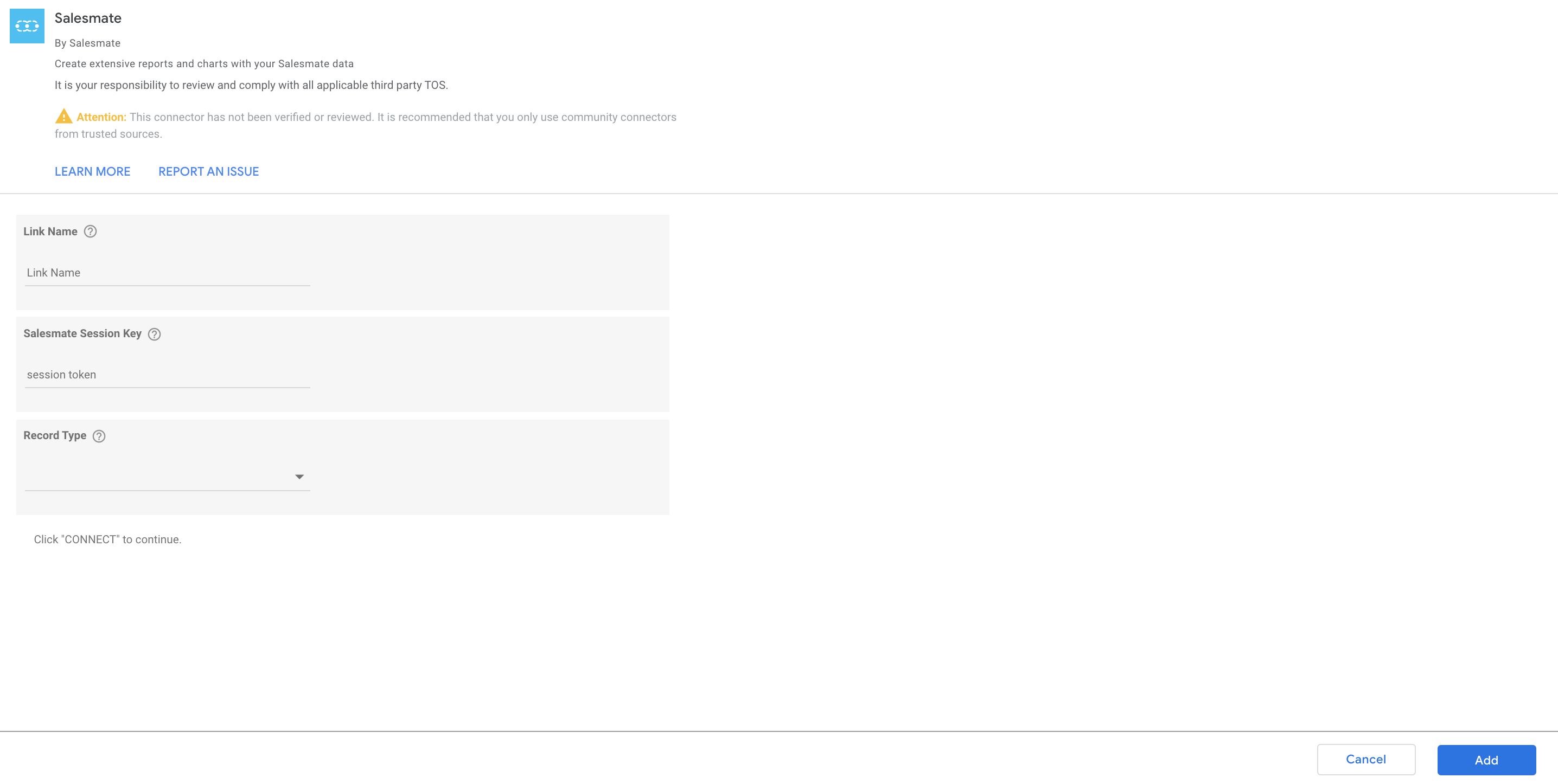 Once connected, you will be presented with a list of fields for the record type selected and add them to the report.


You can then choose any number of fields that are available to use as dimension fields. As well as any number of fields that can be metric fields.

Now on the report, you will the data source that you connected is yours and the report is reflecting your Salesmate data.

You can start creating a report from scratch as well. All you need to do is connect the data source and then configure the fields and add the type of chart you would like to render

For more details reach out to the team on chat support via our website or inside your Salesmate on top right bar hit the ? icon >> Start Chat option.