Action
"Send Email" action can be used to send an email in response to some triggers or in a combination of triggers and conditions.
How to use "Send Email" Action?
Drag and drop the action of 'Send Email' on the journey's canvas.

To configure the action, click on it and the pop up window with show the following options.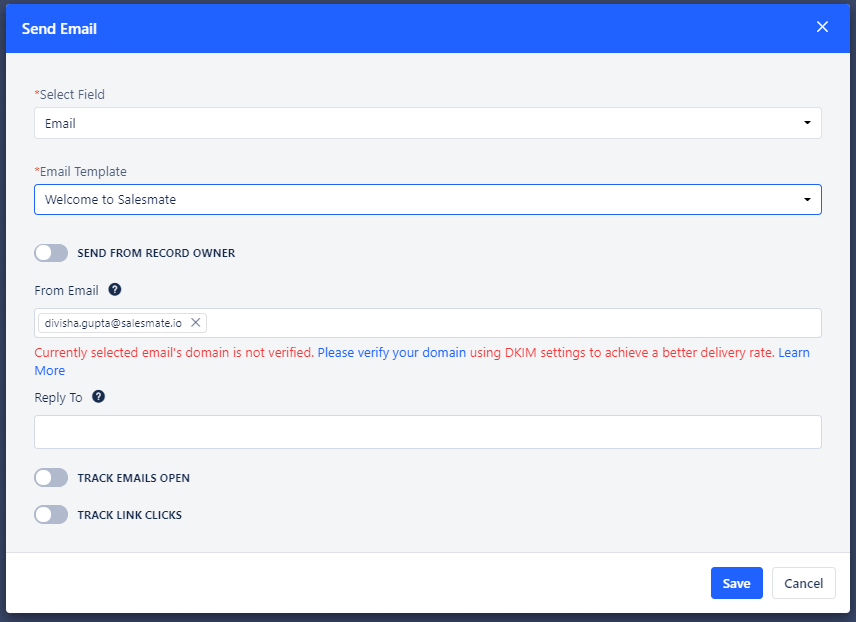 Select Field:  For the contact's email address, by default, there is a field named "Email", however, if you have stored another email address in a custom field then would be shown in the drop-down menu. 
Email Template:  The email templates which are already created and saved in Salesmate would be in the drop-down menu.
Send from record owner:  The toggle button can be enabled to send the email from the record owner's email address.
Auto Append the sender's signature in the email: Enable the toggle button to add the sender's signature to the email.
From Email (Use as a fallback):  When the email is sent from the record owner's email address, but if it doesn't get delivered then the email would be sent out from the fallback email.
NOTE:  If you wish to use your own domain, then you can verify it by using DKIM settings which helps you with a better delivery rate.
Reply to:  Select an email address, where the email should be received when the recipient reverts.
Track Email open:  Track the email if it was opened by the recipient.
Track Link Clicks:  Enable the toggle button to keep track of link clicks.
Click on 'SAVE' to configure the action.
Example:  We have configured a journey, wherein when a new contact is created in Salesmate and condition is Tags = Lead.
If yes,  send them a welcome email.
If no, exit the Automation.