Note: Bulk Emails is available in All Plans. However, Schedule Emails - Available in the Growth and above Plans only.
In order to use our email integration and send bulk emails to your leads, you'll need to configure your email account in Salesmate. You can learn how to do that here if you haven't done this already.
From the Contacts page, select the individual contacts you want to send an email to OR select all Contacts at once click the bulk select icon in the top left-hand corner of the screen.
After you have selected your contacts. Click on the Email button.
After you have finished writing your email OR used an existing template to compose an email, click Send Email.
To send Bulk email, follow below steps:
Go to

Contacts

Filter Data through Custom View

Select contact or select all by clicking on

checkbox on top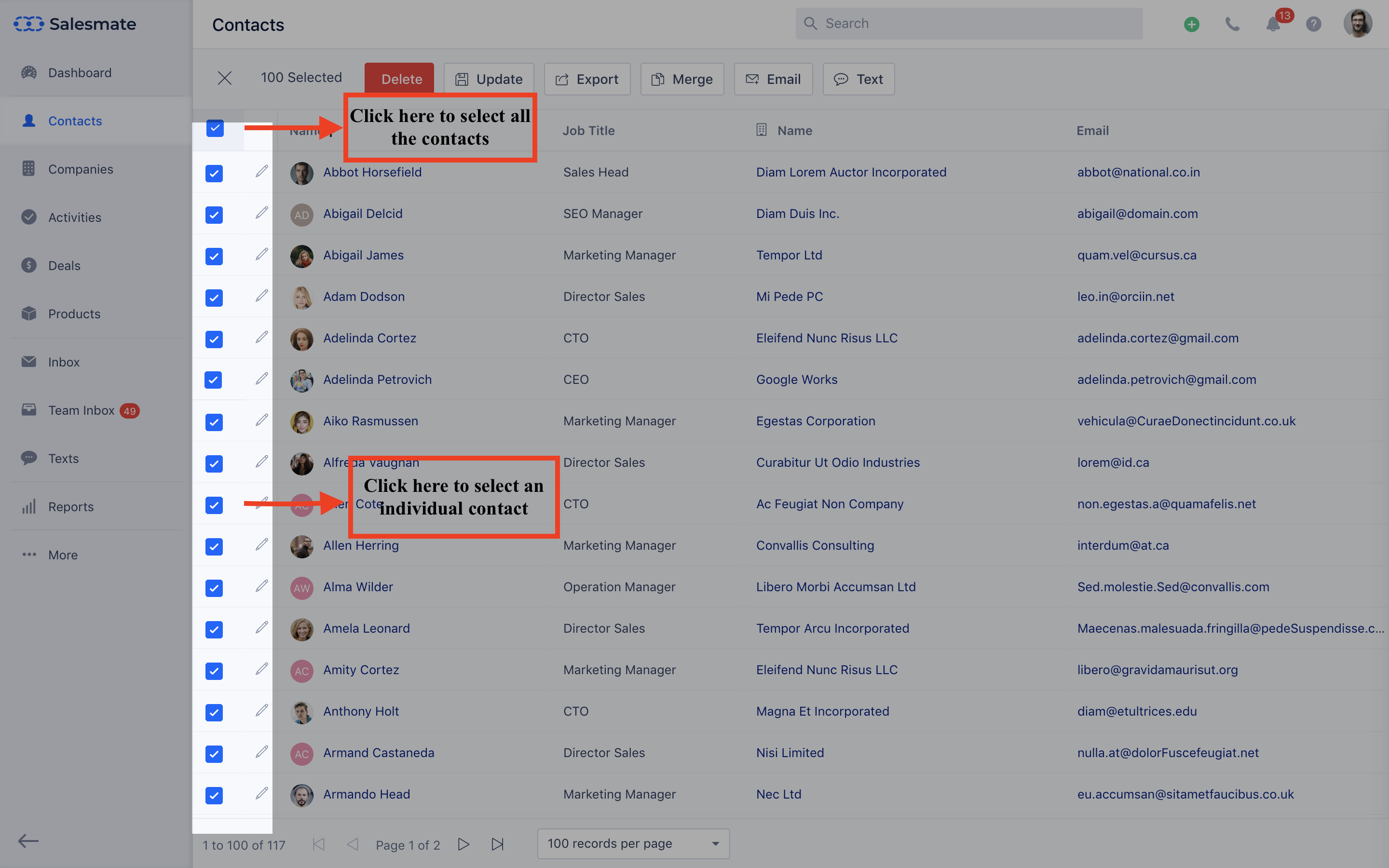 Click on Email icon, appearing after selection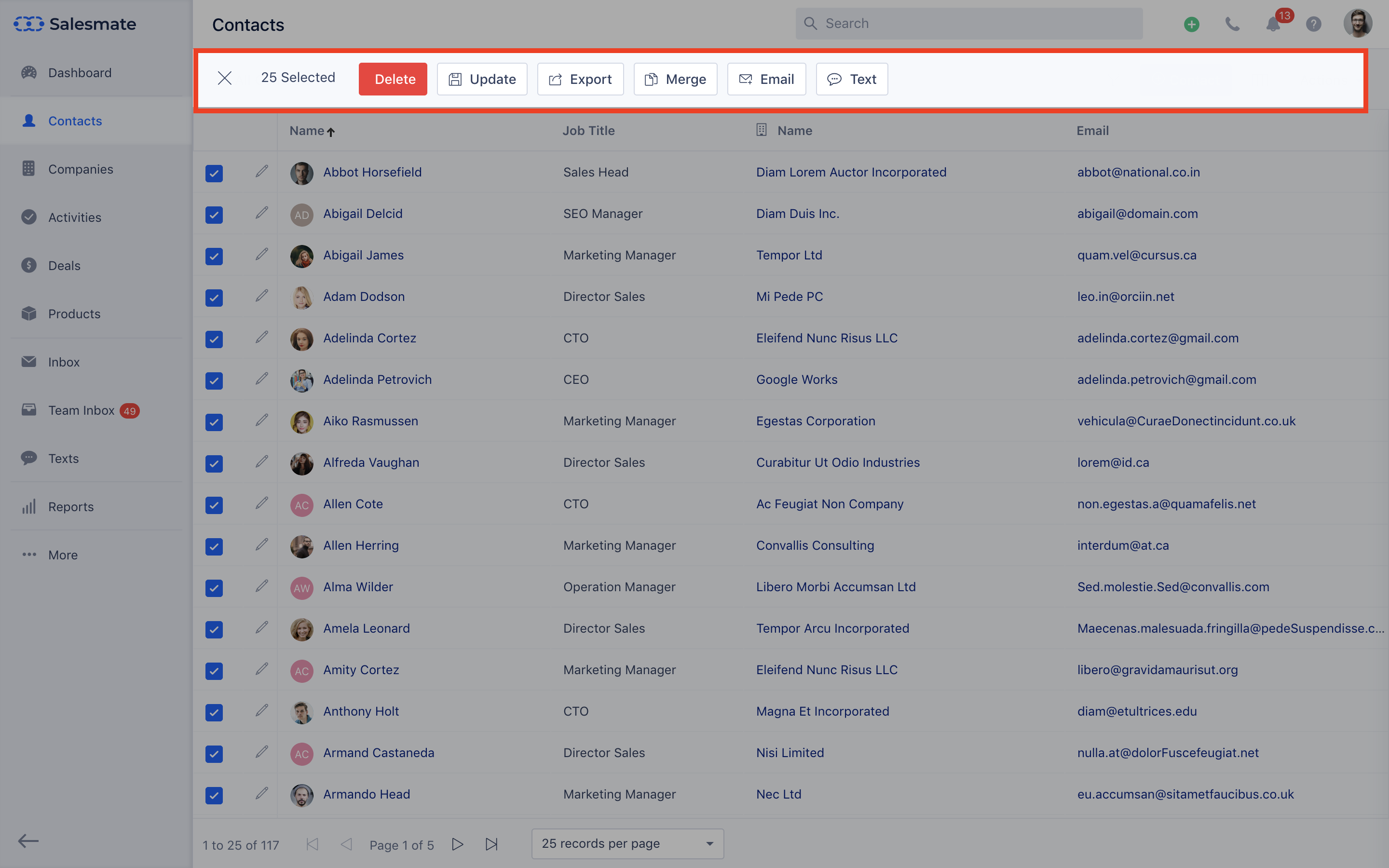 Fill in the compose form

Click on Send or Schedule later
Bulk emailing includes emails sent using the following features:
Bulk Email

Scheduling Bulk Emails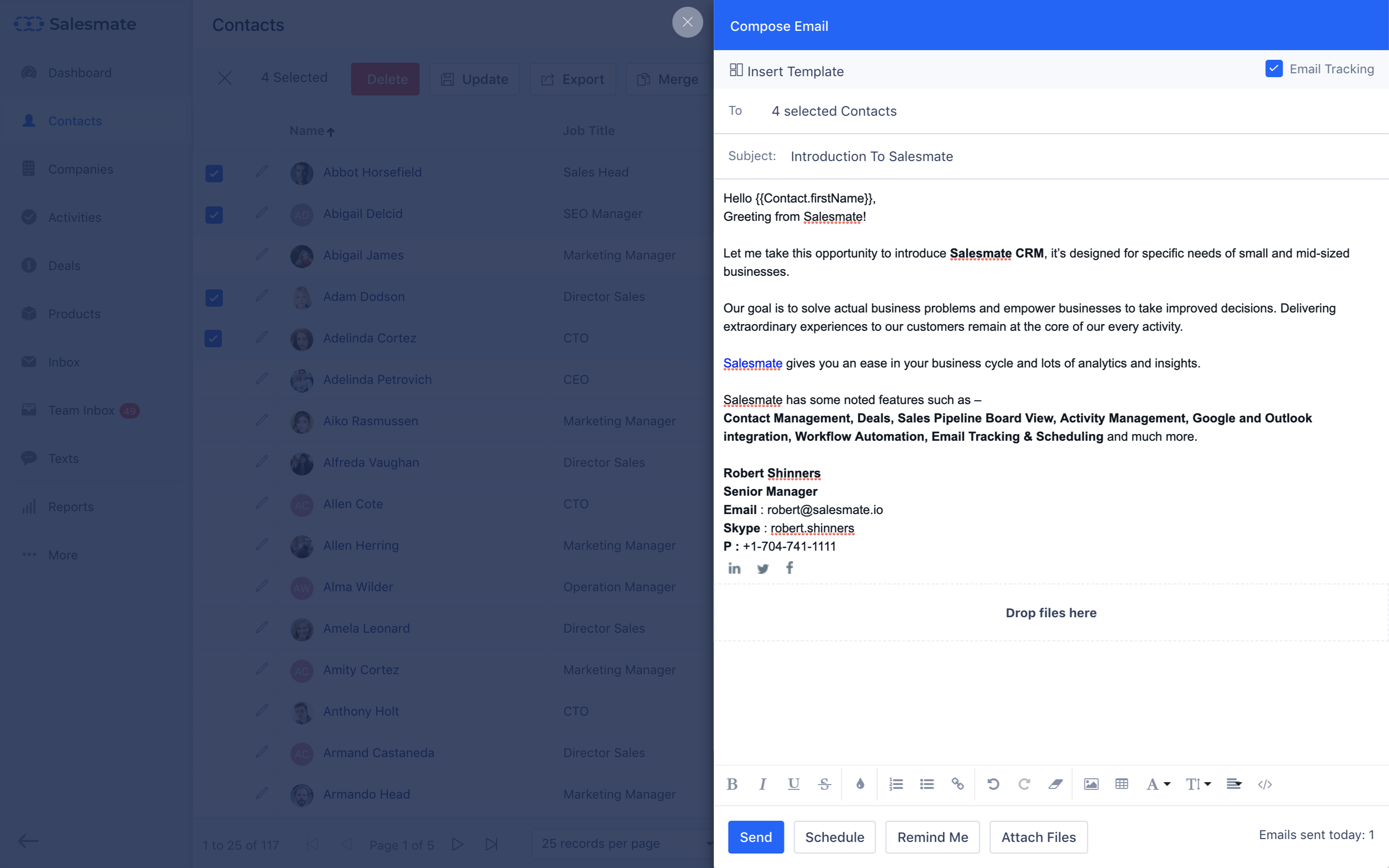 To Schedule Bulk emails, follow below steps:
Go to Contacts

Filter Data through Custom View

Select contacts or select all by clicking on Checkbox on top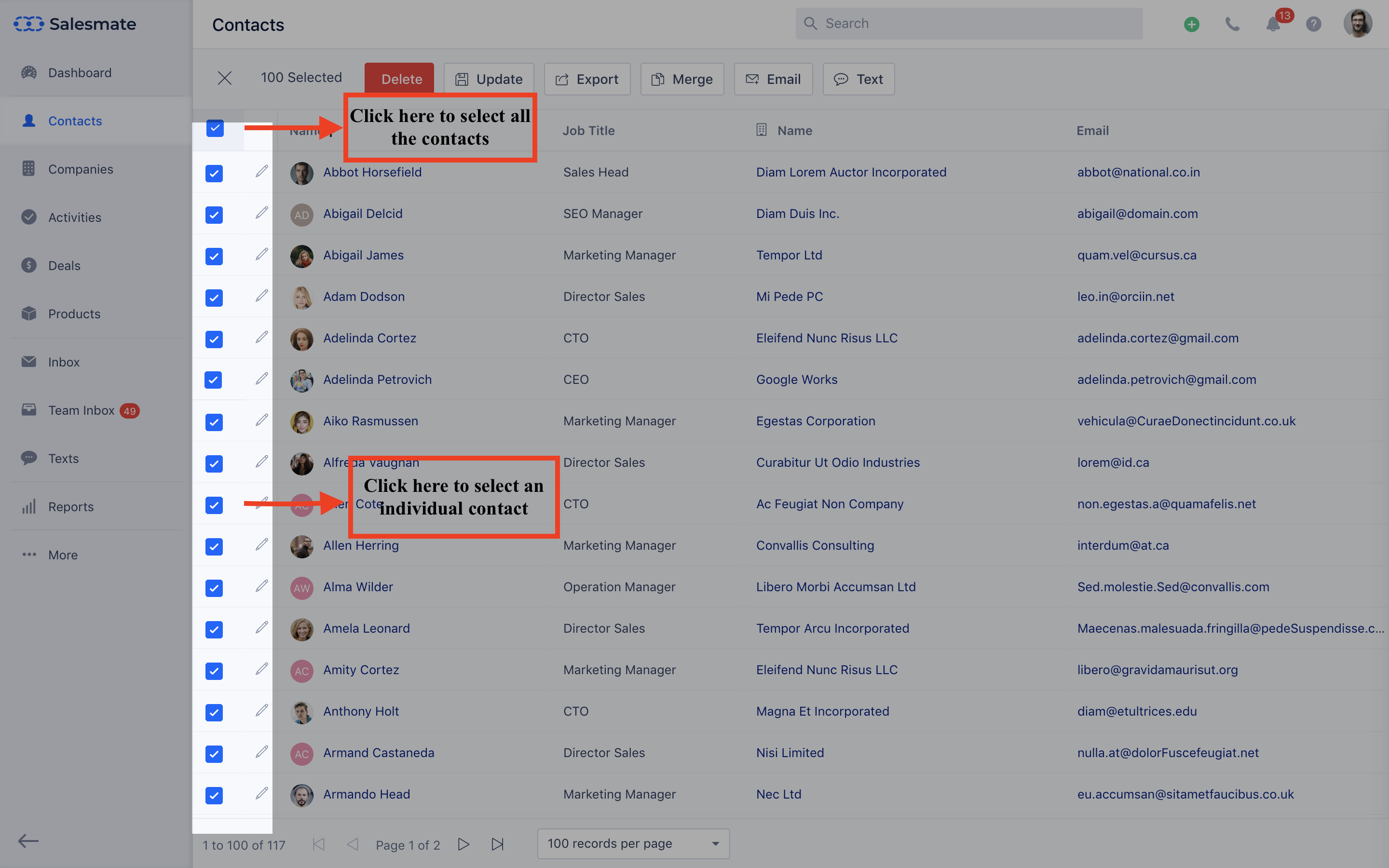 Check for Pagination (at the bottom of the page) depending on the Emails you want to send to selected Contacts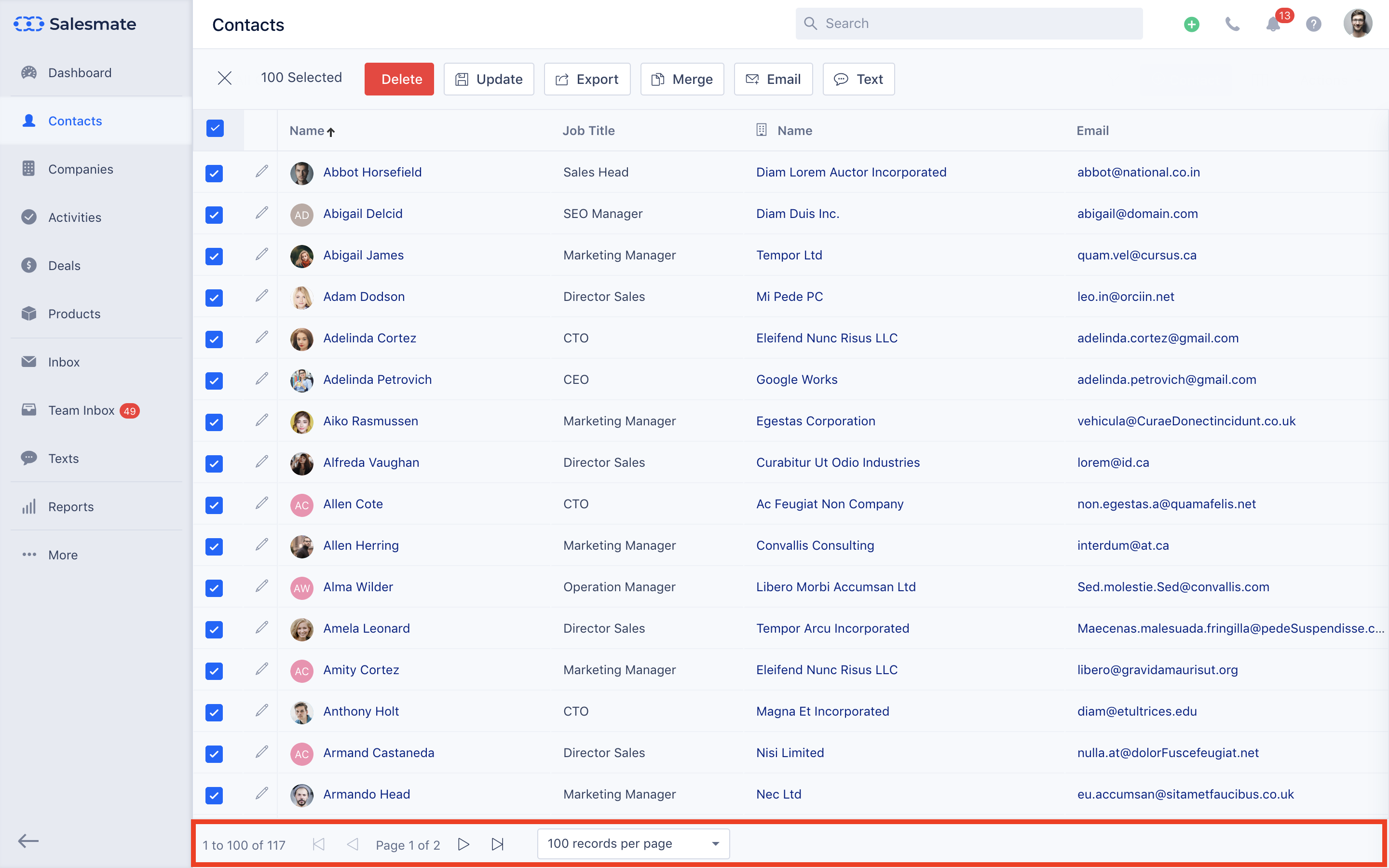 Fill in the compose form or apply Email Templates from your Template Library

Click on Schedule icon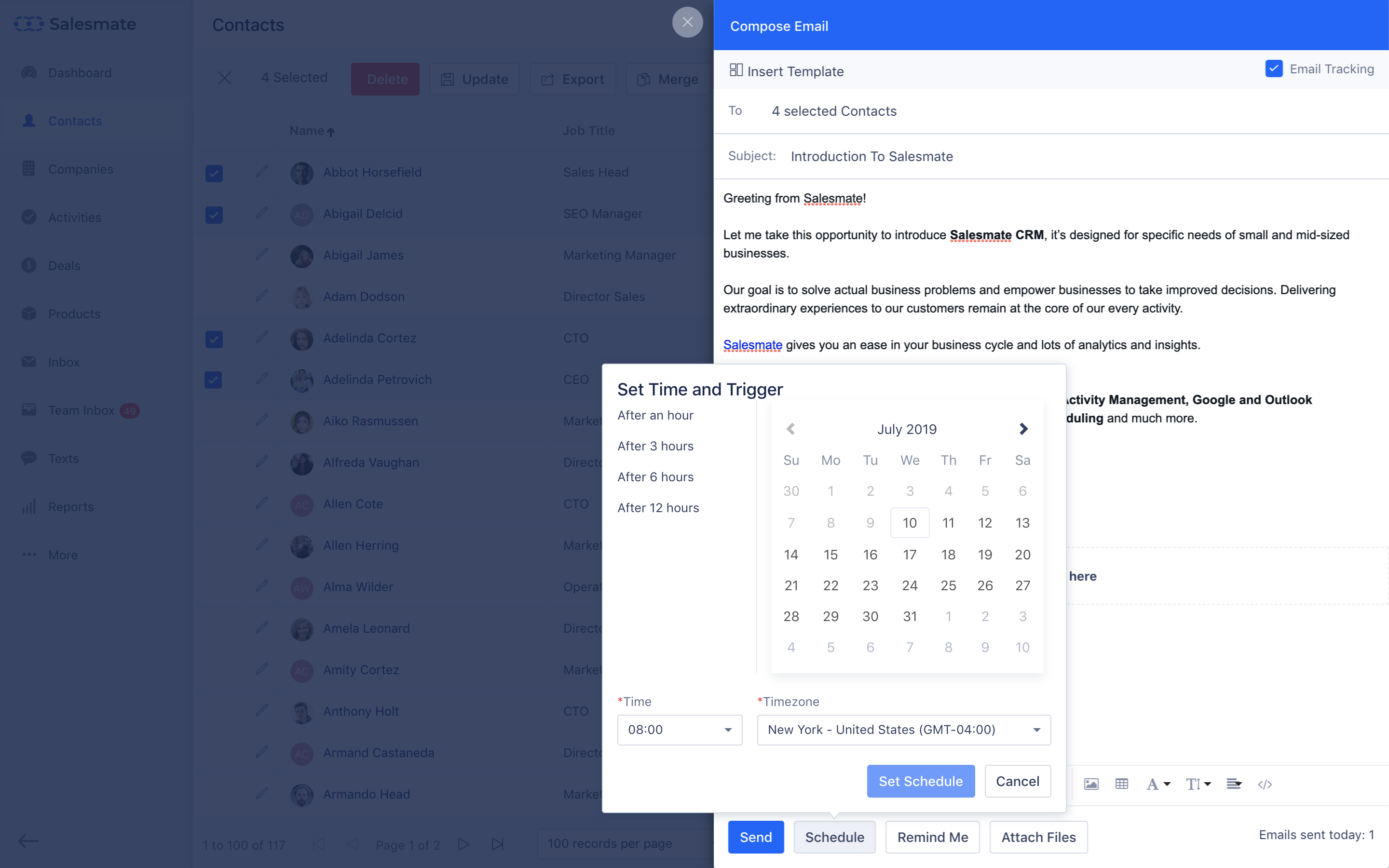 Select default incremental hours for 1,3,6,12 Hour later or Custom Date and Time Desired

Click on Set Schedule.

Verify the Schedule in Compose Window and hit Send.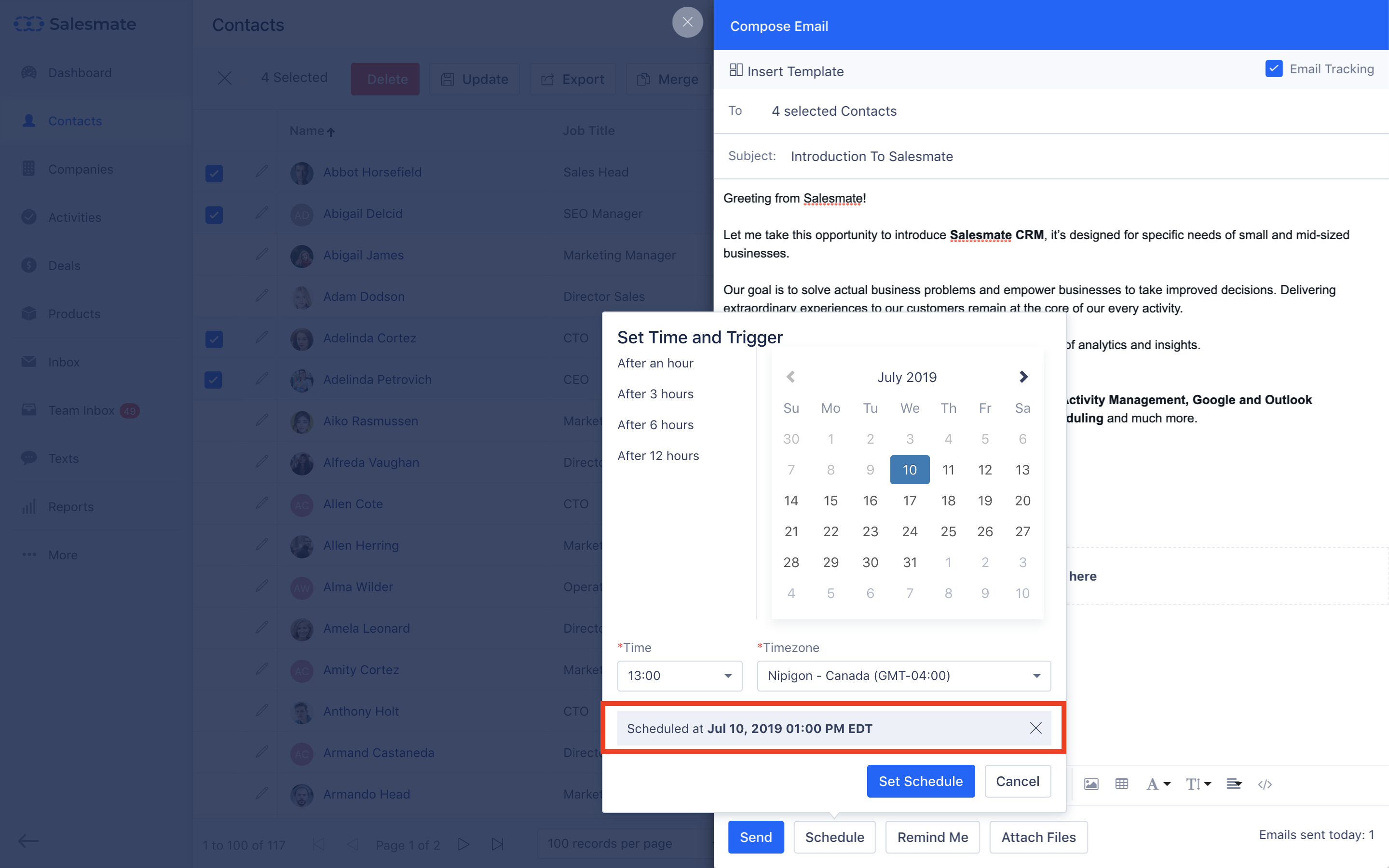 Find All schedule emails in your Email Client section in Salesmate under Scheduled Folder
How can I send Mass Emails to 250+ Contacts?
In Salesmate you can send 250 emails in one batch. However, you can send bulk email more than 250 in batches of 250 in go by filtering data in listing page or scrolling to another page.
In Salesmate maximum 250 records are shown in one page hence a batch of 250 emails can be created at a time.
It is recommended to shoot maximum 250 emails per day to your leads to avoid spamming and slowing of the process.
However Salesmate does not restrict the number of emails per day, but your email provider might have restrictions on your per day email, considering the service and packs you have been offered.
Note:
The emails are sent from your email account that you connected to in Salesmate.

Each email is delivered separately. It appears as it is a direct email.

You can format the text as you want to and use email templates too.

Email sending is limited to the SMTP sending limits

You can also schedule to send your bulk emails later.
Let's start turning your leads into new business using our bulk email feature in Salesmate.