Exporting data from Salesmate is straightforward, and there are two ways to do this.
A. Export from List view
B. Export from Setup
List view is an ideal way when you want to export what you see. You can combine fields from different modules ( Company, Contact, Deals, Activities) to pull out what you need. Whereas, exporting from Setup allows you to export all records from each module separately.
Note: You will need Export permissions to export the data.
A. Export from the List View:
If you only want to export selected records or filtered data you can use the List View.
Let's take an Example: Exporting Won Deals from Washington, DC area
Go to the Deal list view,
Filter the data based on area: Washington, DC, also includes or remove the columns you want in the export using the manage columns button.
You can also choose fields from related modules like, Contacts, Companies, select particular records or all records (max 1000)
Hit Export
B. Export from Setup:
Another option, if you'd like to export your data individually, go to your setup, then click 'export data' under the 'Data Administration' menu.
You'll then get the following page:
Select what you'd like to export; you can pull out Deals, Activities, Companies, and Contacts.
Once you've selected what you'd like to export, choose the view and fields you want to export and hit 'export.'
You will be routed to the "Export Confirmation" screen and receive a desktop as well an email notification as your Export is ready.
Your export file will be listed 'exports history' section, with a 'Download' button on the far right. Download your file; then you're done!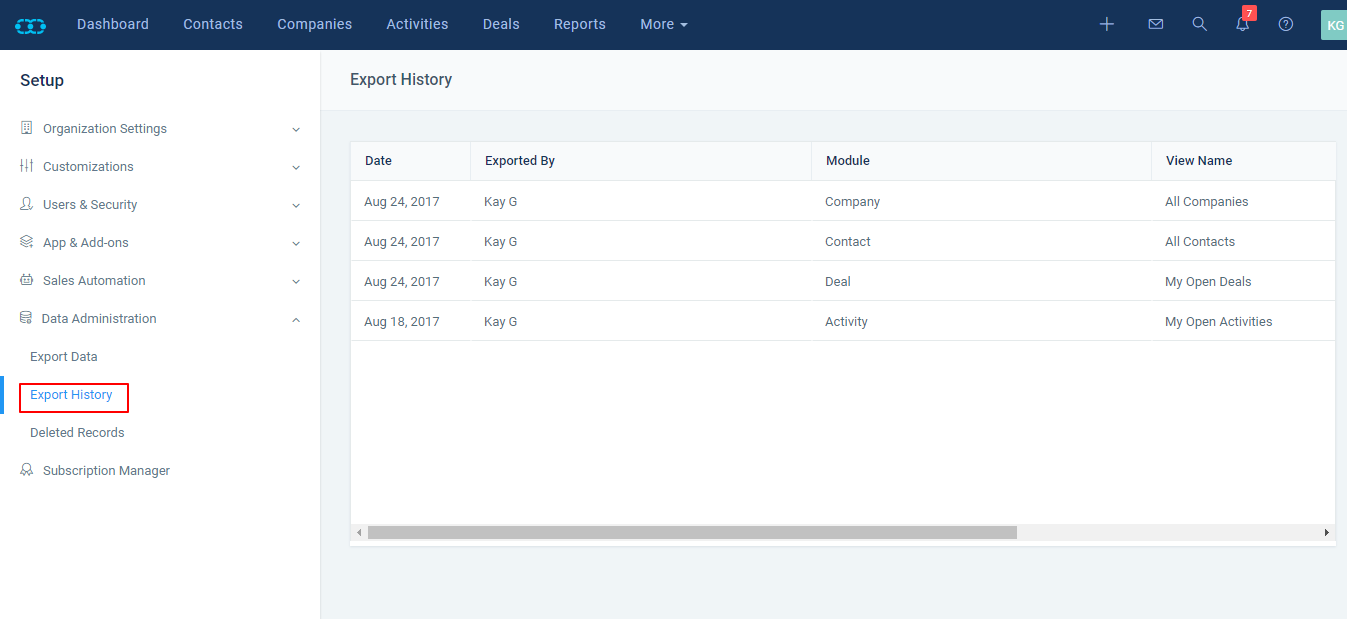 Note: 
Link to download file will be available for 30 days max. After that exported file will be deleted from Salesmate server, and the download link will get disabled. 
Any body with export rights can see export history, but the file can be downloaded by the person who initiated export or person who in higher hierarchy of that person.
Only records of those people under you in hirerarchy will be available to you for export. Thus an Admin can export records for everyone in the organization.
We will send a notification and an email with a download link.