Custom modules can define your own fields, enabling them to capture and manage specialized information. With custom modules, businesses can go beyond the standard CRM modules and create custom fields that align perfectly with your processes and data management needs.
Topics to be Covered
Plans & Pricing:
Note:
Custom Modules are available in

Business and the above plans.

For Legacy Accounts Custom Module is available from

Boost and the above plans.
| | | |
| --- | --- | --- |
| Plans | Number of Custom Module | Additional custom Module cost |
| Basic | - | - |
| Pro | - | - |
| Business | up to 5 custom modules | $100/Month |
| Enterprise | up to 15 custom modules | $50/Month |
What if you try to downgrade your subscription plan?
If you try to downgrade a plan where you have more custom modules than your available limit, the system should show the following popup to you.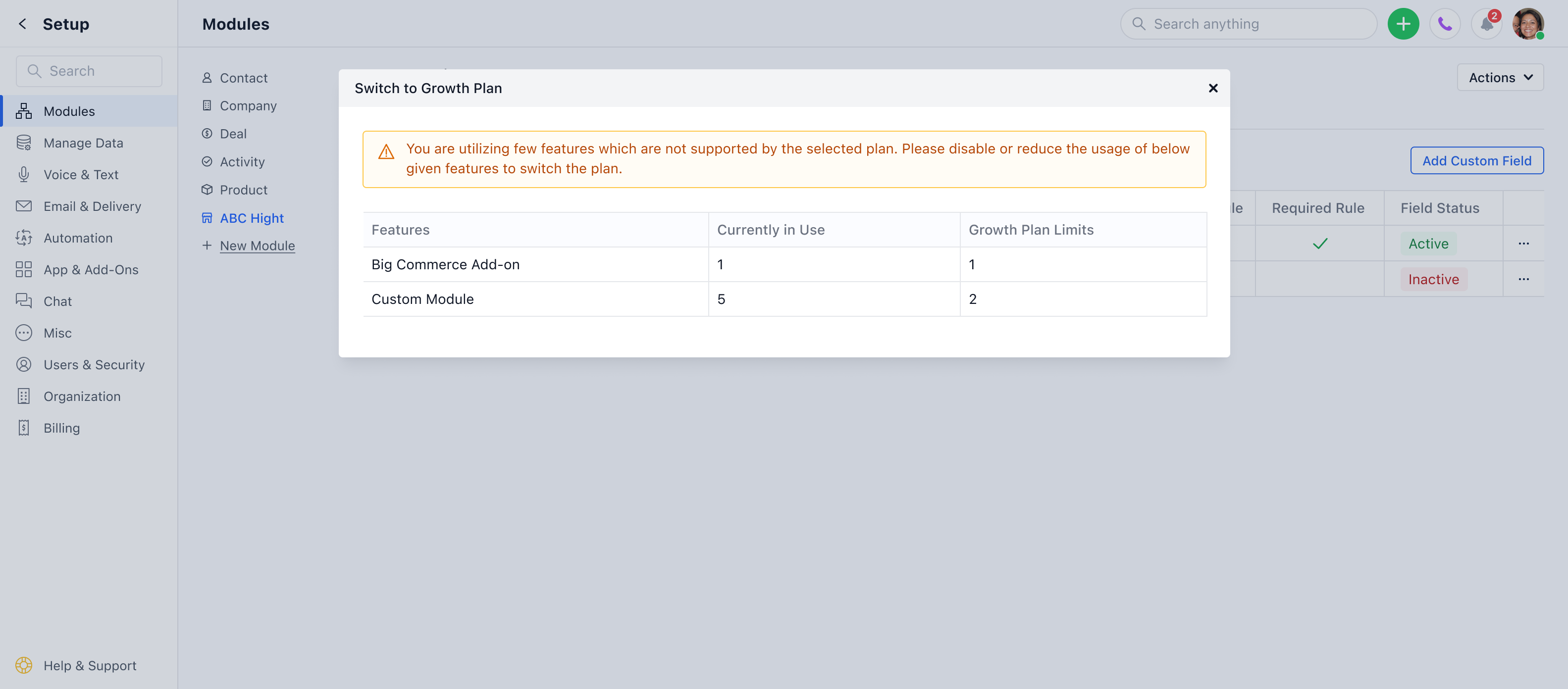 Limitation of Custom Modules:
While custom modules in Salesmate offer great flexibility and customization options, there are certain limitations to keep in mind:
Inability to disable: Once a custom module is created, it cannot be disabled. The only option is to delete it if it's no longer needed.

No bulk email functionality: Sending bulk or marketing emails to records within a custom module is not supported. This functionality is limited to the core modules.

Reporting limitations: Attribution reports, sales forecasts, and sales summary reports are designed to work specifically with the deal module. These reports do not provide insights or analysis for custom modules, even if pipelines are defined within them.

Calendar sync restrictions: Custom modules do not have the ability to sync with the calendar feature in Salesmate. Calendar functionality is currently limited to the core modules.

Interface preferences: Custom modules do not have the option to choose interface preferences at the current phase. Interface preferences, such as custom layouts or views, are available for the core modules but not for custom modules.

Tag management limitations: Tags associated with custom modules do not appear in the tag management feature of Salesmate. Tag management is currently limited to the core modules.