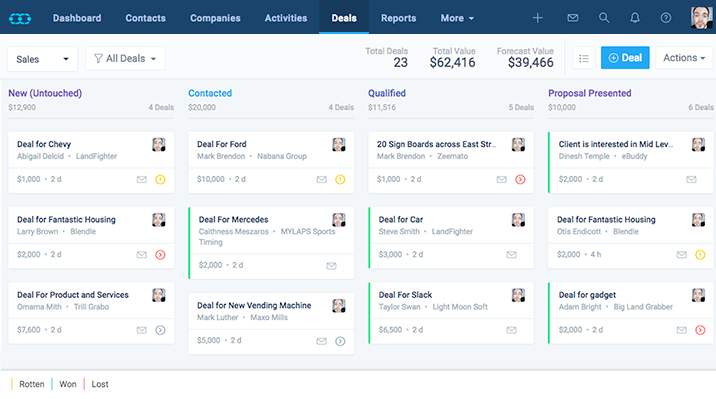 A sales pipeline is as a visual representation of your sales process where all your potential customers are displayed and arranged according to their stages in your sales cycle.
It describes the individual stage sales agent take from initial contact with a potential customer, or prospect, to qualifying that prospect into a Deal, and further validating that Deal into a sales opportunity followed through the different stages until closed.
It gives you a visual indication of whether the deal is Open / Won / Lost or Rotten. Associated activities of the deals are listed and you can email your associated contact at the click of a button.
How many Sales stages should my Sales pipeline contain?
If you are not sure about the number of sales stages in your sales pipeline, we have analyzed many sales processes across several industries, and have found that on average companies will limit their sales process to five steps with stages that can look as follow:
Qualified
Contact made
Proposal Presented
Quote sent
In Negotiation
You should also know that each sales step has different weighted value within your sales process. The weighted value, or probability of closure, describes the likelihood of winning that potential customer as a paying one.
How do I Define the Closing Probability for each Sales Step?
Commonly, the probability of closure is measured in percent and shows you the likelihood of winning the opportunity for that sales stage.
You can define your sales step's probability of closure for your sales pipeline according to your experience. Most commonly used closing probabilities for each of the example sales stages are as follows:
Qualified – 0 %
Contact made – 10 %
Proposal Presented – 30 %
Quote sent – 60 %
In Negotiation – 100 %
How Do I Measure a Weighted Sales Pipeline?
The weighted target is equal to the sum of the total opportunity values in each sales step multiplied by the probability of closure for that step.
Let's make a calculation (1 opportunity is valued for $1,000):
Qualified – 0 % x 35 opportunities = $0
Contact made – 10 % x 20 opportunities = $2,000
Proposal Presented – 30 % x 10 opportunities = $3,000
Quote sent – 60 % x 5 opportunities = $3,000
In Negotiation – 100 % x 2 opportunities = $2,000