A. How to add an activity
B. Google Calendar Activity Sync
C. Custom activity types
Activities are the essential part of day-to-day business. It's a piece of work which is needed to be done, and it can be time bound if required. You can create activities for self or for others. Salesmate will keep on reminding you about your important activities, so you don't miss them out. You can schedule it in context with a Contact, Company, and/or a Deal.
Activities can be synced with the Google Calendar.
Salesmate enlists your activities as a to-do list right on your dashboard, that makes planning your activities far easier.
Creating an activity from a deal will automatically associate the activity with the deal's assigned contact and/or Company.
A. How to add an activity
Activity Listing Page: Activity > Add Activity
Contact Details Page: Contact > View a Contact > Add Activity
Company Details Page: Company > View a Company > Add Activity
Deal Details Page: Deal>View a Deal> Add Activity
Contact Quick view: Click the three dotted button > Add Activity
Company Quick view: Click the three dotted button > Add Activity
Deal Quick view: Click the three dotted button > Add Activity 
Dashboard > Activity Tab > Add Activity
Quick Add + button
Tip:
Activity can also be created by the shortcut key combination c,a.
Mark Activity as completed by checking Mark as complete while creating the activity. 
From the Pipeline (Deal board) View
Video < Board view / Add Deal / Add Activity from Deal>
From the Deal/Contact/Company Detail Views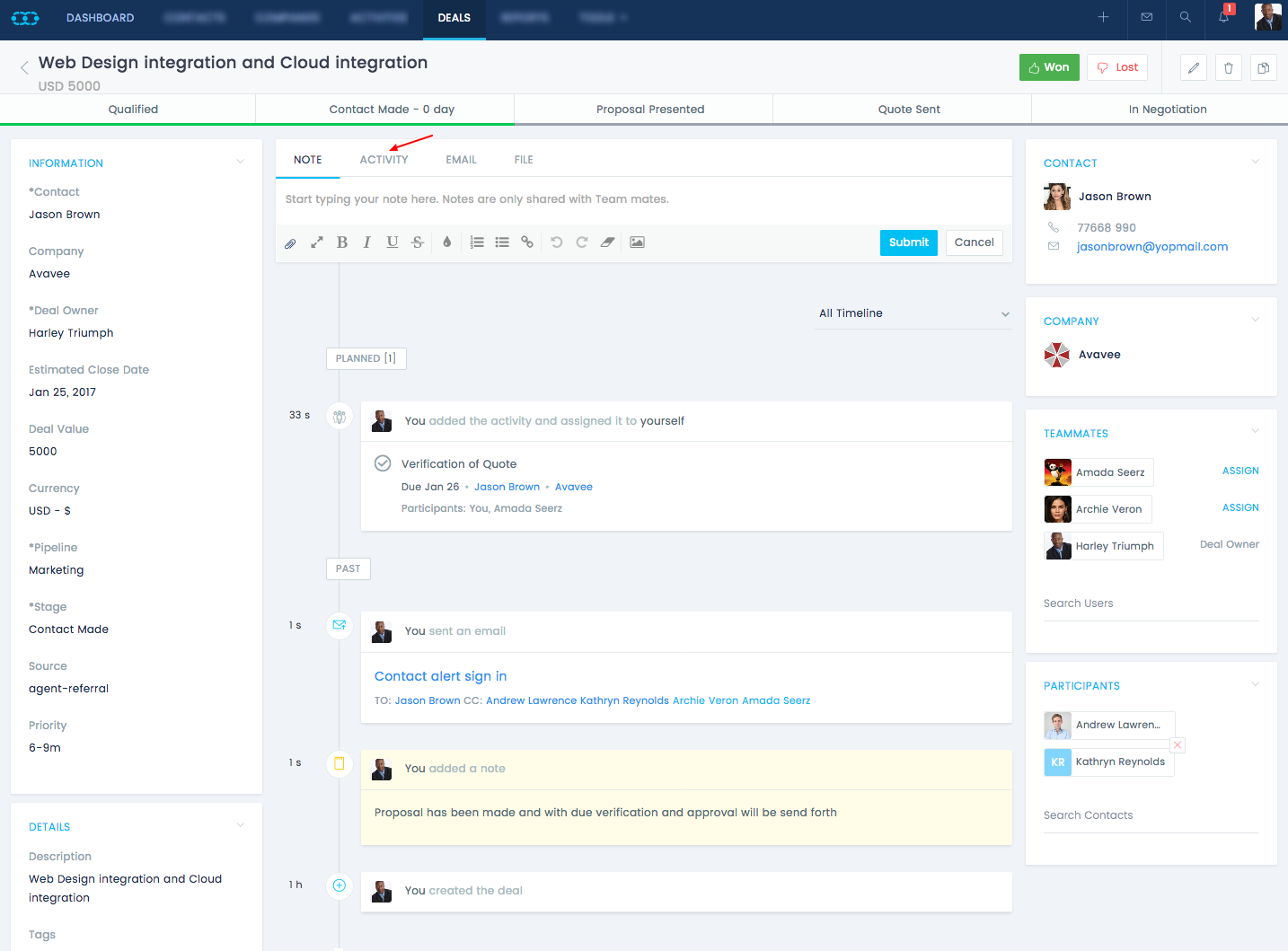 The Activity List

Activity Dashboard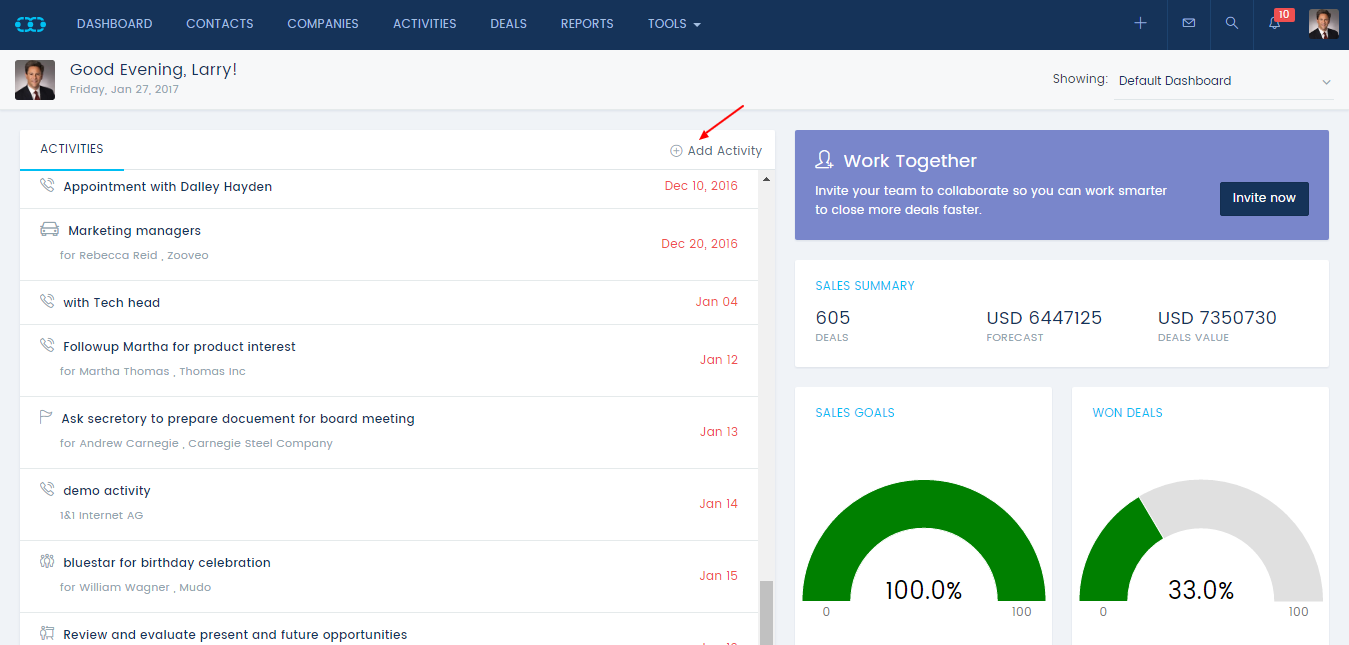 Google Calendar Integration
As mentioned earlier, Salesmate activities can be synced to Google Calendar. Click here to read more.
Google Calendar helps you manage your day to day activities effectively and adds up to your productivity. Salesmate adds to it by letting you synchronize the activities created in it with Google calendar or vice versa.
Enabling this Integration will sync all your future events to the Google Calendar. All your past events can be synchronized using the Update unsynced activities option.
Syncing your activities with Google Calendar:
Note: 
Make sure you have added the Google account to Salesmate. To add a Google account
click here
.
Recurring Activities: 
Recurring activities are tasks that are created once and then recreated automatically after a designated time period.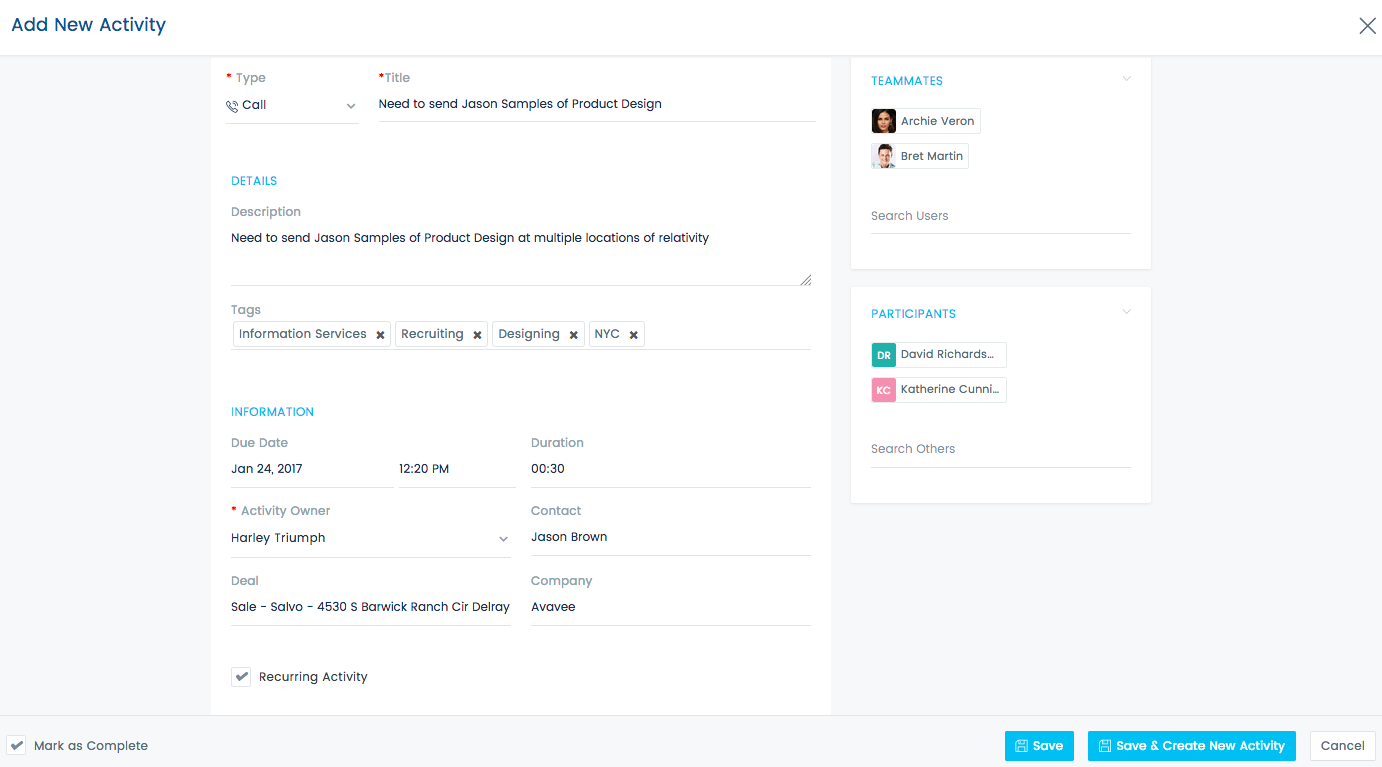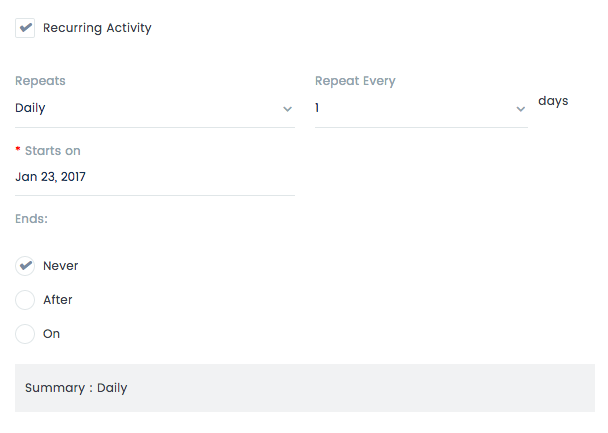 Activity Type:
Salesmate comes preloaded with basic activity types viz. Call, Task, Meeting, Demo. A user can create their own activity types and assign an icon to it. Activity Types will be listed based on the order defined in the Activity Type Menu. You can activate or deactivate an activity type. However, they cannot be deleted.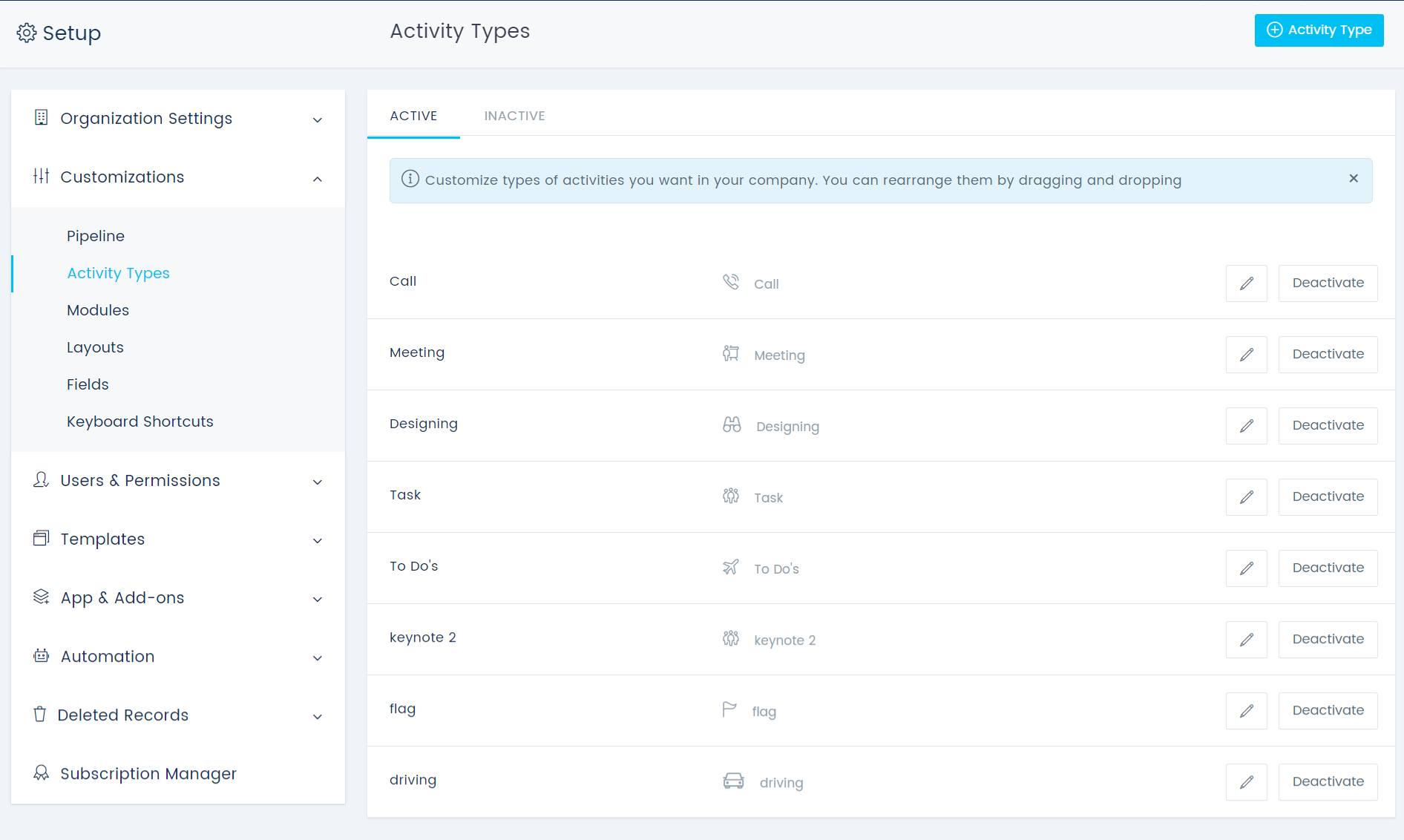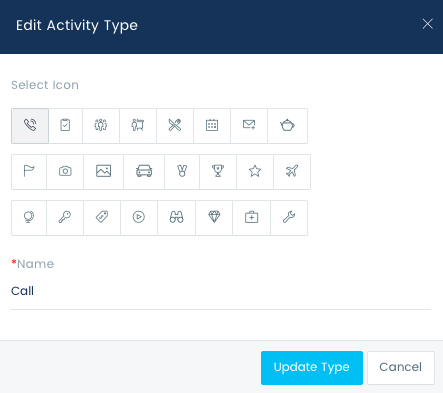 To create a new activity type:
Navigate to Setup > Customization > Activity types. All your activities are listed in this screen.
Click the Blue + Activity Type button to add a new activity type. The add activity type screen opens.
Then wisely choose a short yet informative name and beautiful icon for the newborn Activity type.
Customize types of activities you want in your company. You can rearrange them by dragging and dropping
You can Activate / Deactivate or Edit Existing Activity Types.
A new activity type is up and running! You will also be able to view the new activity type in the Activities drop-down screen.