Topics Covered:
A. Overview of the Modules
B. Contacts
C. Companies
D. Deals
E. Activities
F. E-mail
G. Product
H. Reports
Different Modules
CRMs are used for storing contact information as well as related data. There are plenty of terms to pick from to describe your data, e.g., leads, deals, etc. Regardless of the terms, you're familiar with, when it's all said and done, you have people out there in the real world you talk to. These people could be standalone individuals or representatives of a whole Company. So how do we present all of our contact information in our CRM, as well as intelligently track the actions and processes the contact is subjected to? In Salesmate, we represent this process by breaking your data into several different categories:
To summarize,
Contact and Companies

These are the records profiles that hold all long-term information related to the companies and their related contacts, such as Contact number, Phone, Office numbers, and email addresses.
These records are used to associate Deals which are visual representations of the conversations between the sales agent and the Record.

Deals

These are visual representations of conversations you're having with the probable client.
This, in turn, is used to track and measure specific goal sets through pipelines and its measured goal-oriented stages.

Activities

Activities are used to record a specific set of communication, as well as the subject, time and details of that communication.
These activities help you and your organization understand all of the communication your company had with your clients or prospects.
Activities can be scheduled Tasks, Appointments, To do's, or Meetings needed to close a sale and can be associated with Contacts, Companies, or Deals.

E-Mail

It is a fantastic way for a sales agent to save time and effort by simply tracking correspondence in your Contact as well as Company or Deal associated with the Contact who received the Mail.

Product

Product Module is a useful module, where you can create different products which can have different prices and variations.

Reports

Visualize and scrutinize your Salesmate CRM data with in-depth insights. Make use of the default reports as well as create your own insightful reports. Download and share reports and collaborate with your colleagues, visualize reports with mindful charts.
CONTACTS
Contacts are designed to manage business-to-business (B2B) relationships—that is, relationships with other organizations and the contacts working at those organizations. In Salesmate, you can also manage business-to-consumer (B2C) relationships, meaning relationships with individuals not associated with a specific organization. Contacts will automatically track in their detail pages all actions associated with them that take place in Salesmate.
Later (or at the same time), People can have Deals opened for them, which will then be tracked separately in your sales pipeline.
Contacts are contact person profiles holding long-term information, e.g., email addresses and phone numbers.
Contacts can be members of a Company.
Contacts can have multiple Deals open for them at the same time.
Contacts can be synchronized with Google Contacts, or imported from a CSV or XLS file.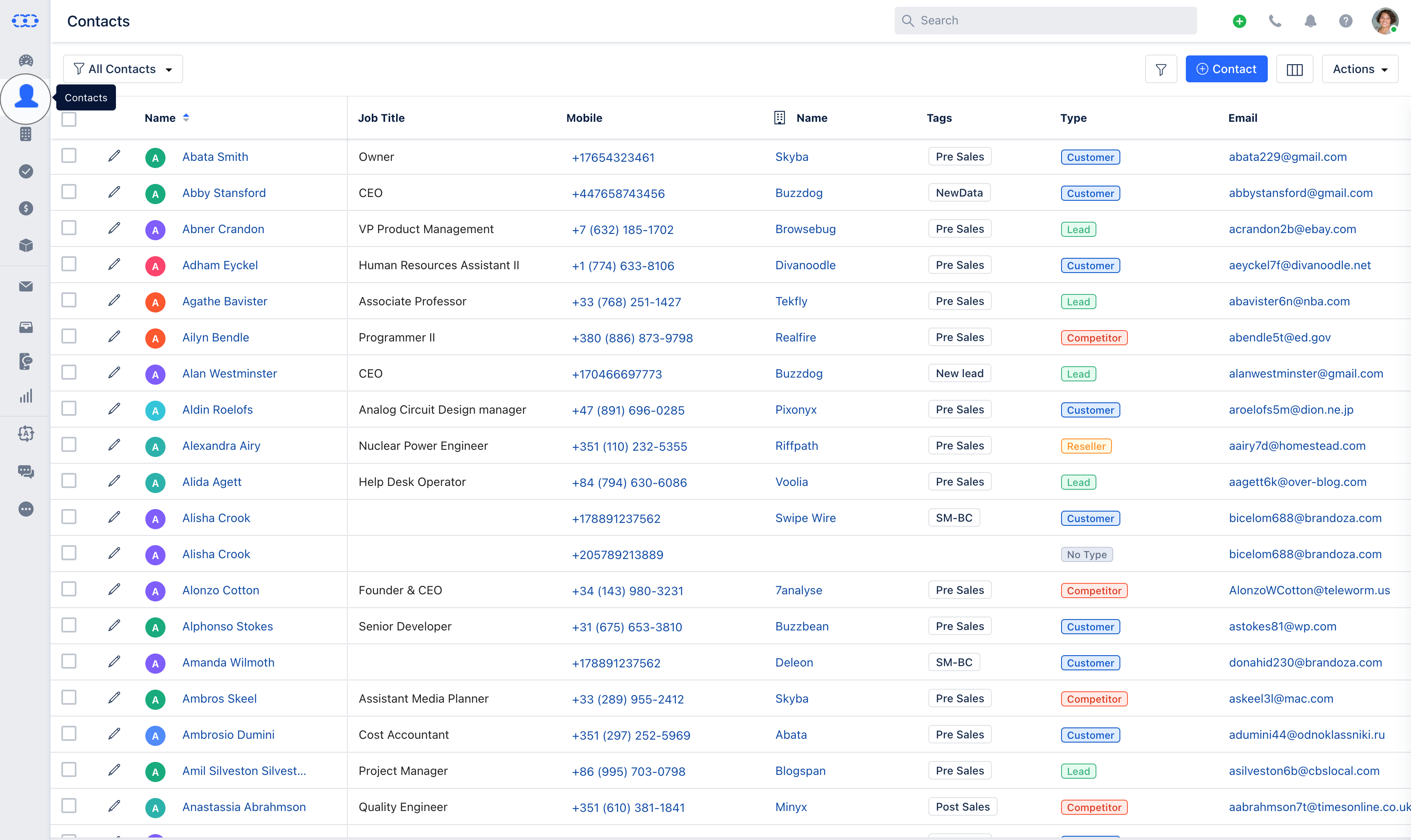 COMPANIES
A company is an organization with which you have a relationship. The relationship could be a channel partner, supplier, customer, reseller, etc. While the architecture may vary depending on your unique business processes, the general concept is that the Company is a single location and the contacts related to the companies are those who work or are associated with them.
You can find all Contacts related to a Company listed on its detail page, as well as any notes, activities, or actions performed on any Contacts/Deals related to the Company.
Companies are profiles holding long-term information, e.g., company websites and addresses.
Companies can contain multiple people as well as multiple deals.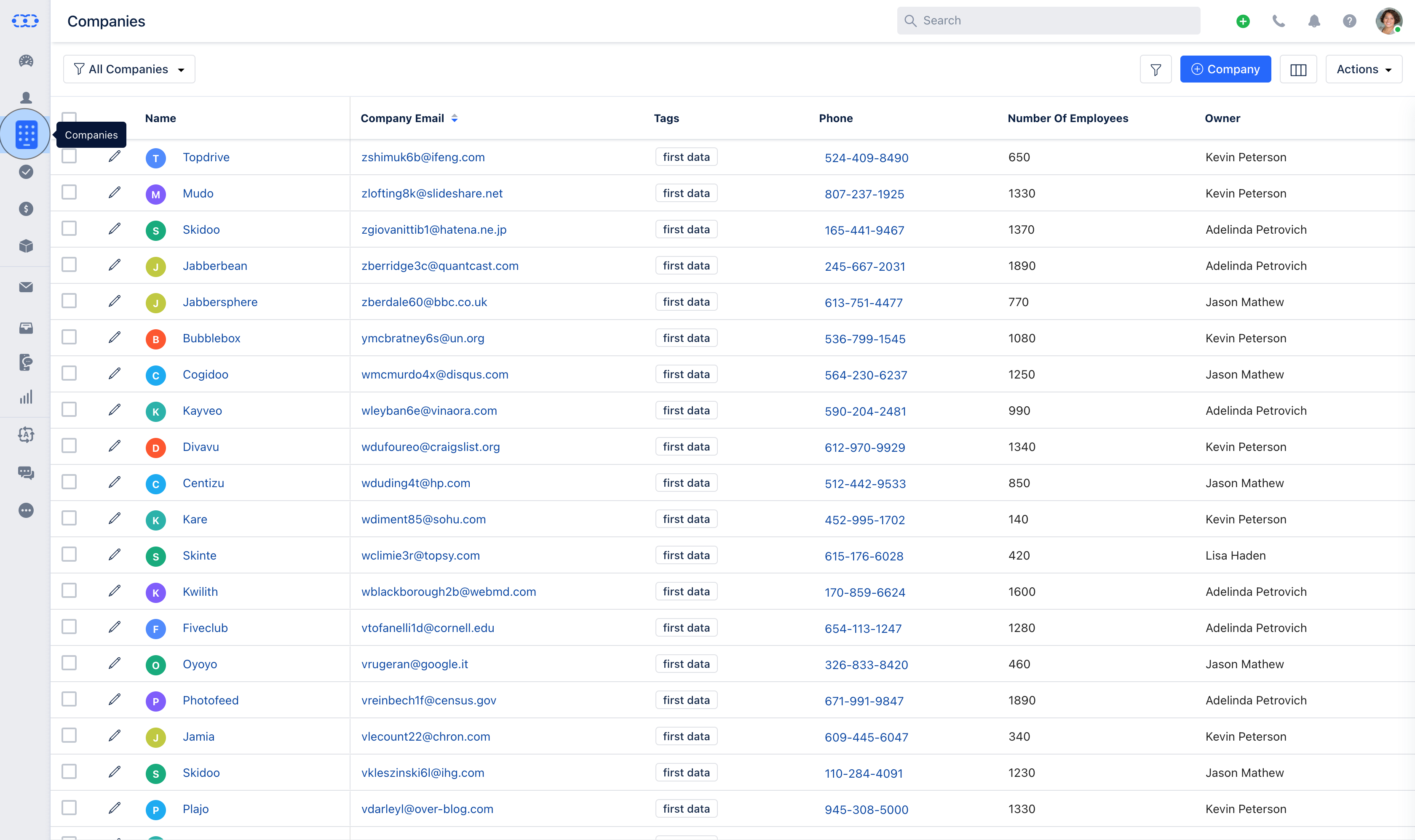 DEALS
Let's start by looking at Deal stages and Deal value after managing Contacts and Companies. Deals are such contacts that no longer sit dormant in your database; they are featured in the timeline and you can track your customers.
In Salesmate, we track this as a Deal which is then tracked in a series of stages that make up your pipeline. The opportunities in your sales pipeline, Deals represent the products or services you are selling. Every deal has an amount (value) and the expected close date.
Deals are the records that Salesmate has created to track sales "opportunities" through the pipeline. Consider the Deals tool as a way to identify, track, and record the experiences your contacts and companies went through before becoming customers.
Deals will also automatically pull all contact information from the Person/Company they're associated with.
Once you click on a deal, you'll be presented with its detail page, which displays all Contact information, Company information, and all Activities, Emails, notes, and actions in regards to the Deal.
Deals can be associated with a Contact and/or Company.
Deals track all stages and movements that take place throughout the various pipeline.
Since a Deal is connected to a contact, any actions you perform on the Deal will also be associated with the Contact/Company related to it.
Various pipeline along with various stages can be created based on your requirements.
Deal Stages allow you to categorise and track the progress of the deals that you are working on with a Salesmate. Each Deal Stage has a probability associated that indicates the likelihood of closing deals marked with that Deal Stage.
There are two different views for Deals in Salesmate. These are:
Board View: The board view gives the details of the various stages and pipeline of different deals.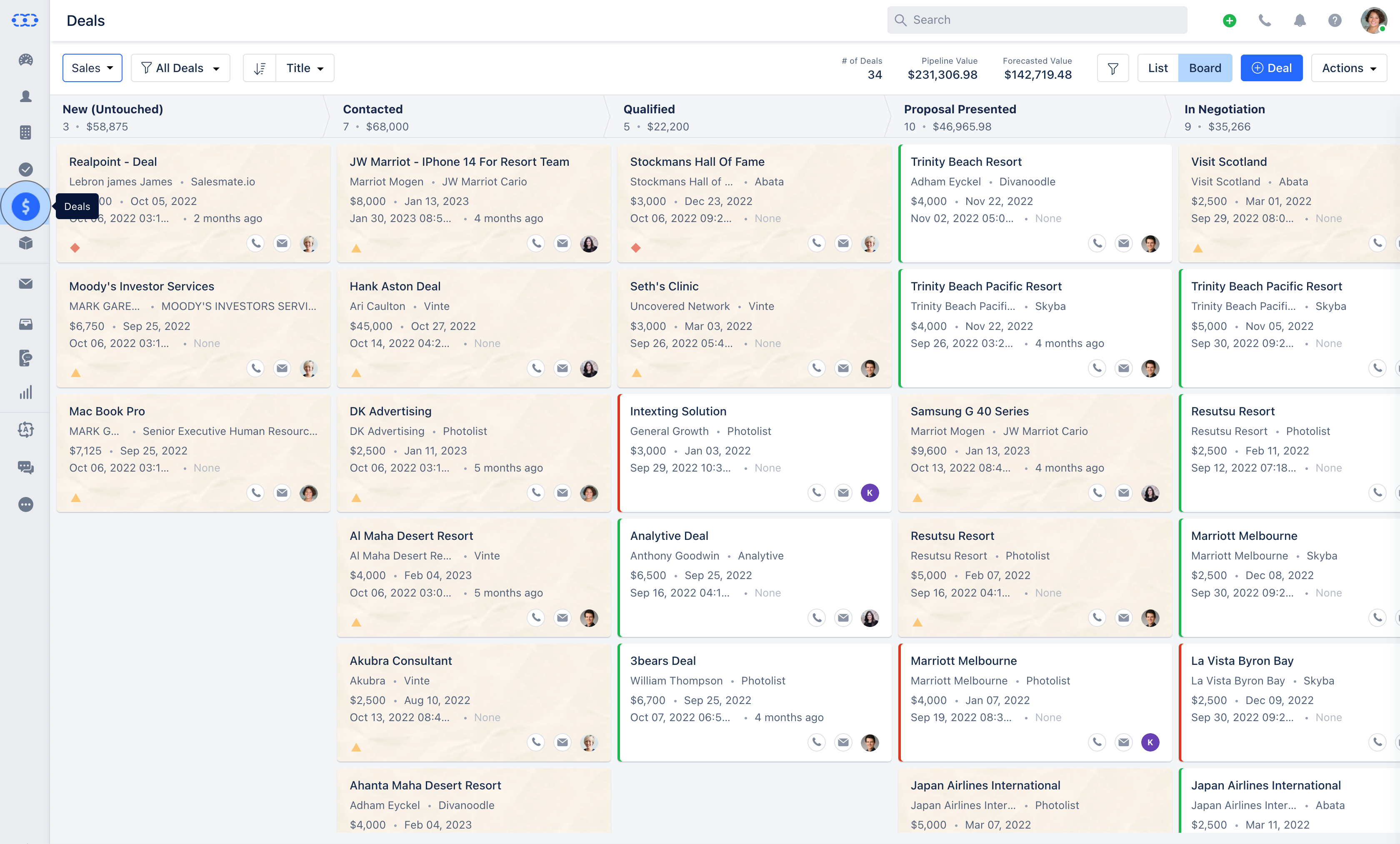 List View: Salesmate also provides a ListView apart from the board view.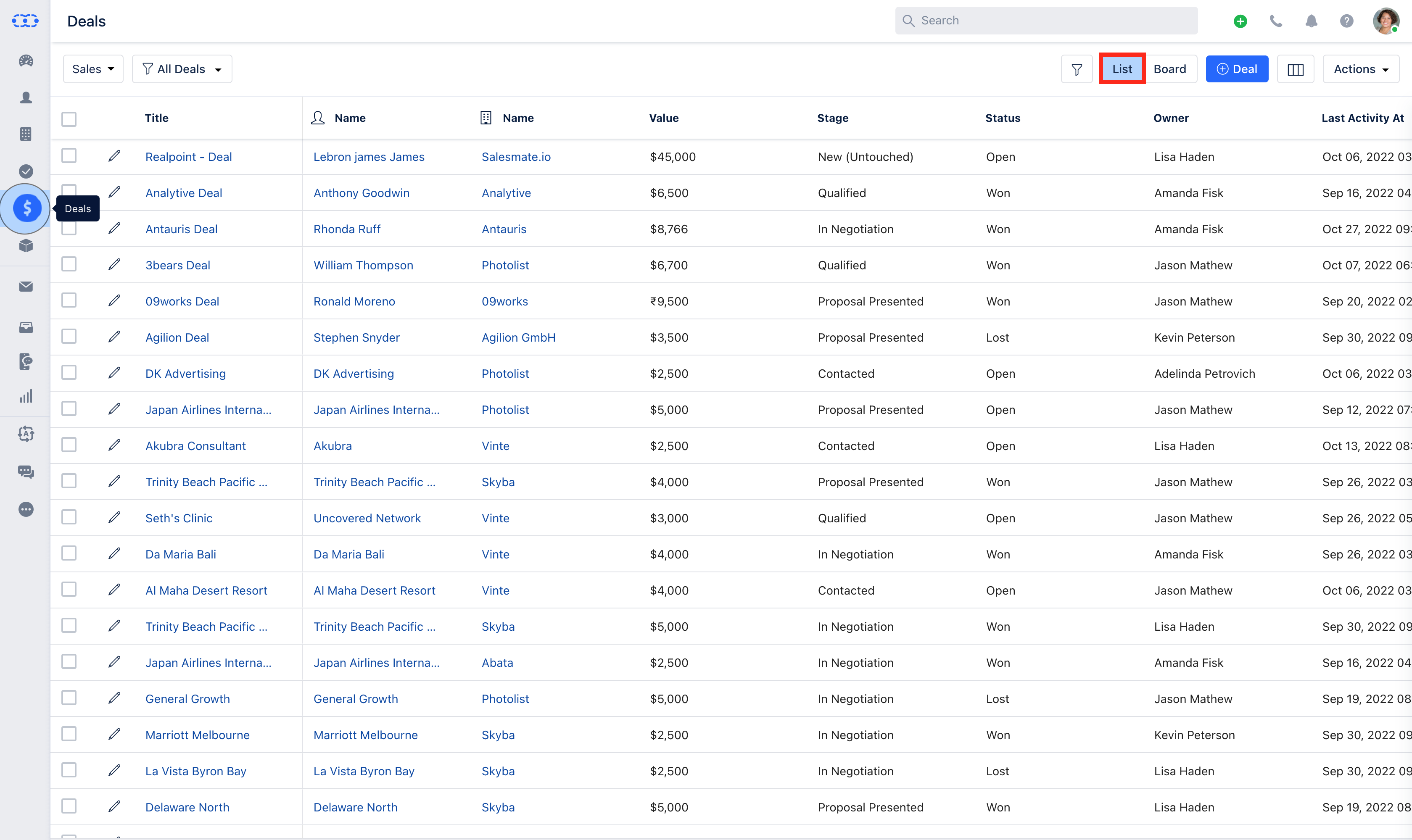 You can also customize these deal stages so that they are unique to your sales process. Click Here to know more about Deals.
ACTIVITIES
Activities are used to record a specific type of communication, as well as the subject, time and details of that communication or any action on user part towards the closing of a sale. It can be a phone call, a lunch meeting, or even a ritualistic fire-walk.
Using activities helps you and your organization understand all of the communication your organization has had with each customer or prospective customer. Activities can be synced with Google Calendar.

Associating an Activity with a Deal will also associate the activity with the deal's assigned contact Person and/or Company.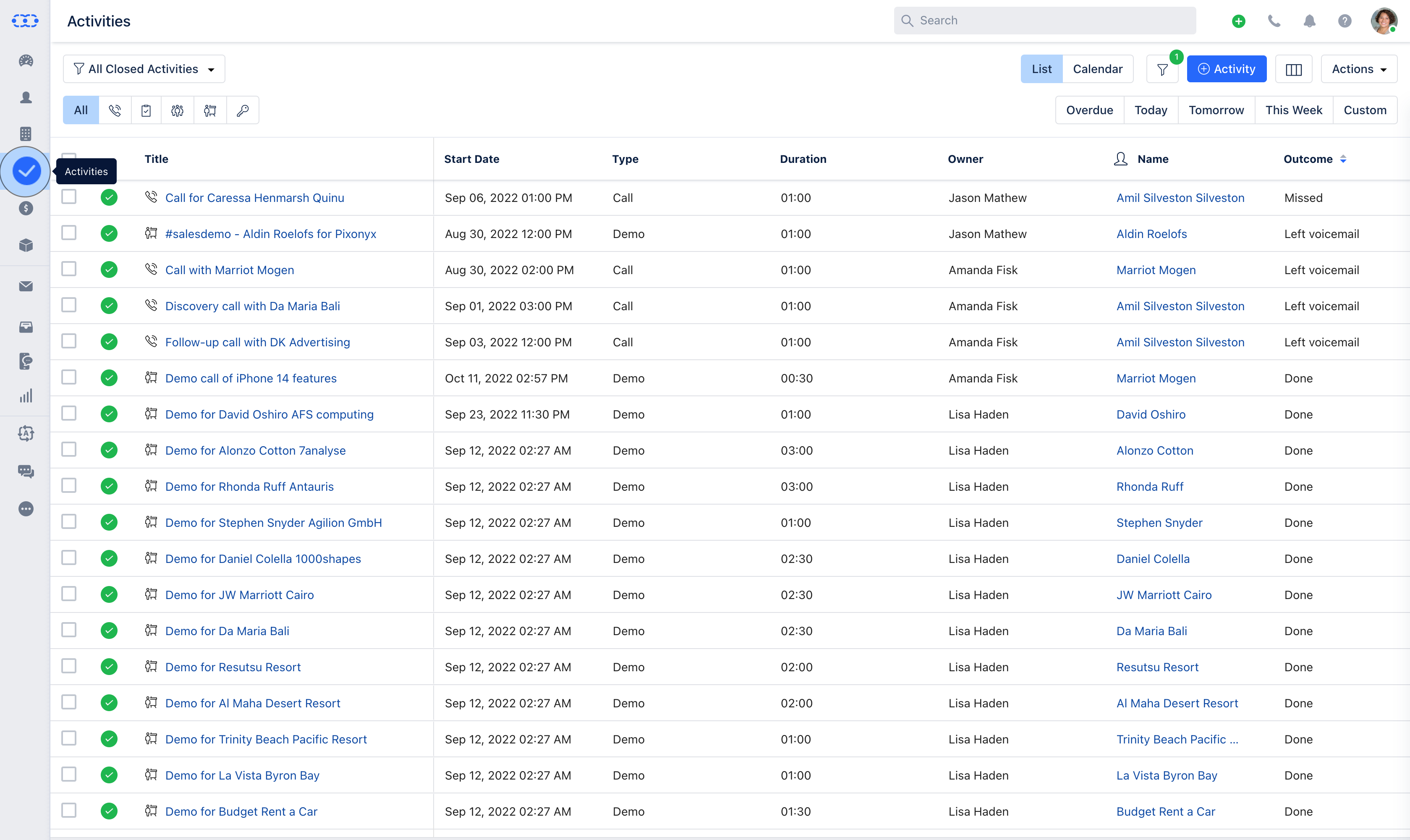 E-MAIL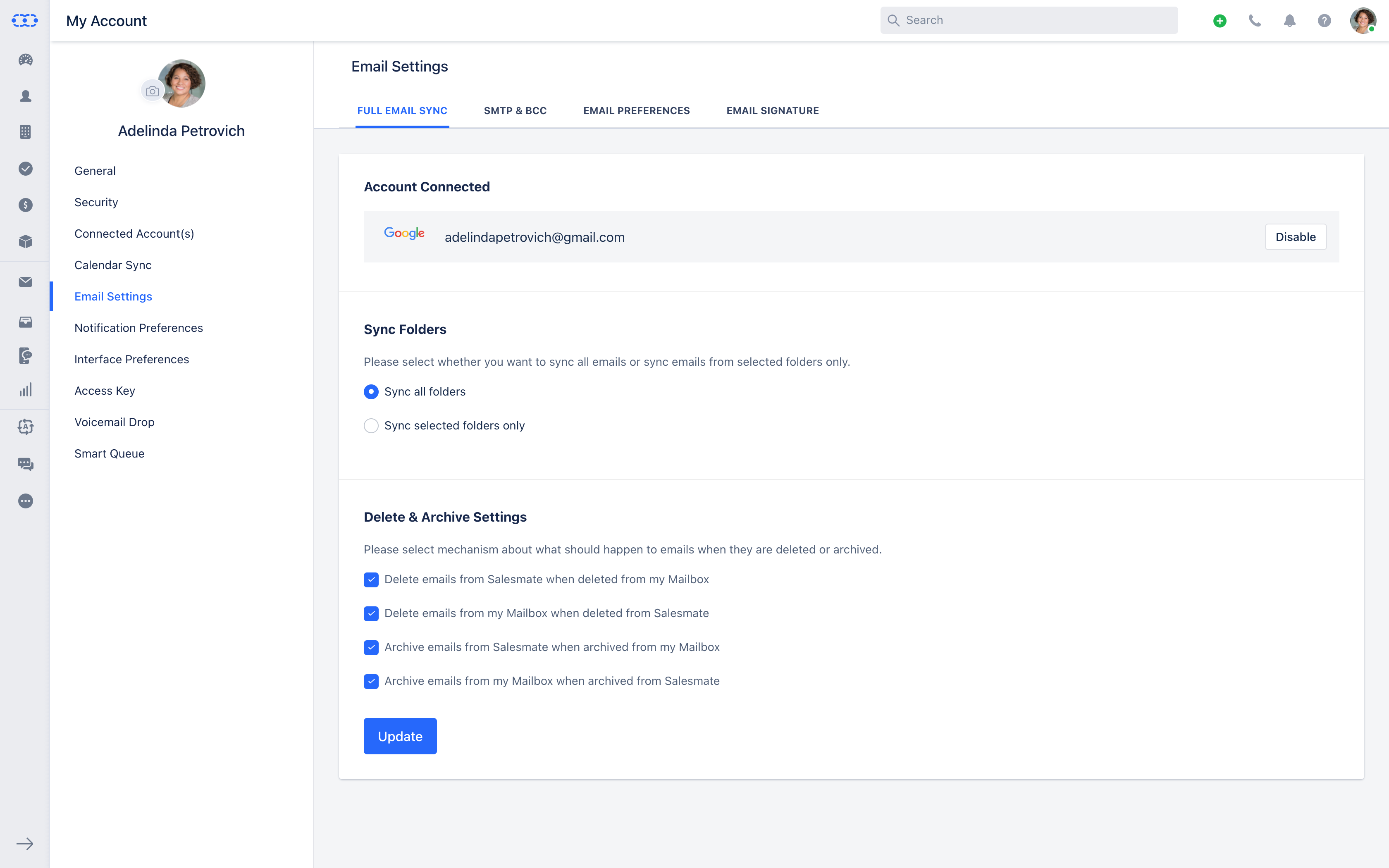 Managing email from your CRM is a remarkable way for sales geeks to rescue time and effort. As this feature has come to a point where it has become essential, we've taken a step ahead to make the management of your business email more effective.
How it works is you simply BCC your Salesmate Smart BCC Address to any email you're sending, and a copy of the email will be delivered to Salesmate.
If the Contact doesn't exist in your Salesmate database yet, then the system will give you an option to create a new Contact in Salesmate, holding the email address of the contact you sent the email to.
E-MAIL INTEGRATION
Mail tracks outgoing emails sent to your People using our Email Integration.
If the contact exists in the system, the email will be associated with them.
If the contact doesn't exist in the system, the email will let you create a new Contact while linking the email thread to them.
If a Deal is open for the contact who the email has been sent to, Salesmate will associate the email thread with the Contact as well as the open Deal.
* If multiple deals are open for a Contact who has been sent an email, Salesmate will give you a list of all open deals for that Contact to associate the email with.
Replies from your contacts can also be forwarded to your Salesmate Mailbox, and Salesmate will document them in the same email thread as a reply from the customer.
Attaching files
You can attach files to contacts, companies, deals, activities or emails as an attachment. For Contacts, Companies, Deals, and Activities you can attach it from your desktop or Google Drive ( if your Google Drive Integration is enabled ), whereas for Emails you can only attach them from your desktop.
PRODUCT
In Salesmate CRM, you can create your own product catalog in which you can find all the detailed information about each of them, in a matter of seconds: quantities, discounts, price, etc. You can also link a product to a deal so that you know what deal has what type of product.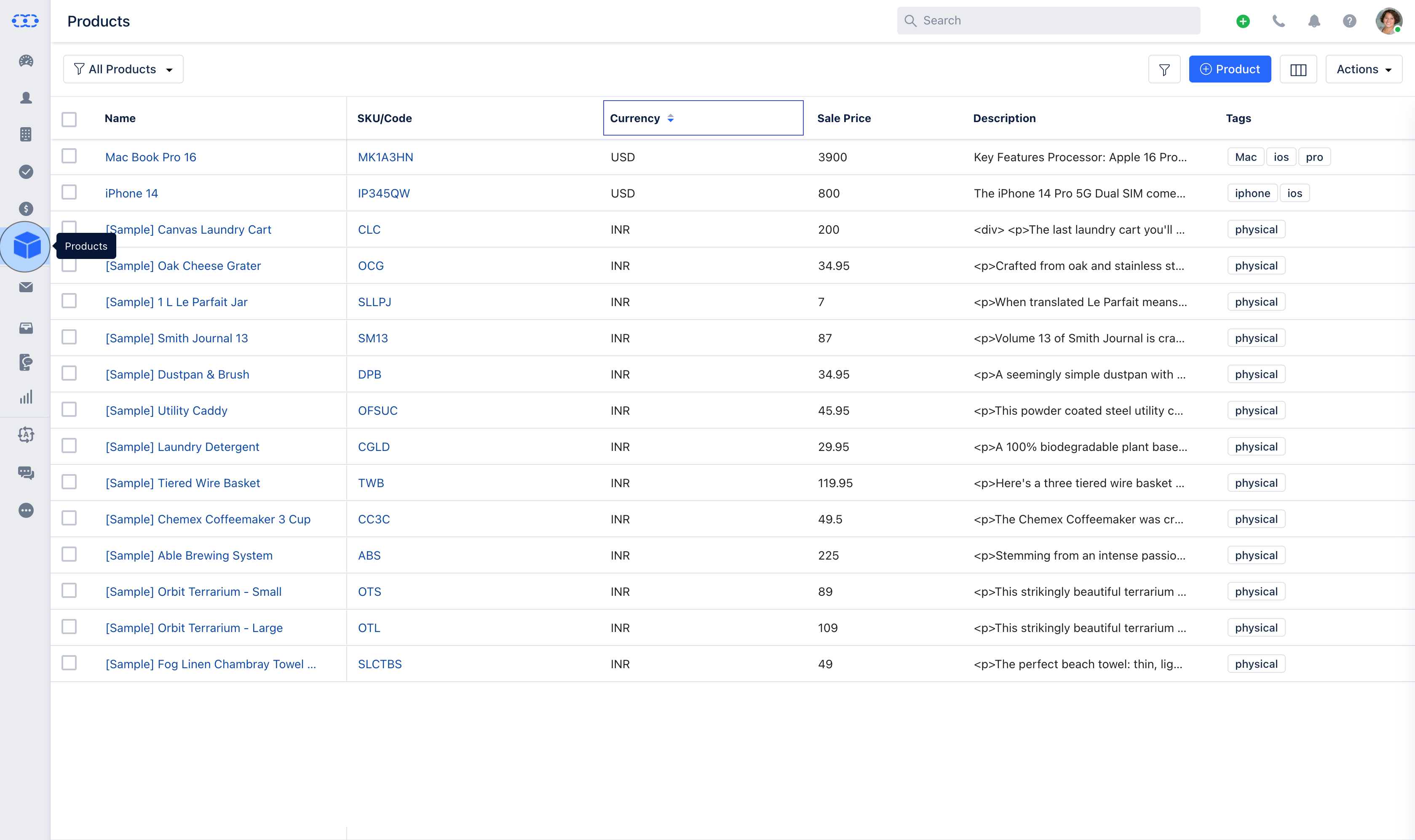 REPORTS
Make use of the default reports given by the Salesmate as well as create your own reports to have a visual/graphical view of your performance in Salesmate.