A. How to add an activity
B. Google Calendar Activity Sync
C. Custom activity types
D. Activity outcomes
E. Add Activity vs Log Activity
F. Recurring Activity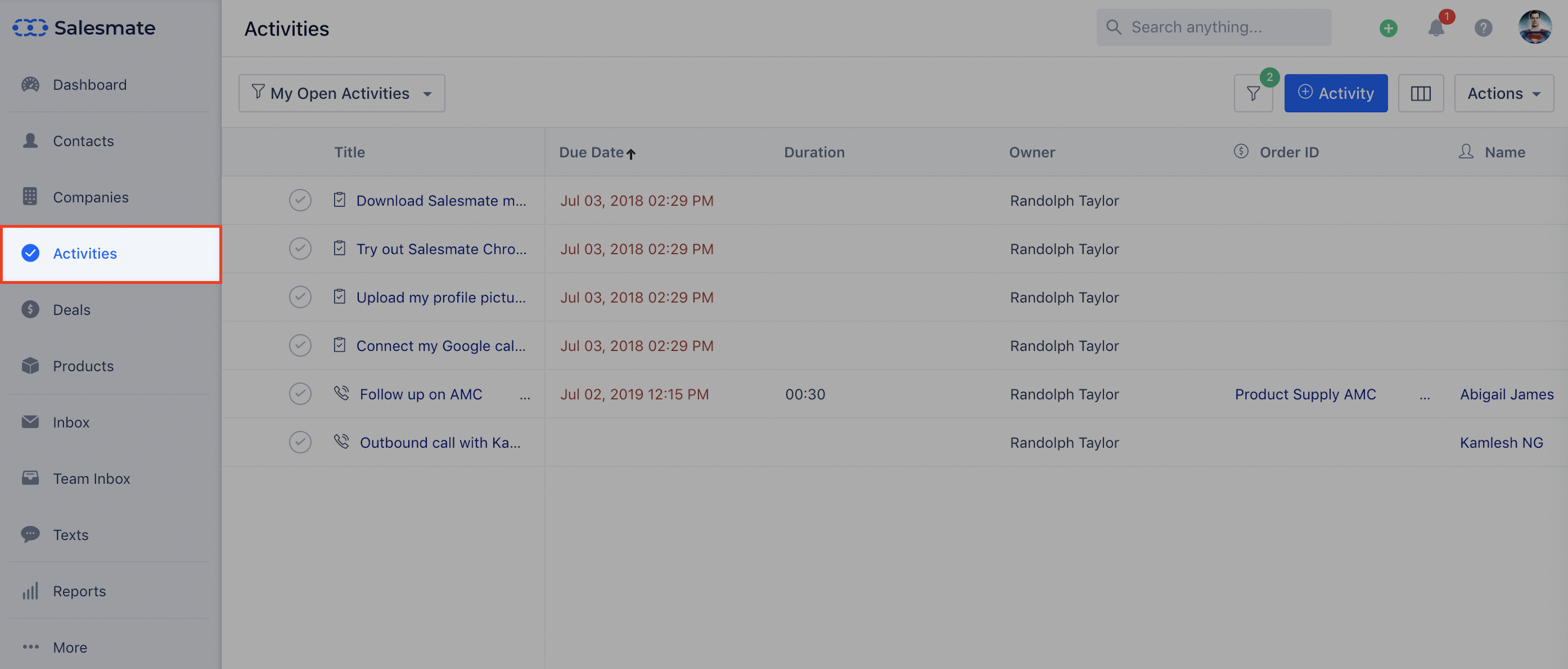 Activities are the essential part of day-to-day business. It's a piece of work which is needed to be done, and it can be time bound if required. You can create activities for self or for others. Salesmate will keep on reminding you about your important activities, so you don't miss them out. You can schedule it in context with a Contact, Company, and/or a Deal.
Activities can be synced with the Google Calendar.
Salesmate enlists your activities as a to-do list right on your dashboard, that makes planning your activities far easier.
Creating an activity from a deal will automatically associate the activity with the deal's assigned contact and/or Company.
A. How to add an activity
Activity Listing Page: Activity > Add Activity
Contact Details Page: Contact > View a Contact > Add Activity, Log Activity
Company Details Page: Company > View a Company > Add Activity, Log Activity
Deal Details Page: Deal>View a Deal> Add Activity, Log Activity
Contact Quick view: Click the three dotted button > Add Activity
Company Quick view: Click the three dotted button > Add Activity
Deal Quick view: Click the three dotted button > Add Activity
Dashboard > Activity Tab > Add Activity
Quick Add + button
Tip:
Activity can also be created by the shortcut key combination c,a(ca).

Mark Activity as completed by checking Mark as complete while creating the activity.
From the Pipeline (Deal board) View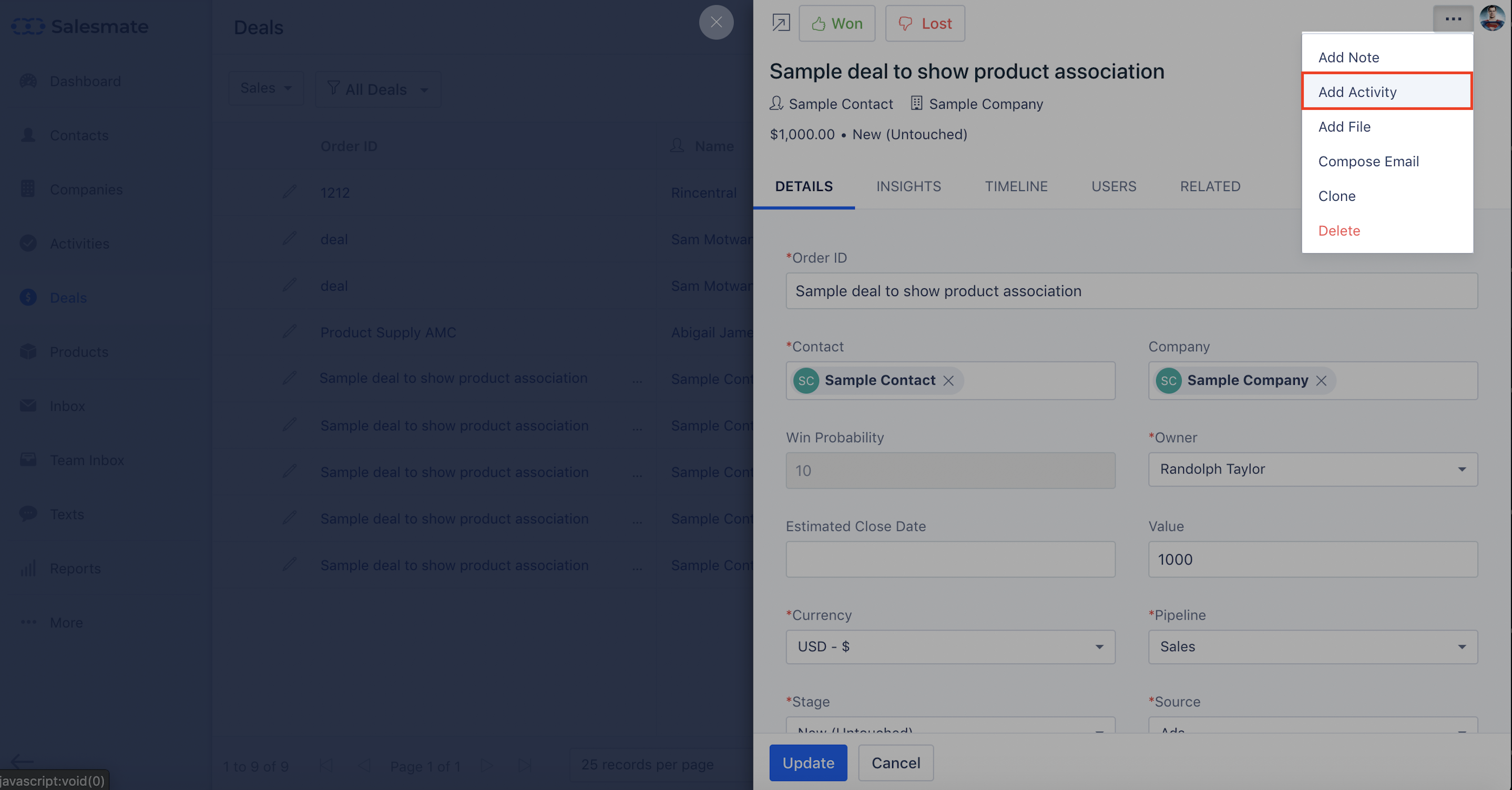 From the Deal/Contact/Company Detail Views
The Activity List
Activity Dashboard
You will be able to view your due, activities for today as well as the upcoming activities from the Default Dashboard.
B. Google Calendar Integration
As mentioned earlier, Salesmate activities can be synced to Google Calendar. Click Here to read more.
Google Calendar helps you manage your day to day activities effectively and adds up to your productivity. Salesmate adds to it by letting you synchronize the activities created in it with Google calendar or vice versa.
Enabling this Integration will sync all your future events to the Google Calendar. All your past events can be synchronized using the Update unsynced activities option.
Syncing your activities with Google Calendar:
Note: 
Make sure you have added the Google account to Salesmate. To add a Google account
click here
.
Recurring Activities:
Note: Available in the Growth Plan
Recurring activities are tasks that are created once and then recreated automatically after a designated time period.
C. Activity Type:
Salesmate comes preloaded with basic activity types viz. Call, Task, Meeting, Demo. A user can create their own activity types and assign an icon to it. Activity Types will be listed based on the order defined in the Activity Type Menu. You can activate or deactivate an activity type. However, they cannot be deleted.
To create a new activity type:
Navigate to Setup > Customization > Activity types. All your activities are listed in this screen.
Click the Blue + Activity Type button to add a new activity type. The add activity type screen opens.
Then wisely choose a short yet informative name and beautiful icon for the newborn Activity type.
Customize types of activities you want in your company. You can rearrange them by dragging and dropping
You can Activate / Deactivate or Edit Existing Activity Types.
Count as communication: If enabled then the activity of defined type will effect on smart fields like Last communication date, Last Communication mode, etc. of Contact, Company and Deal records, as these will be treated as a form of communication between you and your contacts.
A new activity type is up and running! You will also be able to view the new activity type in the Activities drop-down screen.
D. Activity outcomes
Every Activity has a purpose and a designated result or outcome.  Activity outcomes in the activity section help you track the result of each activity as you mark them as complete. You can add multiple outcomes for each activity type.
To add activity outcomes:
Note: User with administrator profile can access this.
Go to Setup > Customizations > Activity Types
You will get the list of activity types, with the count of how many activity outcomes defined for each activity type.
Click on "Manage Outcomes" button to create new outcomes or edit current outcomes available with that activity type.
Create New outcome - You can simply add new outcomes by hitting on plus button available near the text box.

Activity outcome can't be bigger than 100 characters each.
It can only have alphanumeric characters.
The duplicate check will be required and will be case insensitive.
Update outcome - The activity outcome can be updated by renaming existing label on the popup.

All activities which are having that outcome being used right now will be updated with new outcome label.

Remove outcome – You can simply hit remove button available with each text box to delete any of already created outcome. If it's being used anywhere right now, then it will be managed as it is. Those outcomes will not be lost from activity details.
Reorder outcome - You can drag and drop created outcomes and reorder them. These outcomes will appear in the given order.
E. Add Activity vs Log Activity:
Adding an activity means scheduling an activity in the future. You can send a calendar invite while adding an activity.
Log an activity means logging an already completed activity that you just completed or have completed it in the past. You will be able to add an outcome while you log it and schedule a followup activity while logging an activity.