Team Inbox in Salesmate consists of the following folders:
Following
Outbox
Trash
Scheduled
Spam
Archive
Sent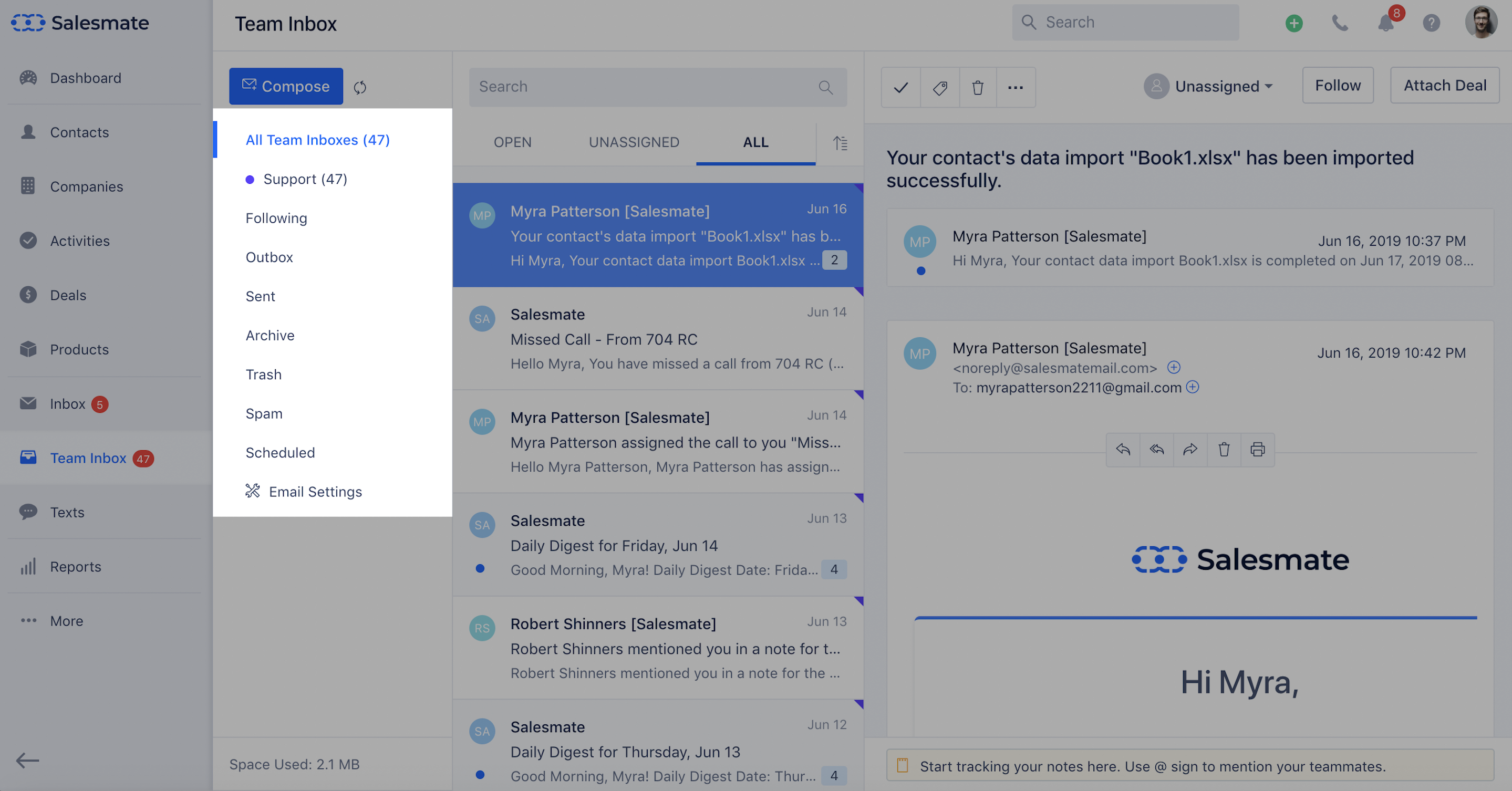 Whenever a team inbox is selected, it will show the mails that can be Open,Unassigned or All.

Open: Will show all those emails which are open.
Unassigned:Unless and until any users are assigned to an email, they will be featured in Unassigned.
All:This will show all the emails ,irrespective of them being opened/closed , assigned/unassigned.
Sorting:The emails can be sorted on the basis of Newest, Oldest or Oldest Unread.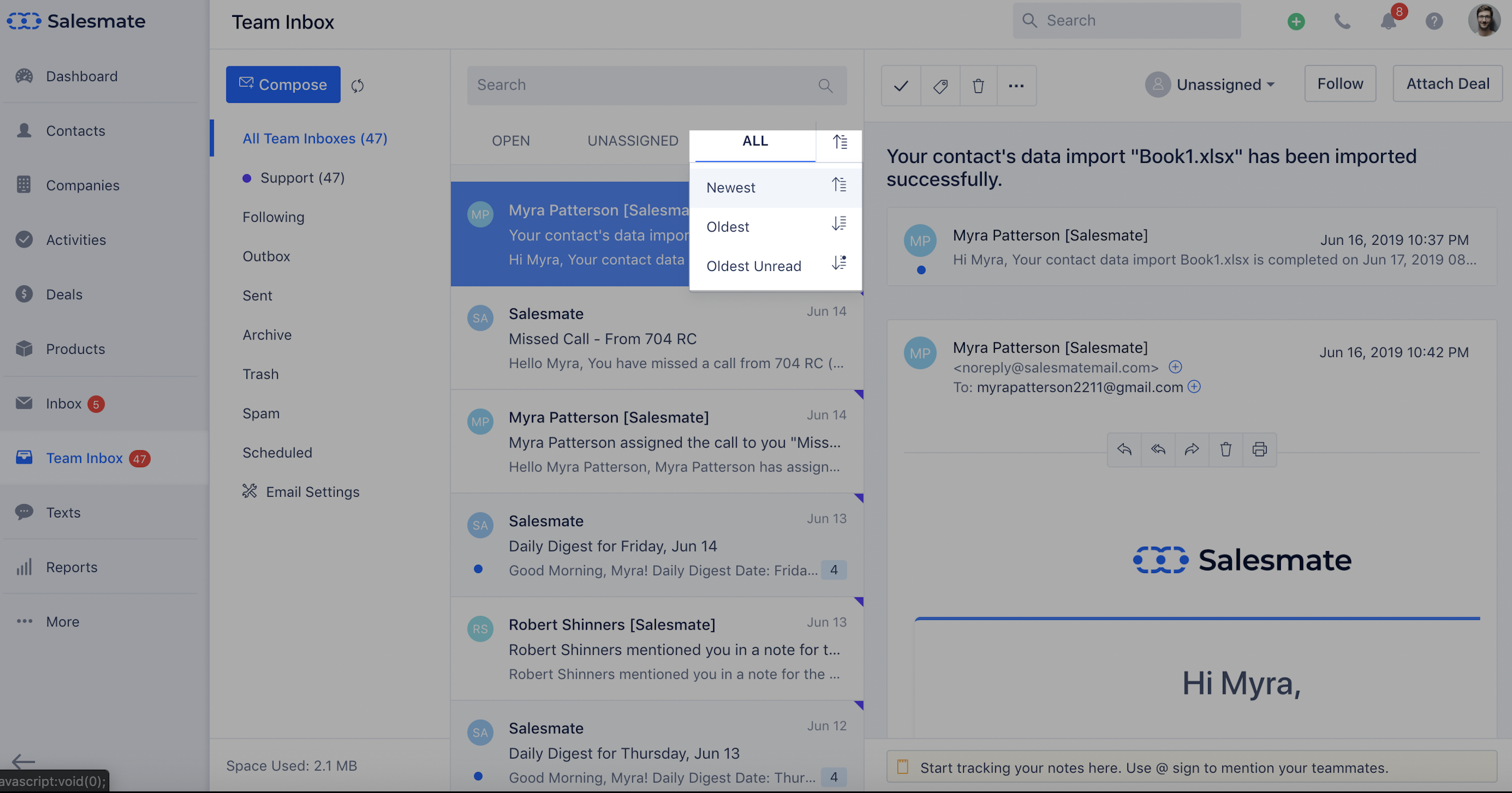 Click on Email settings if you wish to configure any changes in your Team Inbox or wish to add a new one.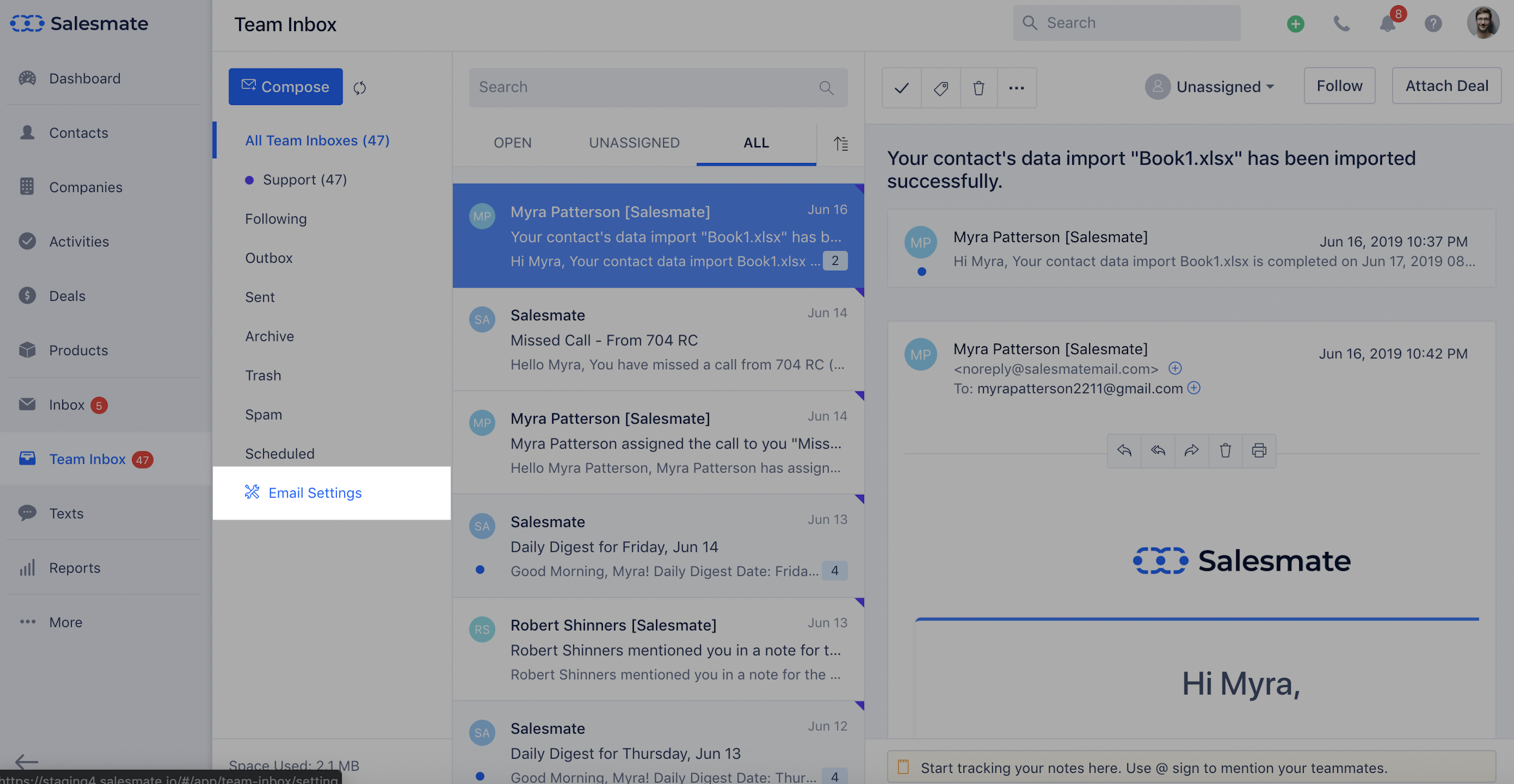 On opening any particular email, you will have many options on the top whereby you can: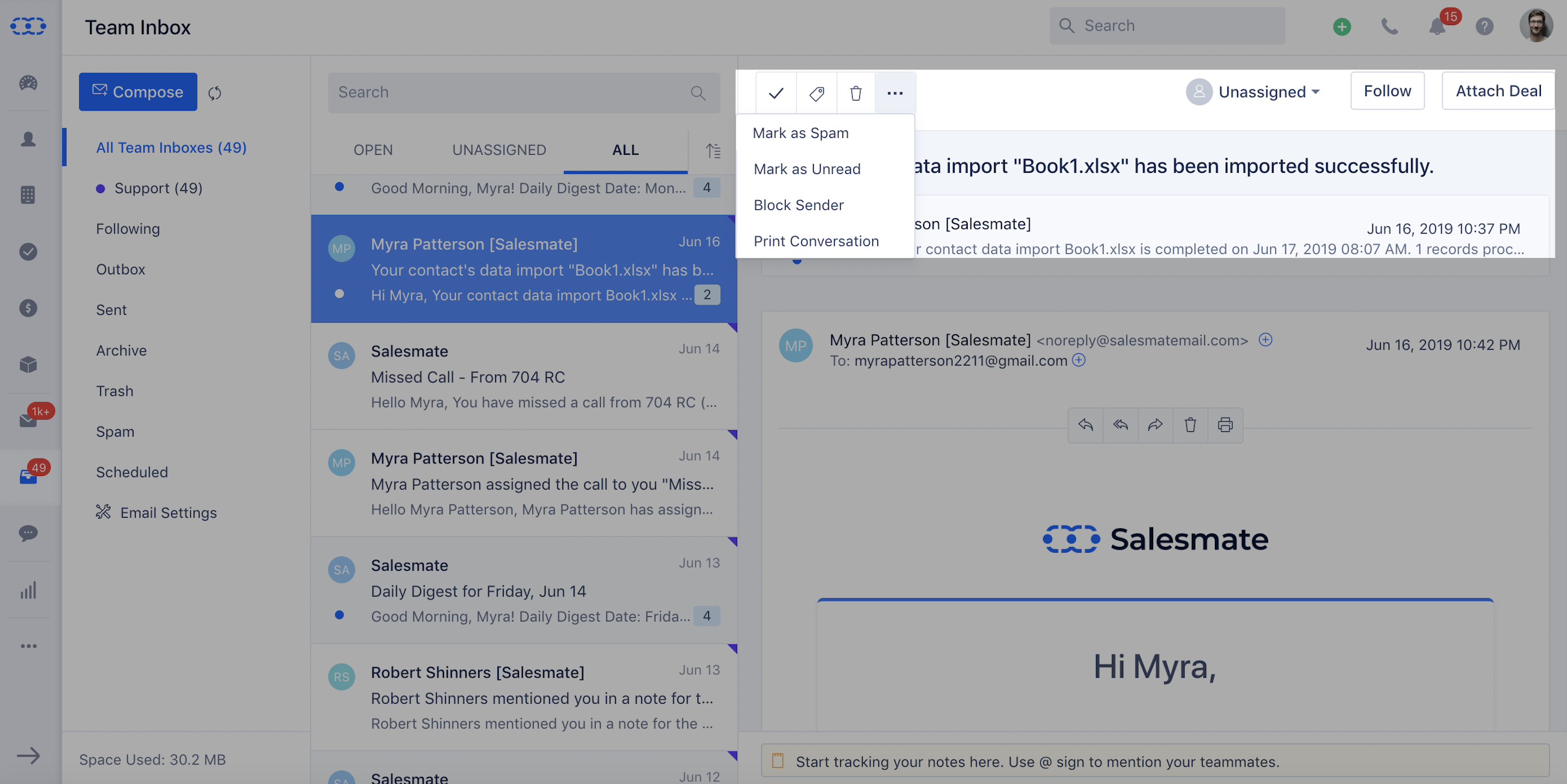 Open/Close an Email Conversation
To close a particular conversation click on the Tick icon.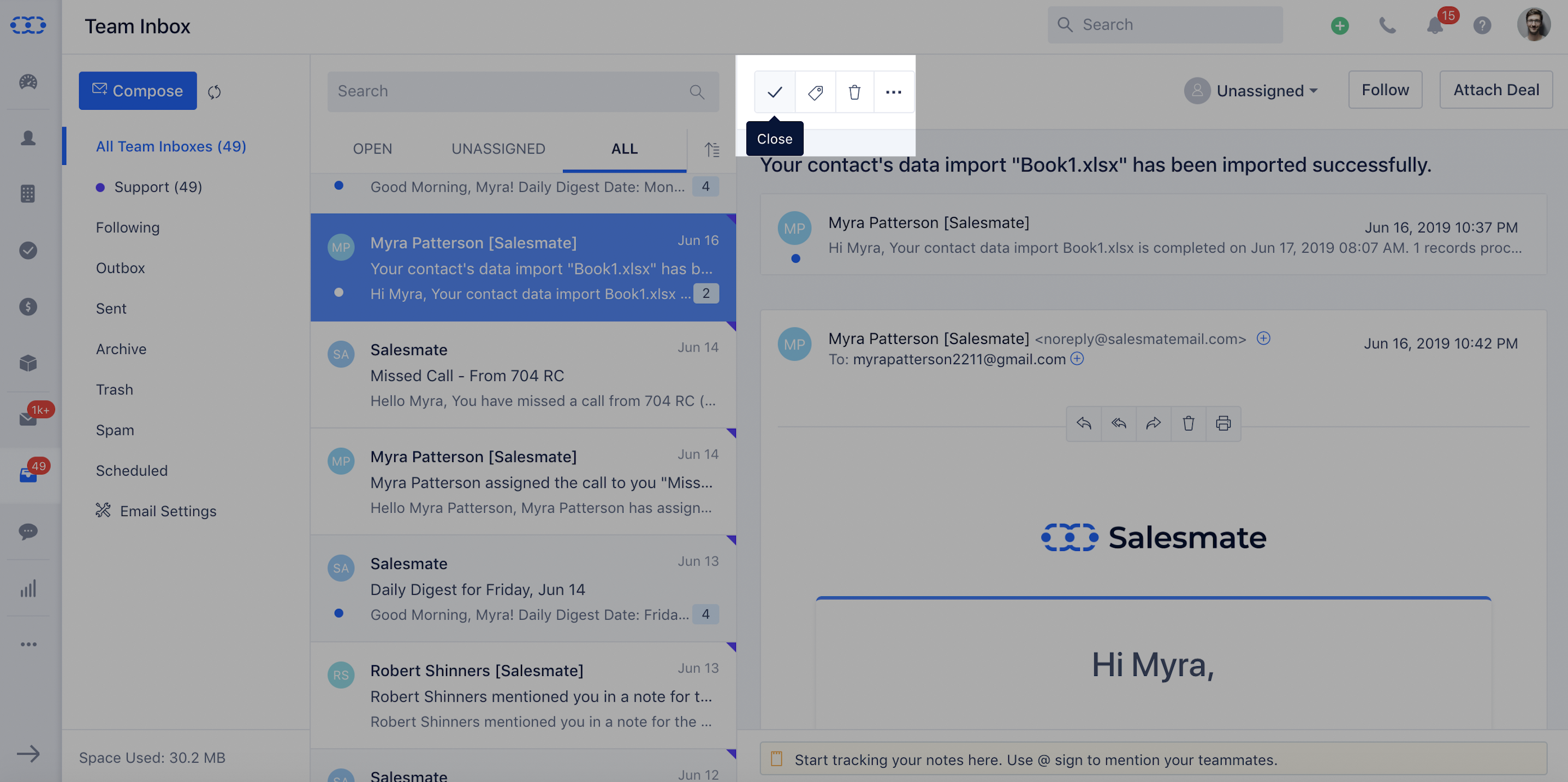 To view your Closed conversations, you can view them in the Archive folder.
If you wish to reopen the conversation , you can click back on the Tick icon.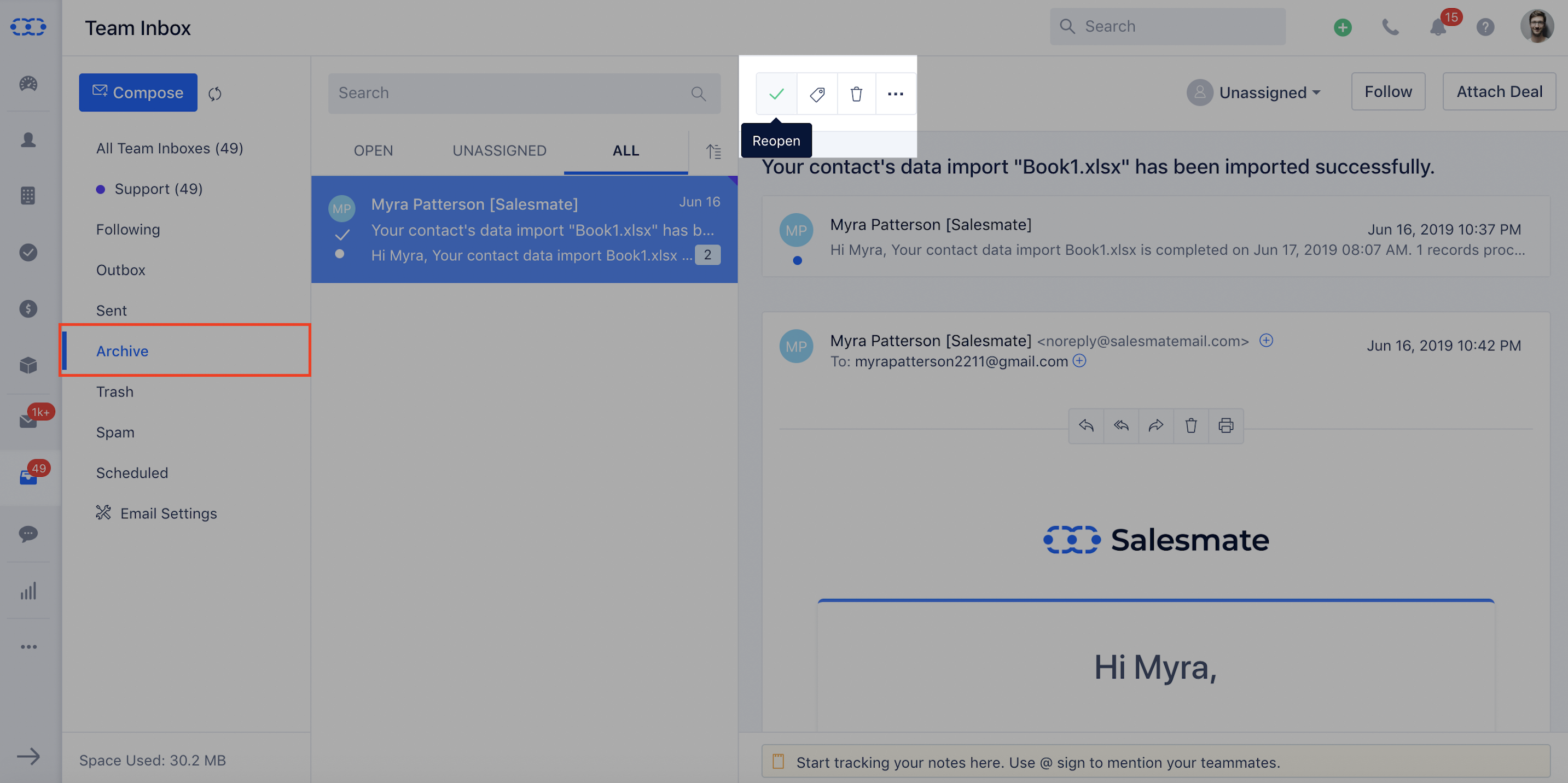 Assign Tag to Email Conversation
Every conversation in Salesmate Team Inbox can be tagged.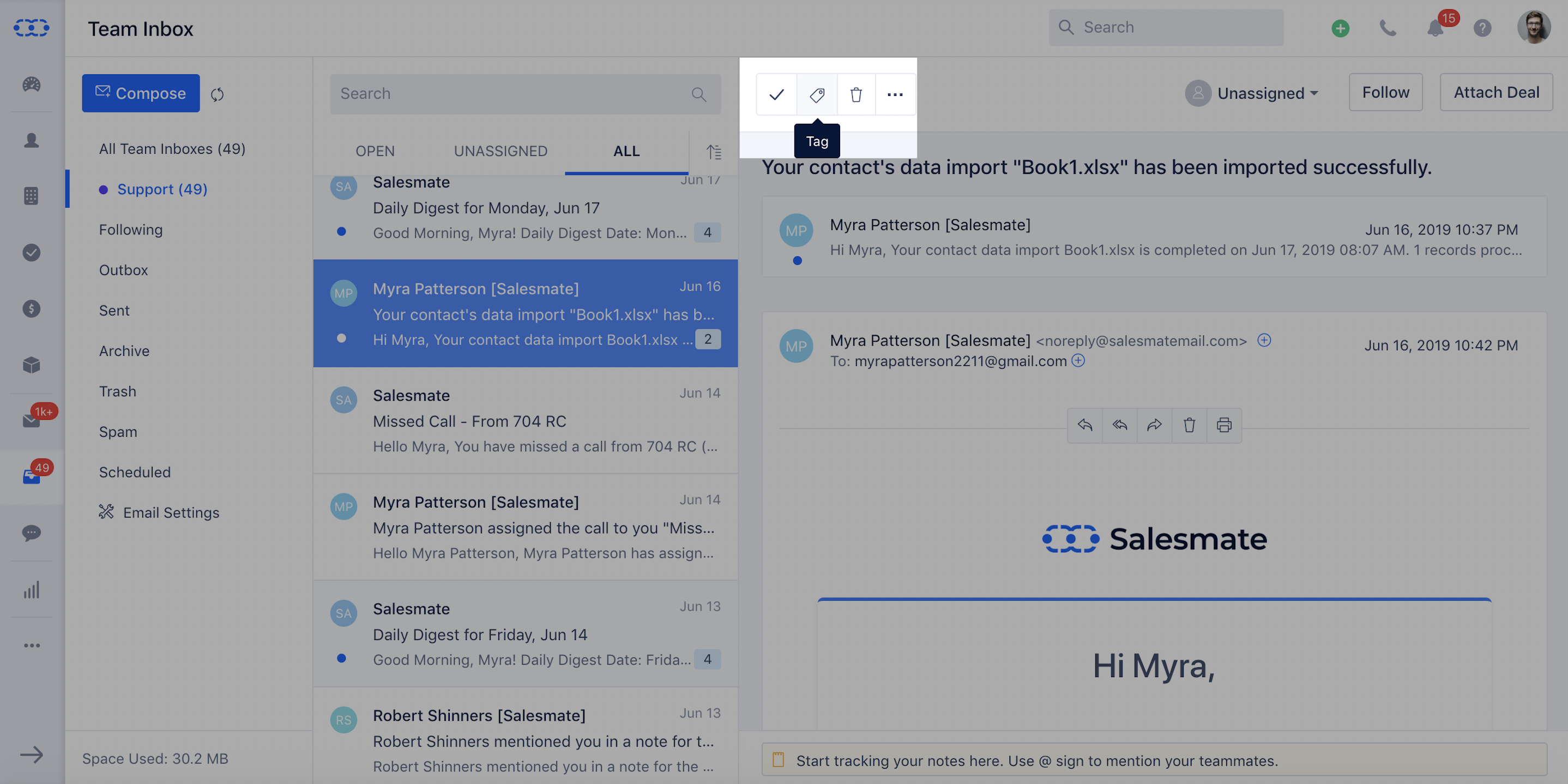 A user can assign multiple tags to an email as well as search emails using those tags.
The tags will be auto-assigned based on operations performed in email accounts.
You can also create your own customized tags along with specific colors to quickly identify the emails inside the box.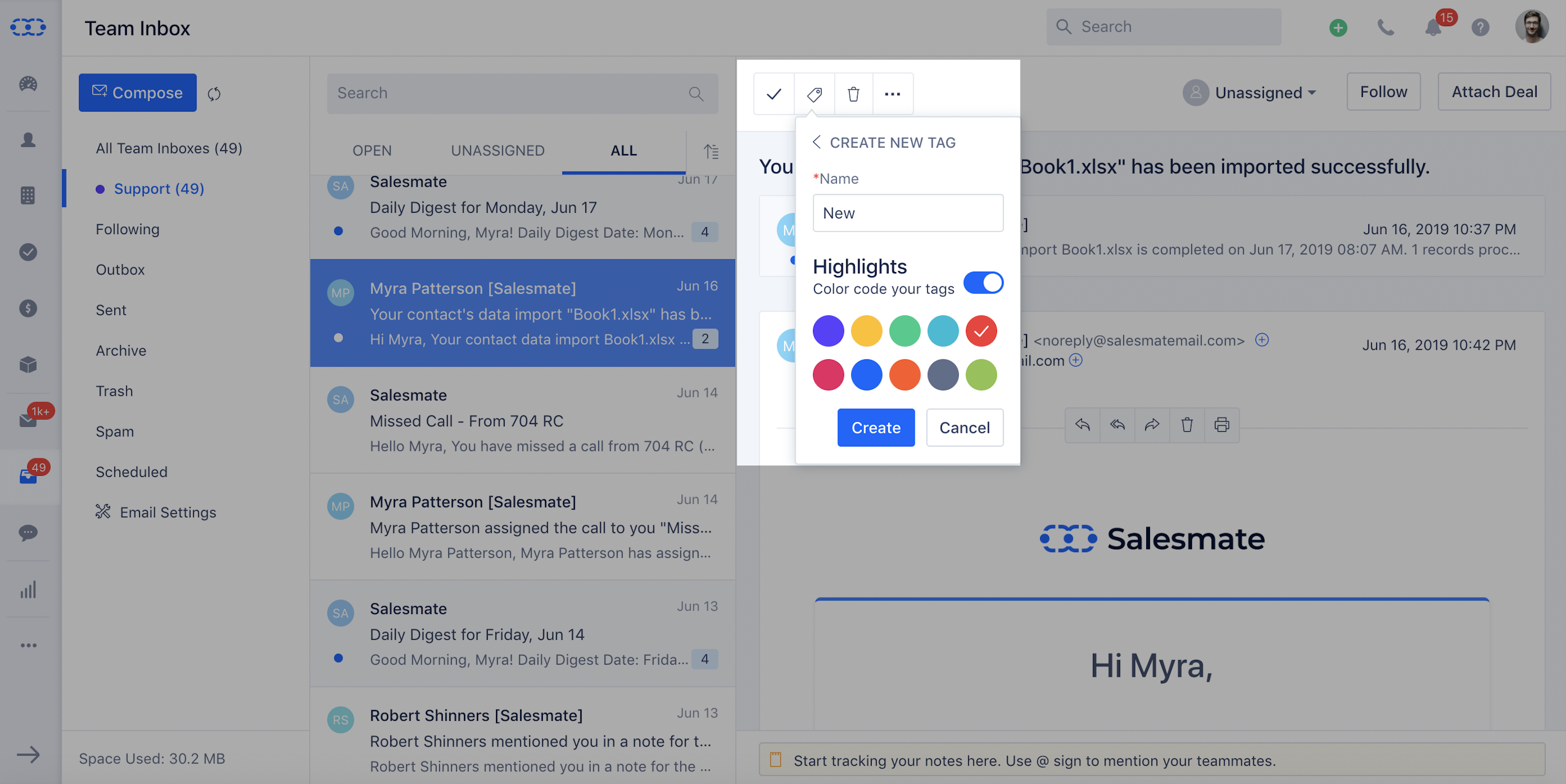 The tags can be edited or deleted by selecting the particular tag.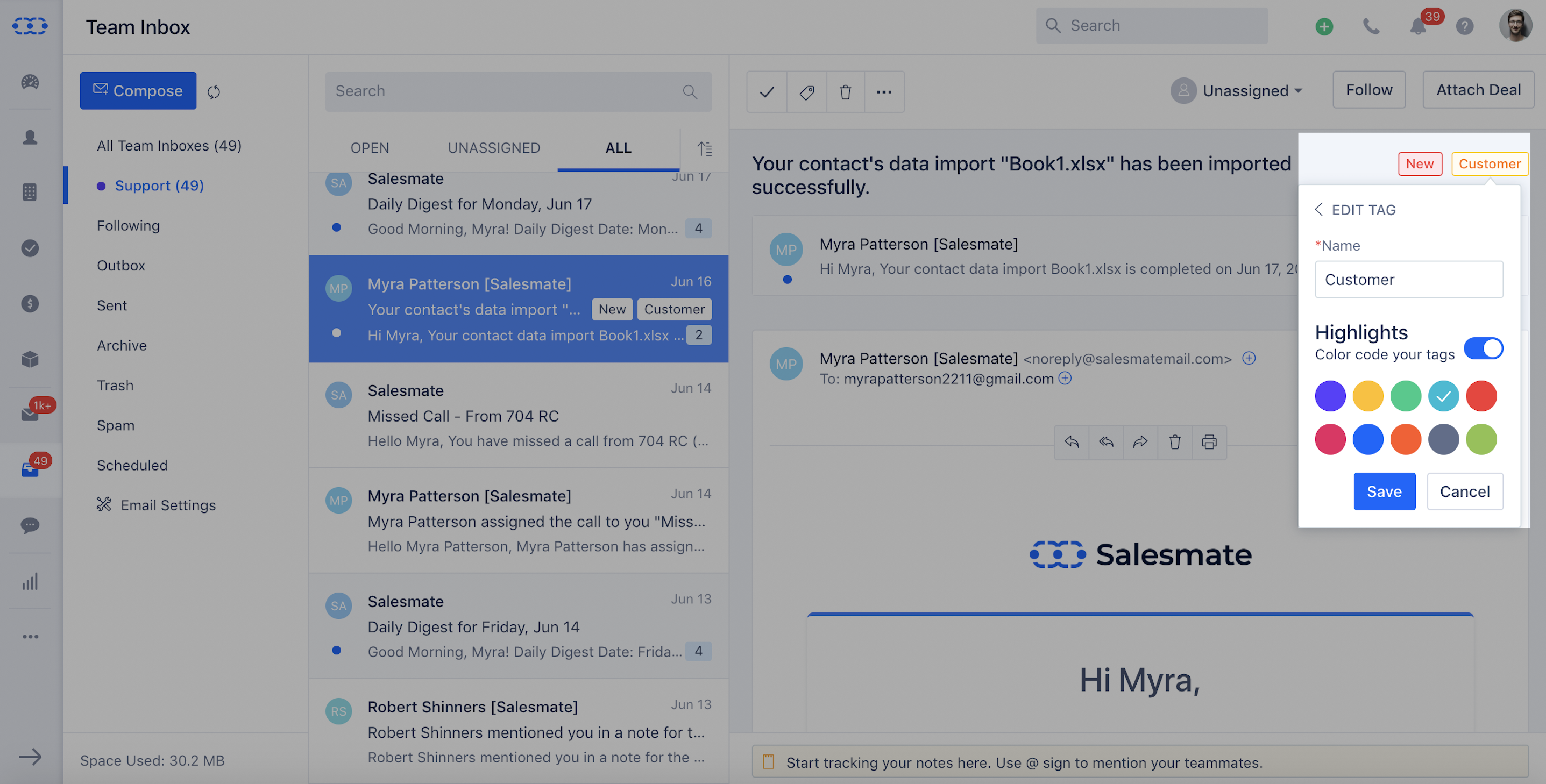 Delete a Conversation
If you want to delete a conversation, click on the Trash icon.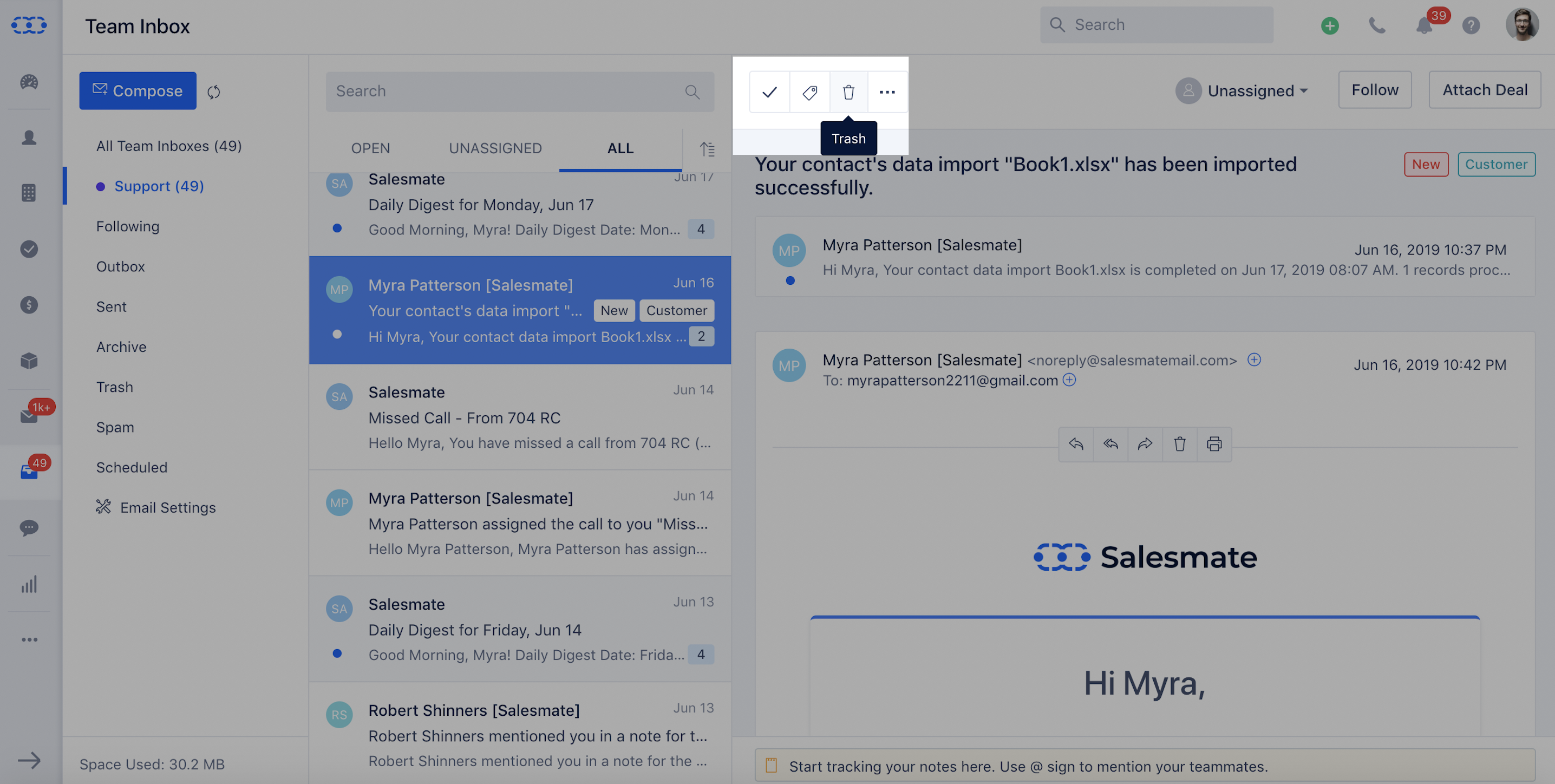 You can view the mail you deleted in Trash folder.
If you wish to recover the deleted mail select Trash>Click on ...>Move To Inbox
The email will move back to the Inbox.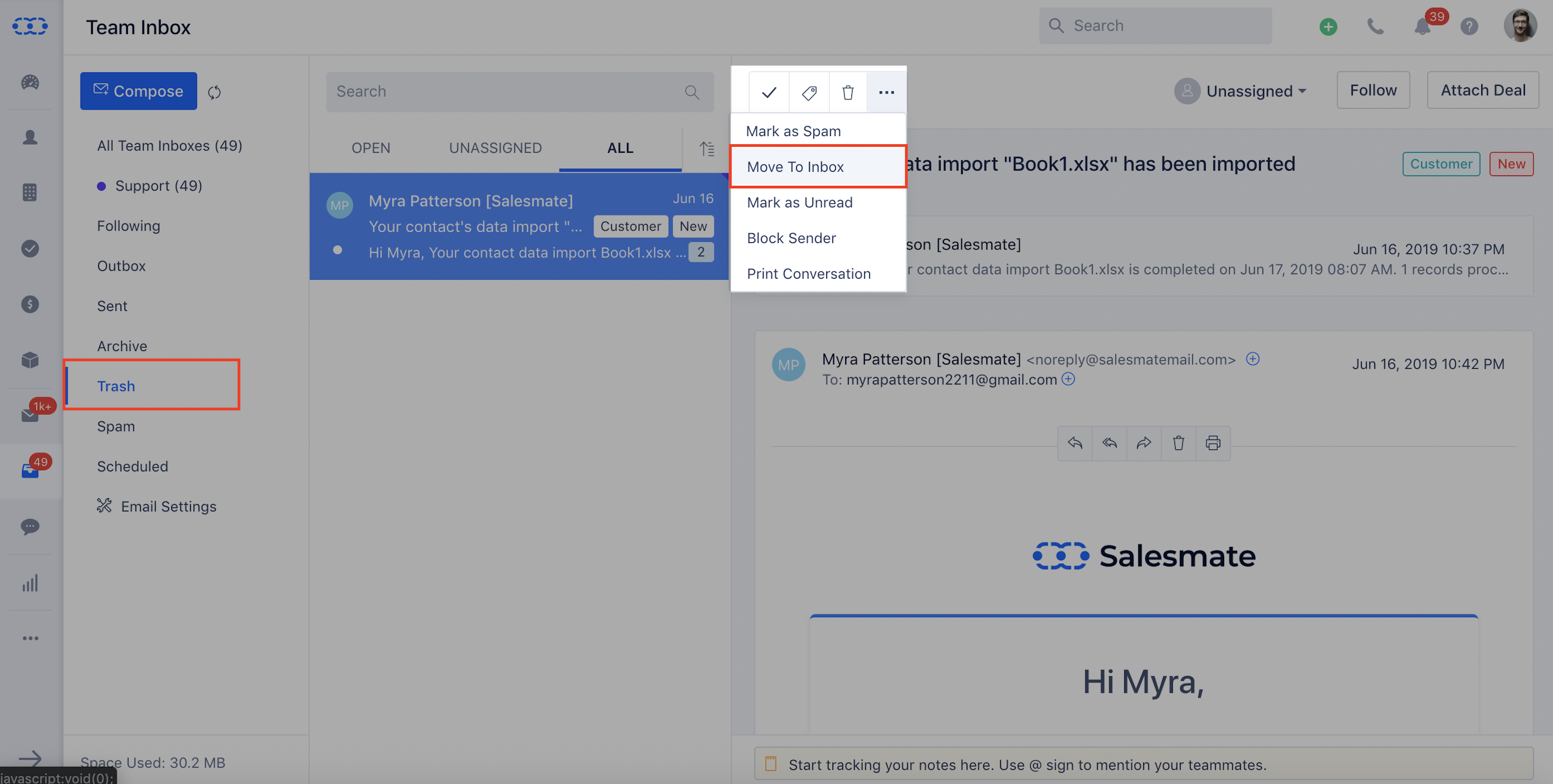 Mark Email Conversation as Spam
Click on ...>Mark as Spam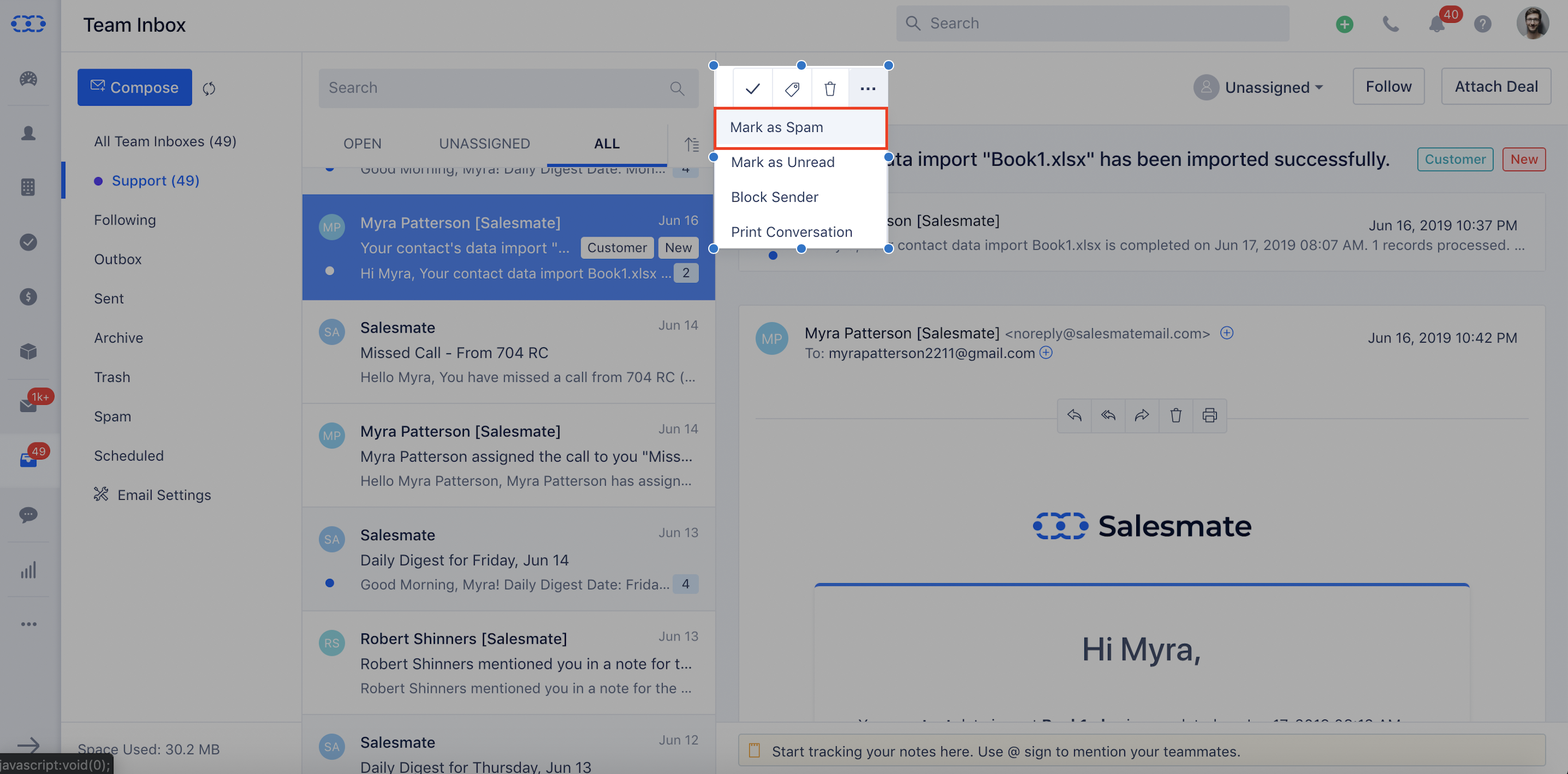 If any email is marked as spam , All emails coming from same user will be auto pushed to SPAM folder.
If you wish to recover the spammed  mail, Click on ... >Move To Inbox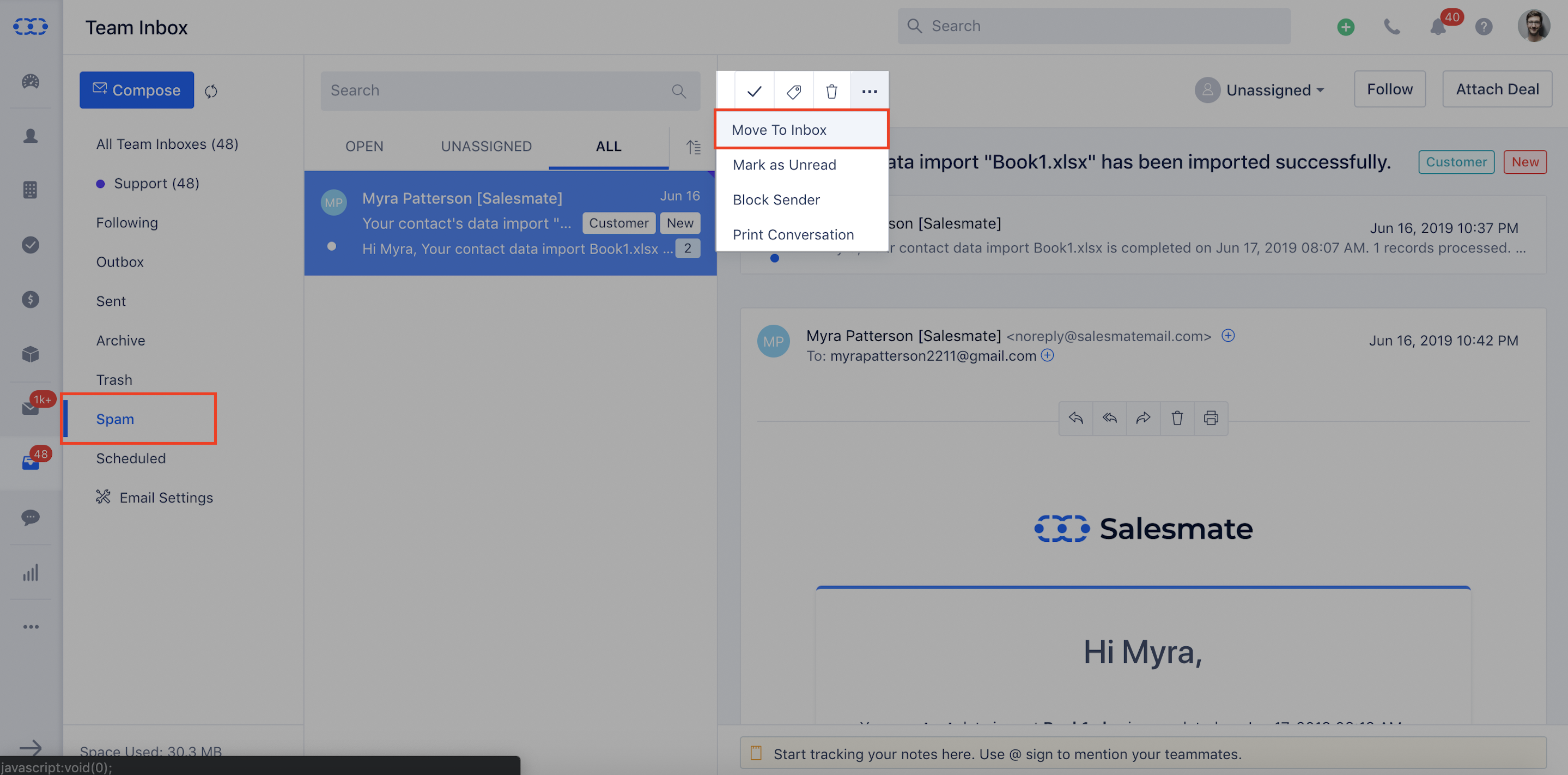 Mark as Unread
Click on ... >Mark as Unread
As soon as you mark your conversation as unread, the number of mails unread in the team inbox increases.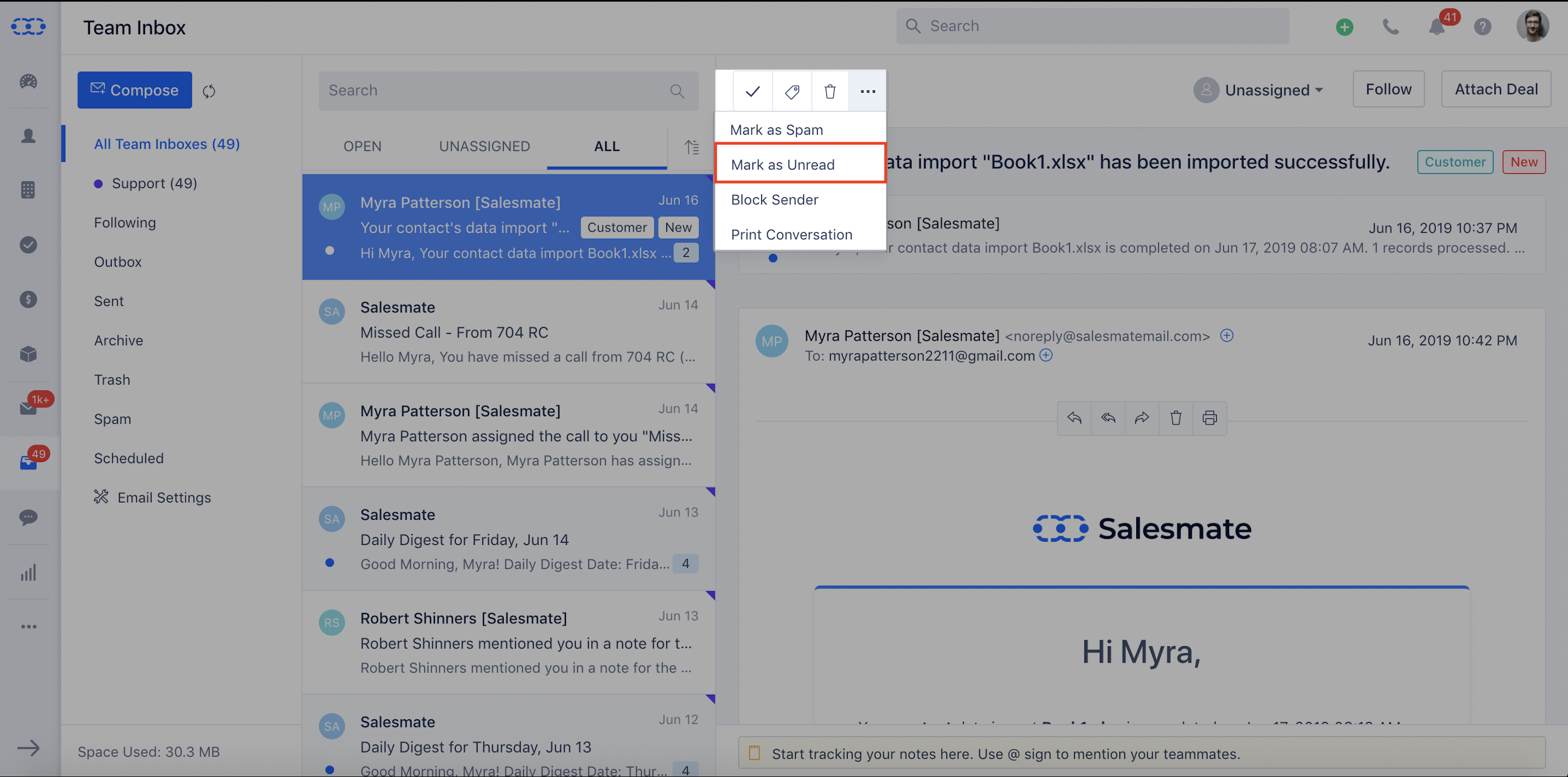 Block/Unblock Email Sender
Click on ... > Block Sender
If any email is marked as "Blocked Sender" then all the emails coming from that user will not land inside Salesmate.
Salesmate will simply reject those emails.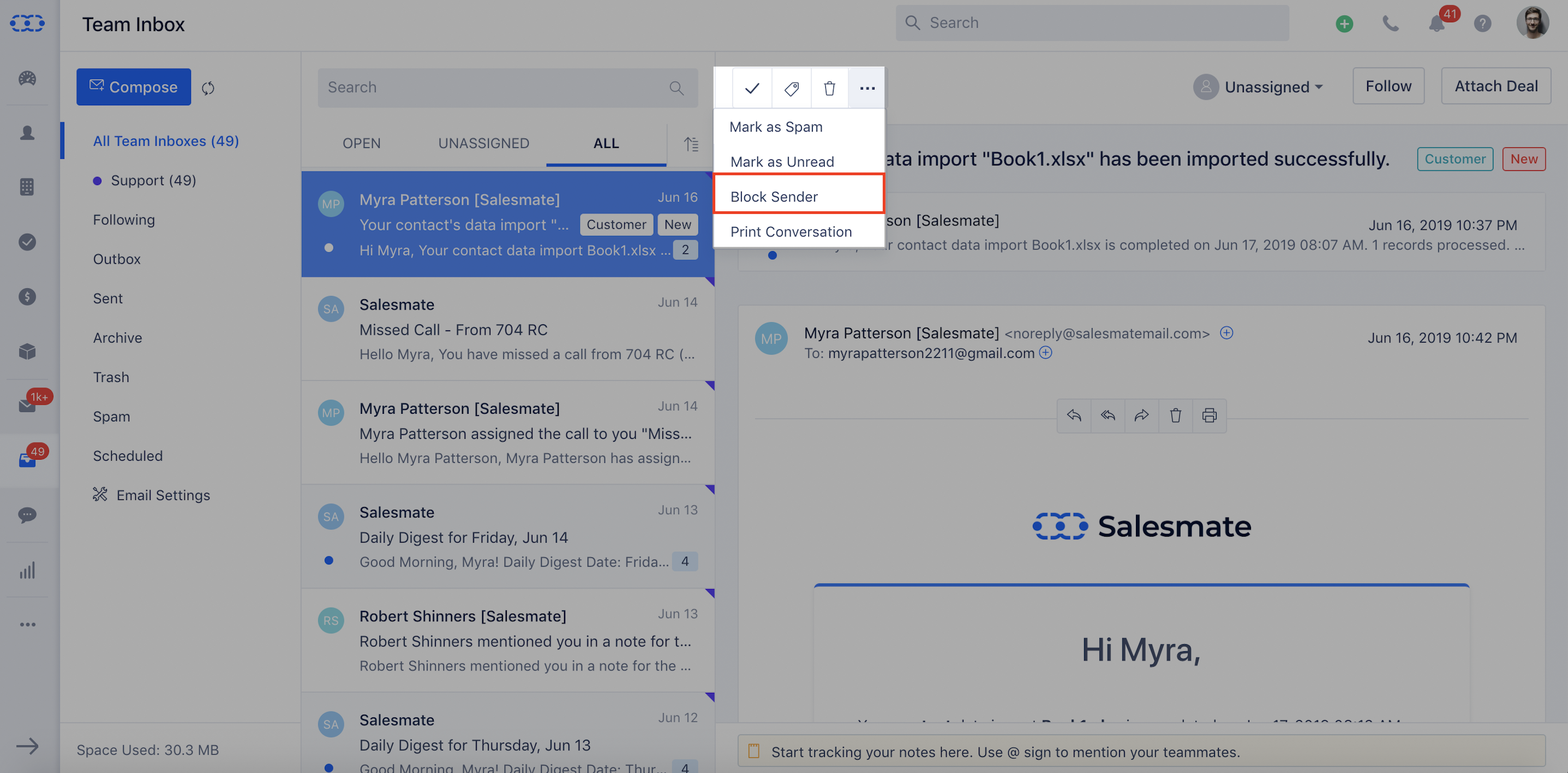 You will be asked with a confirmation before you block the sender.

To view the blocked receivers ,select Email Settings>Blocked Receiver.
From the list you can Unblock the senders again.
On unblocking any sender, the old emails will not be fetched back which have been rejected by Salesmate.
It will start fetching the new emails only after the unblocking operation is performed.

Print Conversation
Click on ... > Print Conversation
Using this you can print your respective conversation.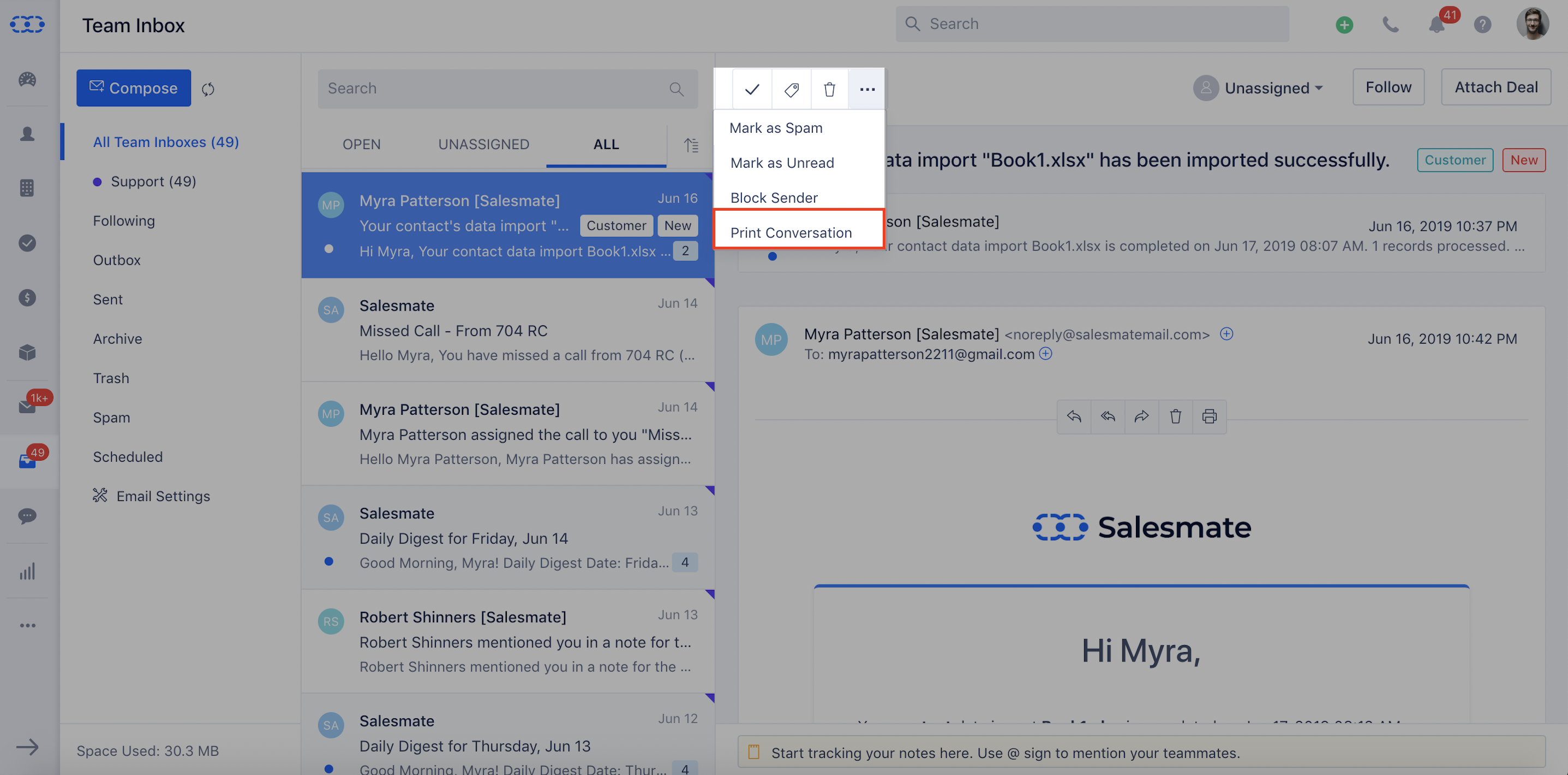 Assign Email Conversation to User
Email conversation can be assigned to a user to make sure who is responsible for responding to a particular email.
You can assign an email to a user who is a part of the Salesmate work space.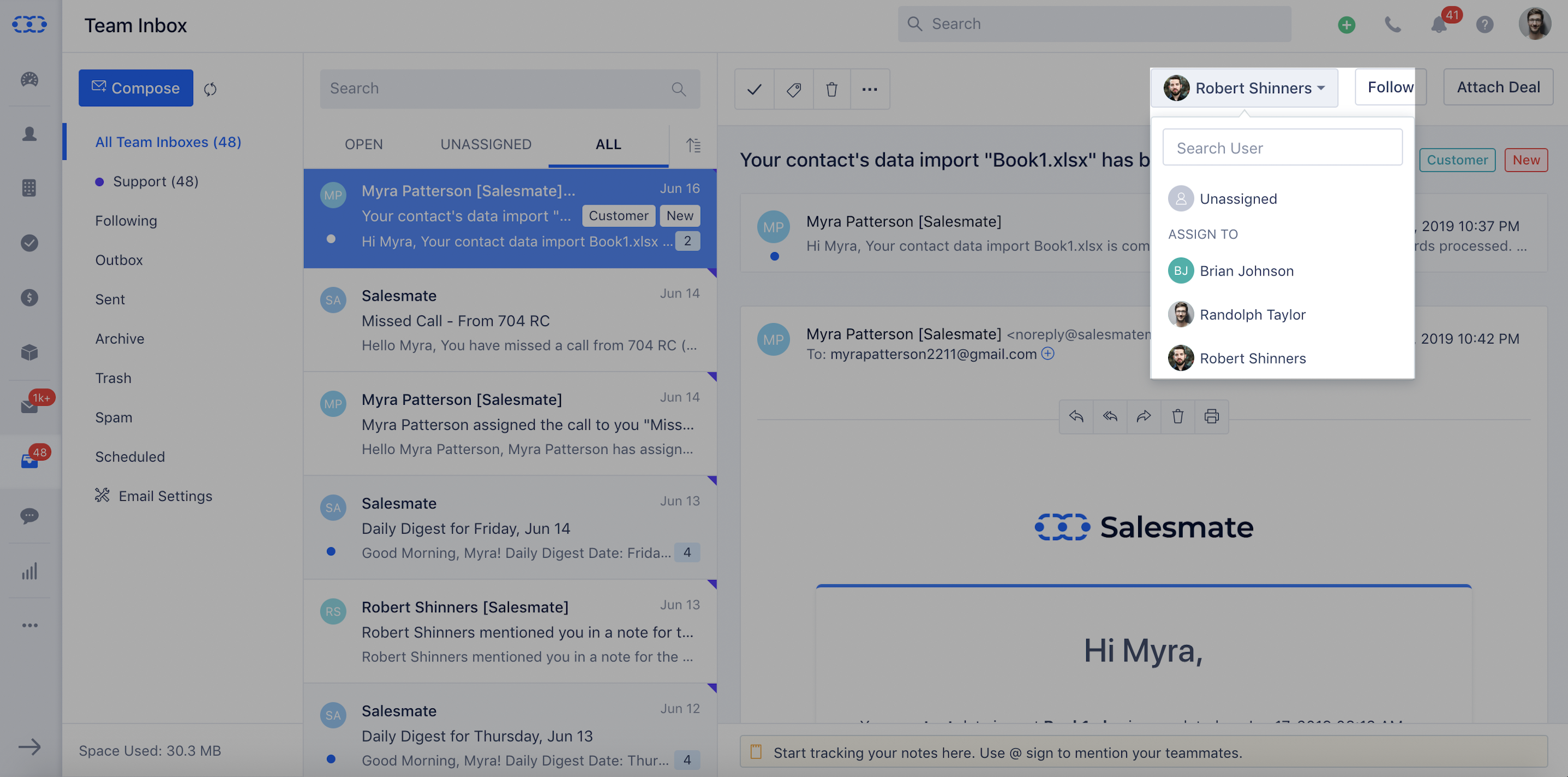 Follow/Unfollow Email Conversation
A user can follow or unfollow the email.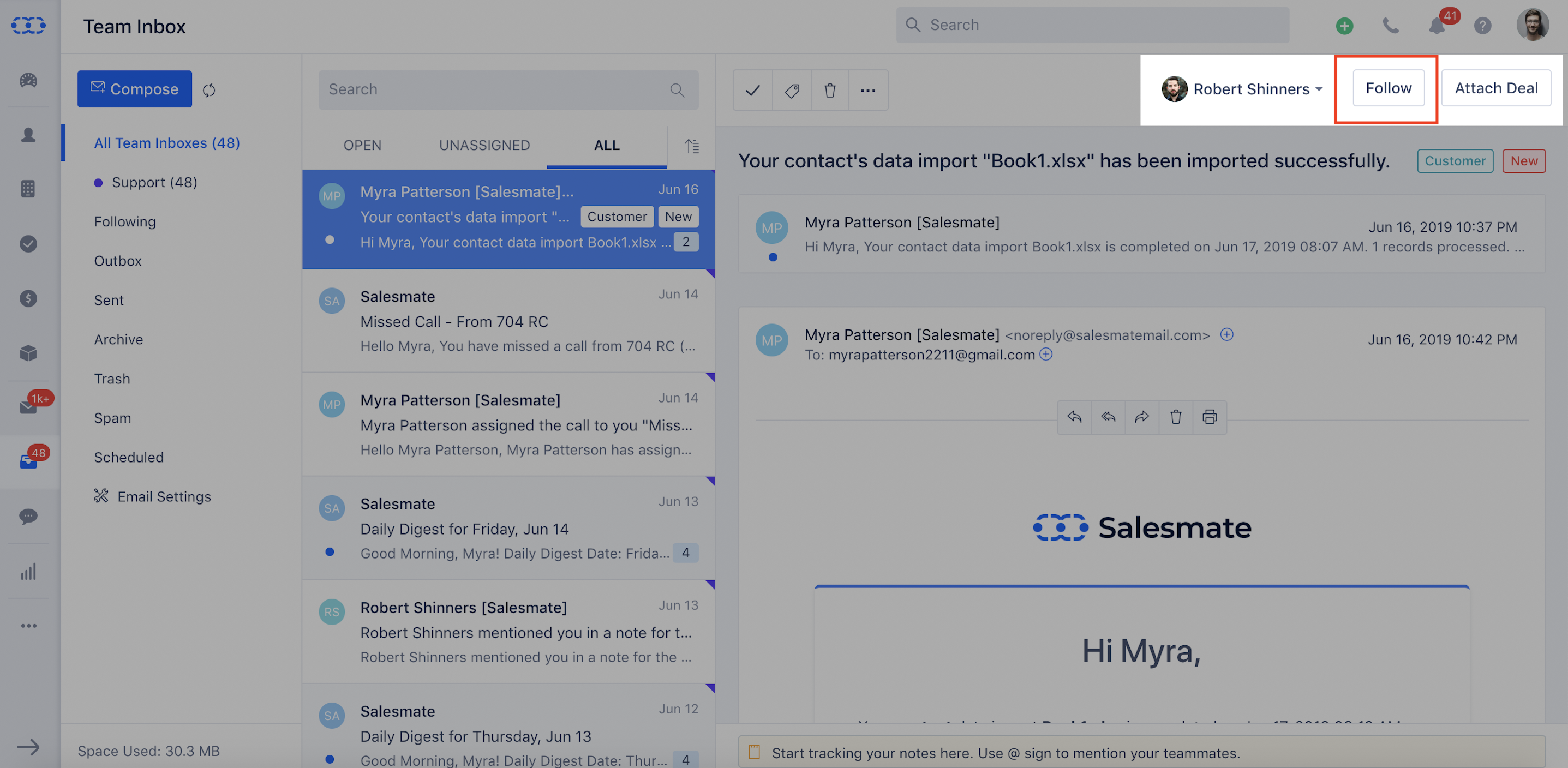 All the followed conversations can be viewed inside the folder named Following.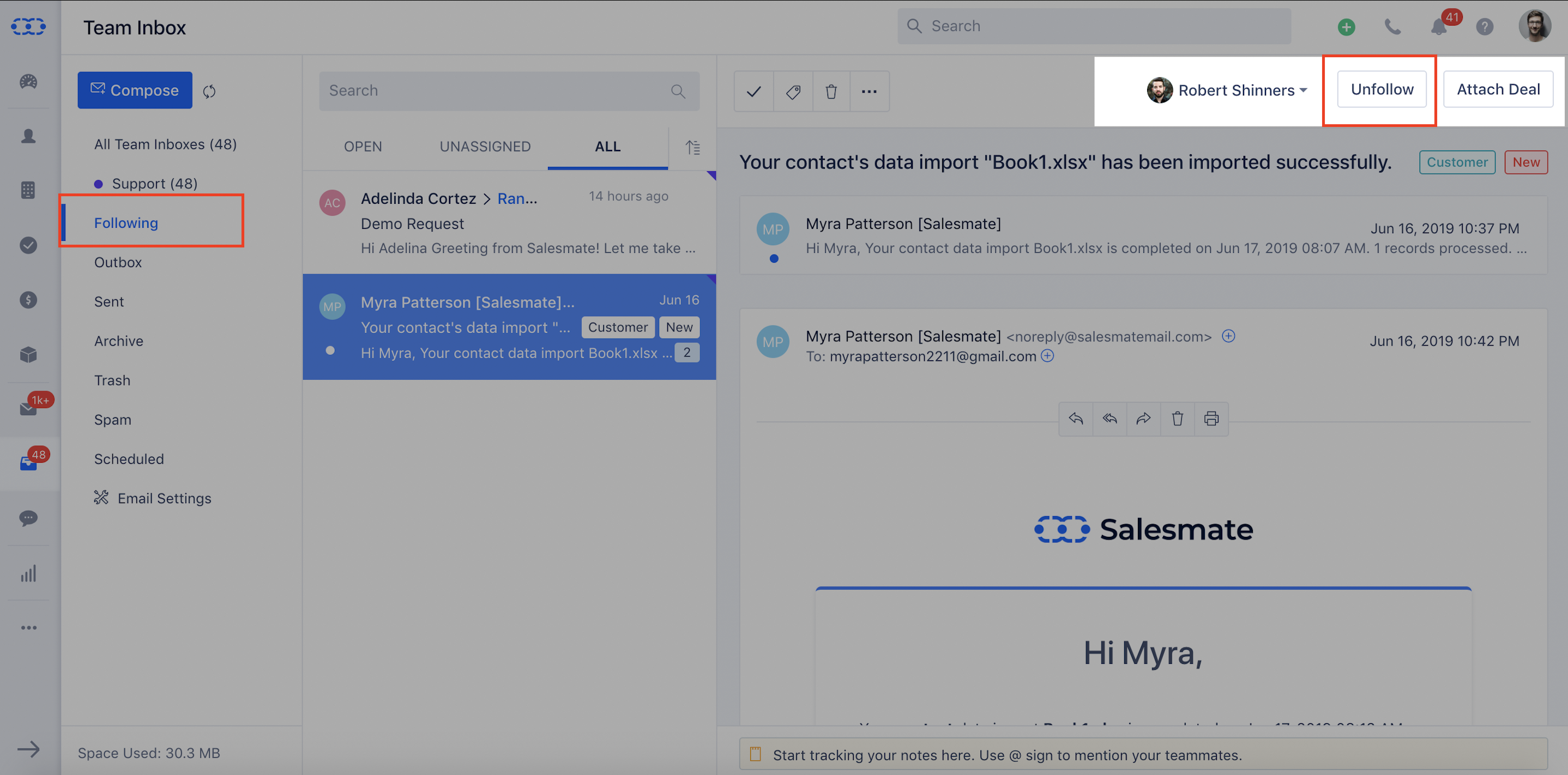 Attach Deal
Click on Attach Deal.
You can attach an already existing deal to an email.
If you want to attach a new Deal, Click on + Add New Deal.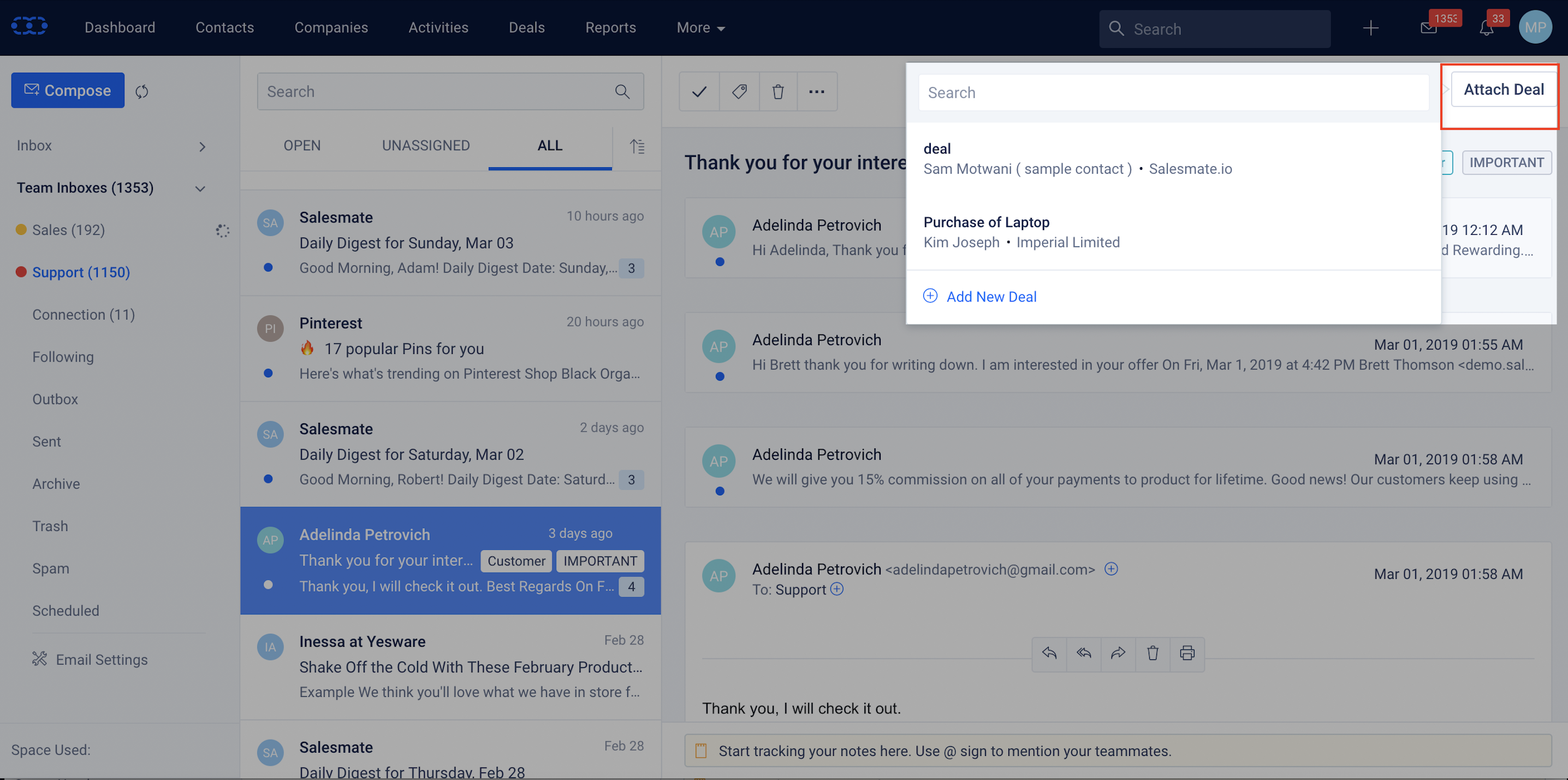 The particular deal will be created and can be viewed on the timeline of the particular email.
The deals can also be viewed under the Deals module.
You can also detach the deal from the particular email. 
Reply to the Conversation
You can reply to a particular conversation by clicking on Reply to this Conversation.
While replying to a particular conversation you also have the following options:


Send 
Schedule 
Remind Me
Attach Files

Add note to Email Conversation
Users can post notes for the particular emails/conversations.
The users can edit or delete only their notes.
Inorder to mention the Teammates use "@" for the internal conversation.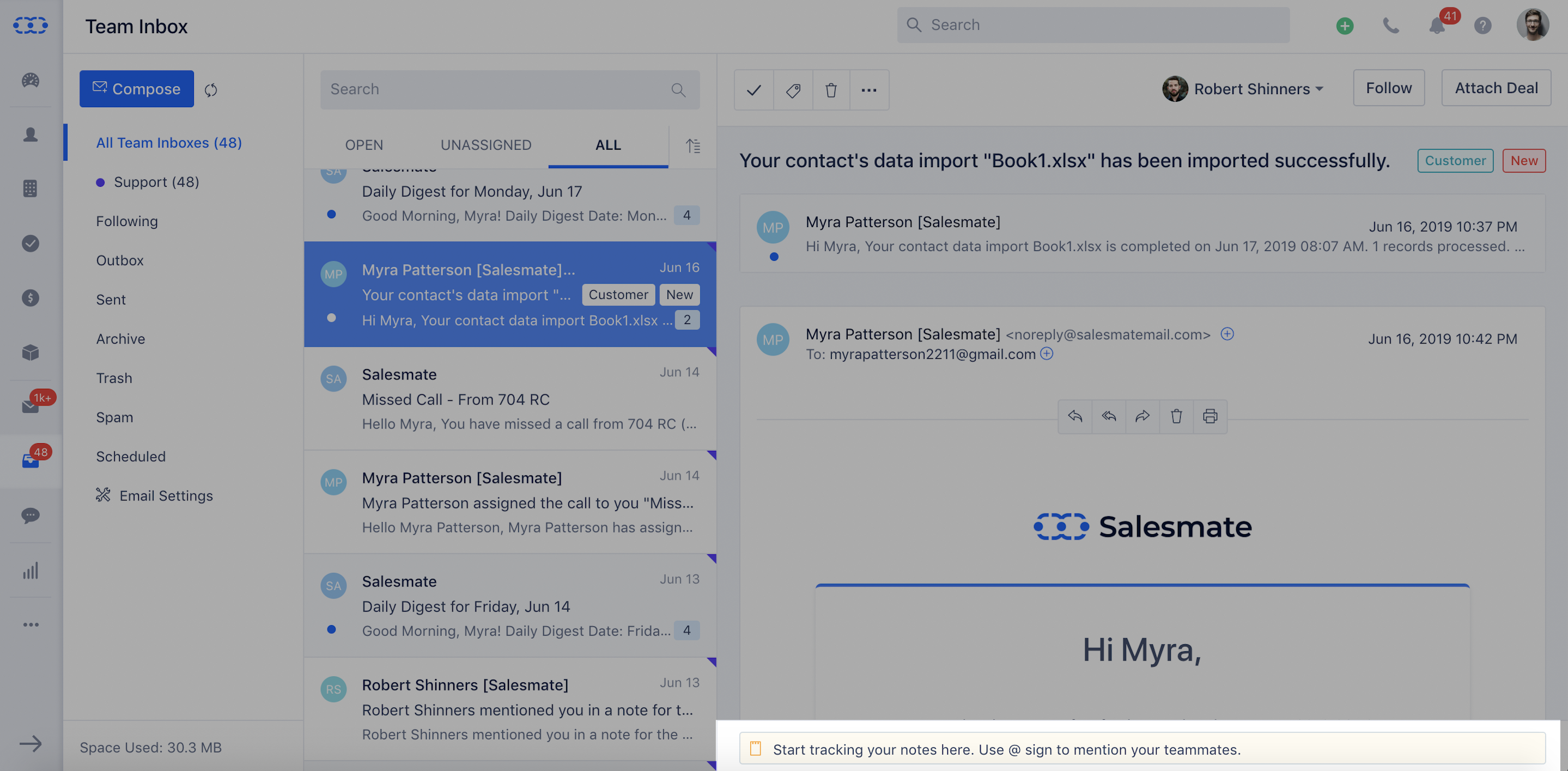 Multiple Selection
You have an option of selecting multiple emails and performing the following operations:

Delete
Mark as Read
Mark as Unread
Spam
Assign
Tag
Archive
Follow
Unfollow
Block Sender