You can customize your email open and click tracking links with your domain name using the Link Branding option; that is the links and images for email tracking (click tracking and open tracking) would be from your Domains instead of the default tracking link from Salesmate.
Importance of Custom Domain Tracking
Using your own custom domain boosts your email deliverability and

gives your email recipients the security and belief that the links in your messages are secure and belongs to your domain

It will build your own email-sending reputation, therefore helps you create/ build your own brand image
Topics covered in this article:
To set up the custom tracking domain:
Click on the

Profile Icon

at the top right corner
Select

Setup
Under Sales Automation, click on Email Delivery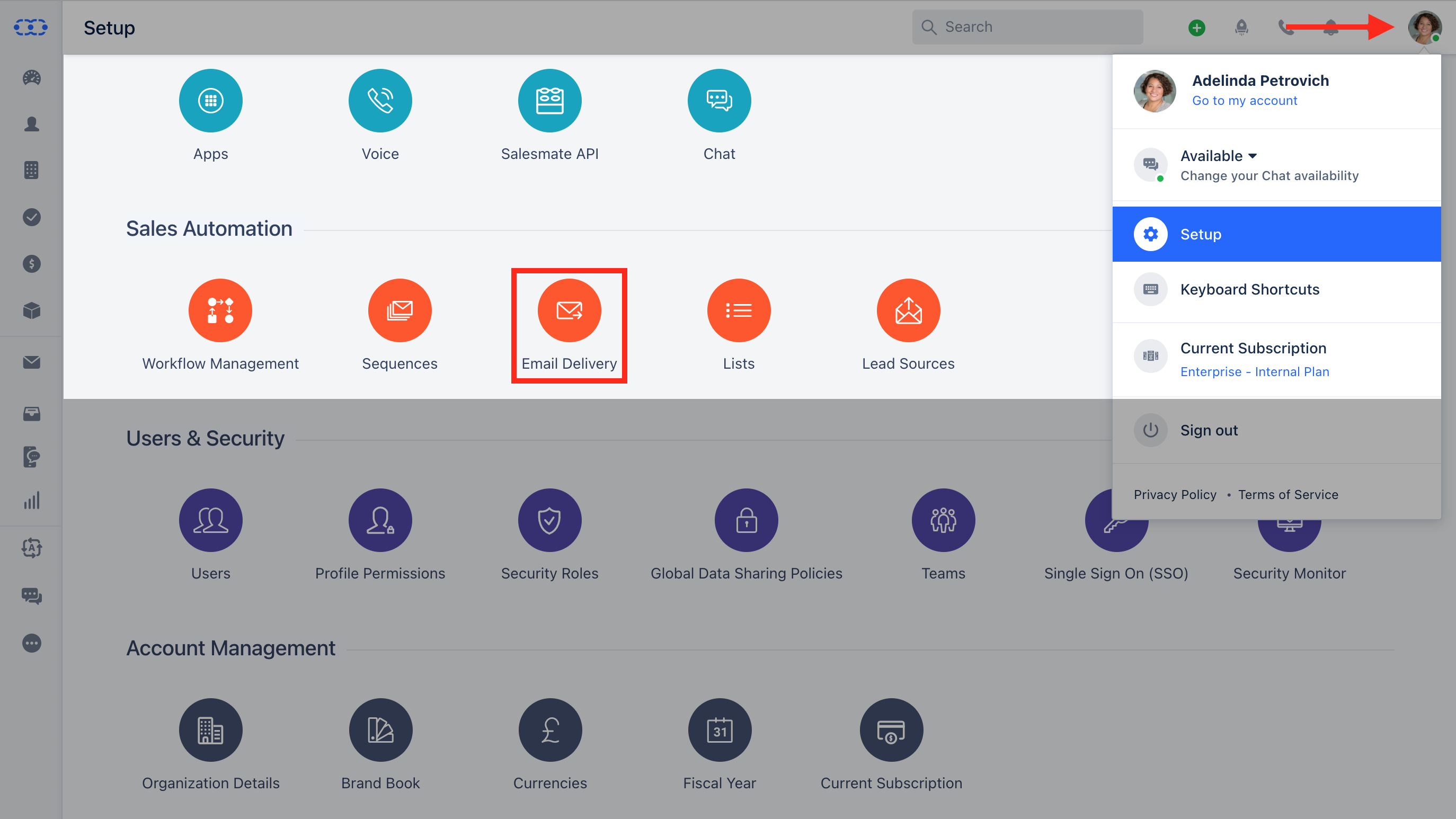 Click on Custom Tracking Domain tab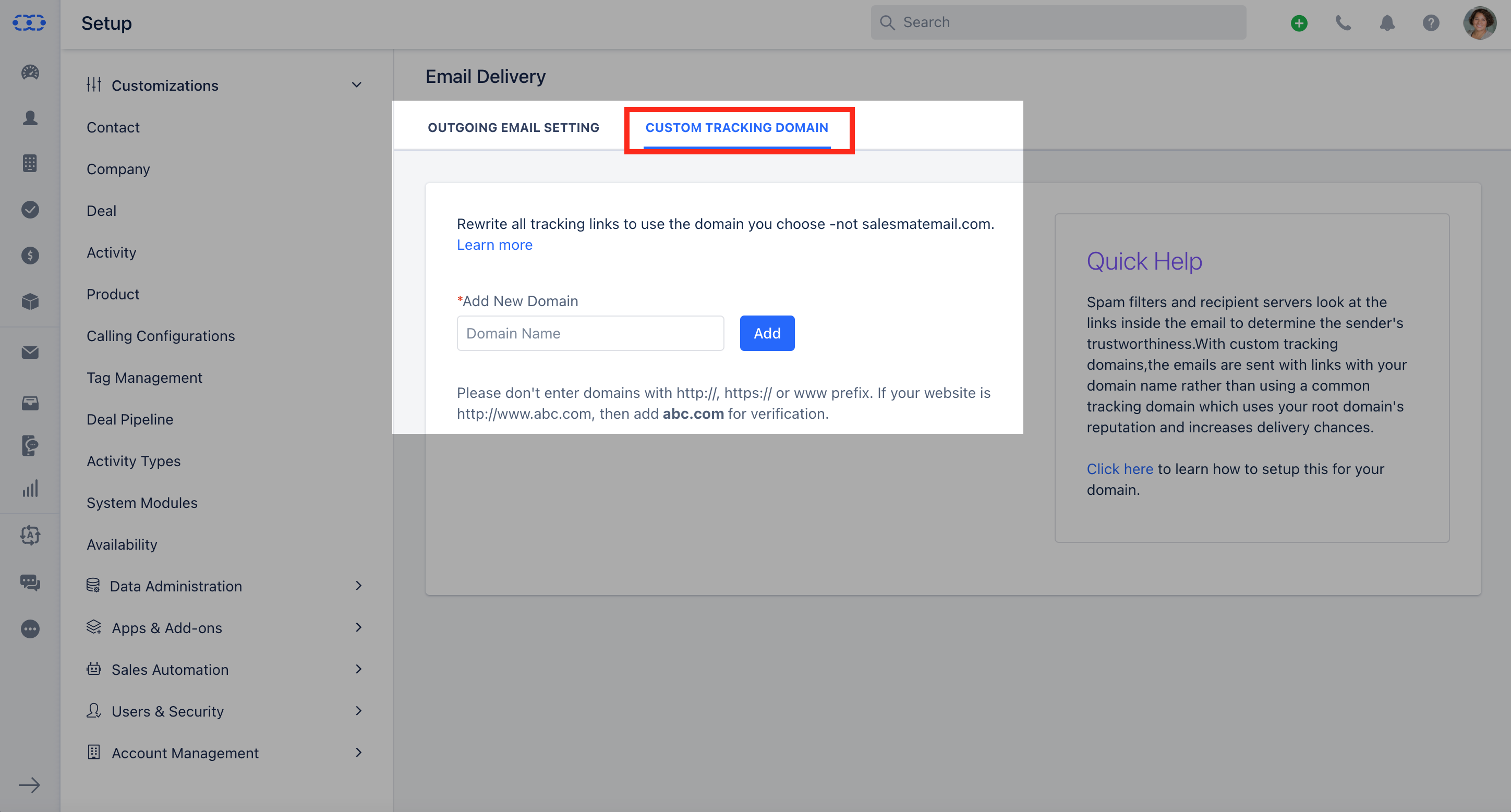 Click on Add New Domain where you can enter your domain name and hit Add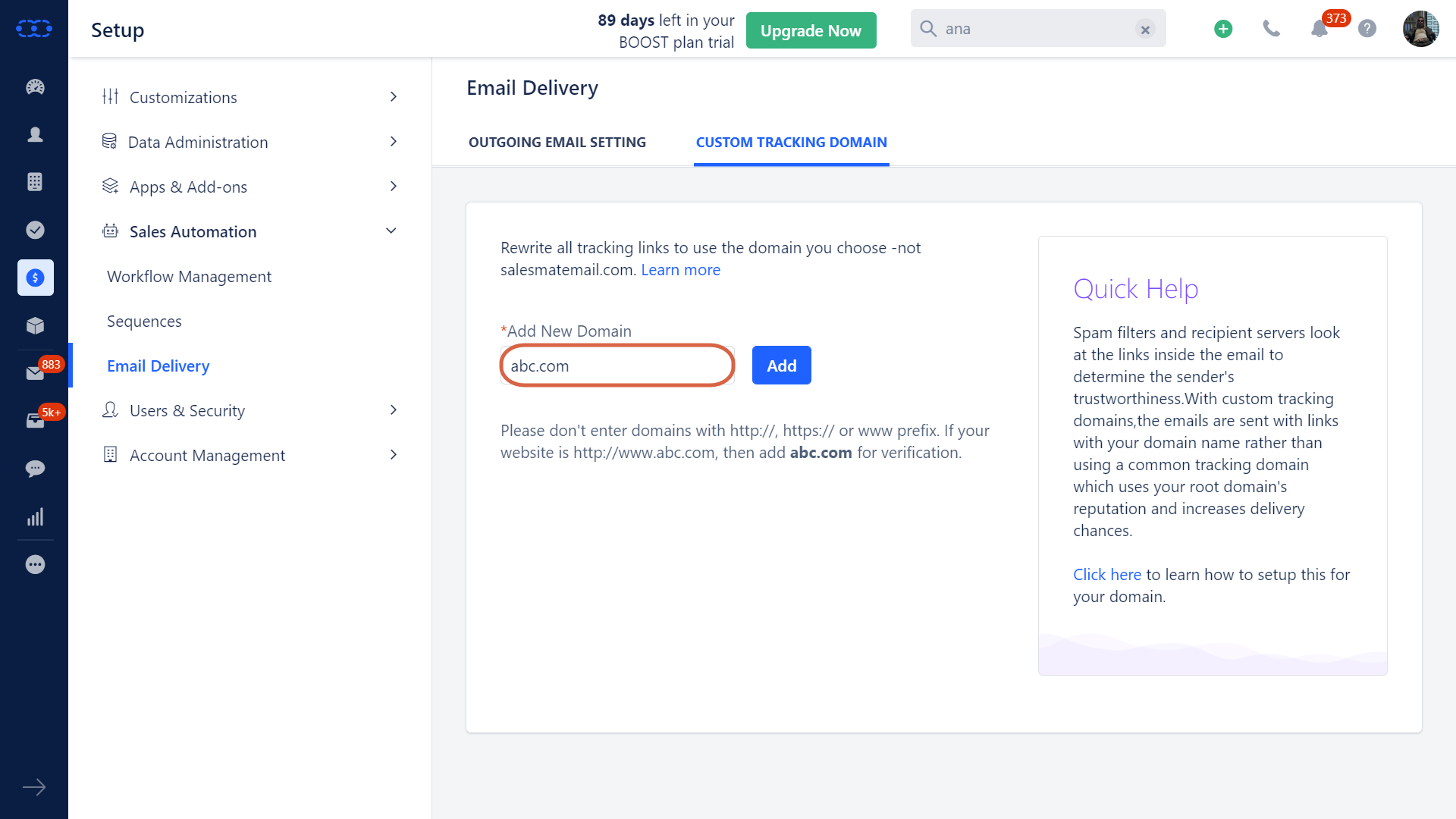 Provide a domain name for link tracking (default with et.yourdomain.com (http://et.yourdomain.com/))

You can use any initials to use it as the domain name, here, we have used "et" as the domain name

Provide a domain name for open tracking (default will be ot.yourdomain.com) and hit save

You can use any initials to use it as the domain name, here, we have used "ot" as the domain name
NOTE: Please don't enter domains with http://, https:// or www prefix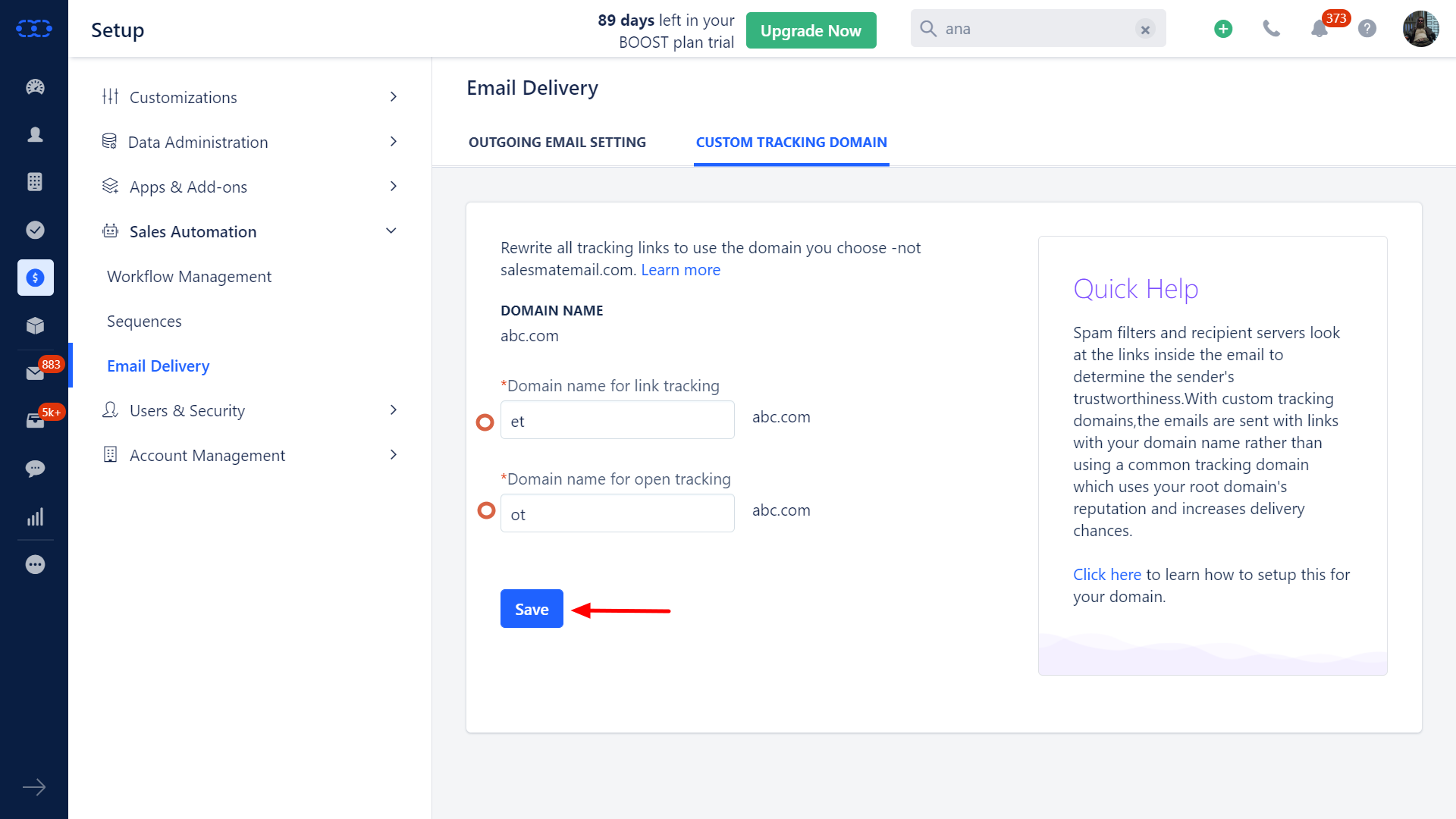 You will get instructions to set CNAME records for your link.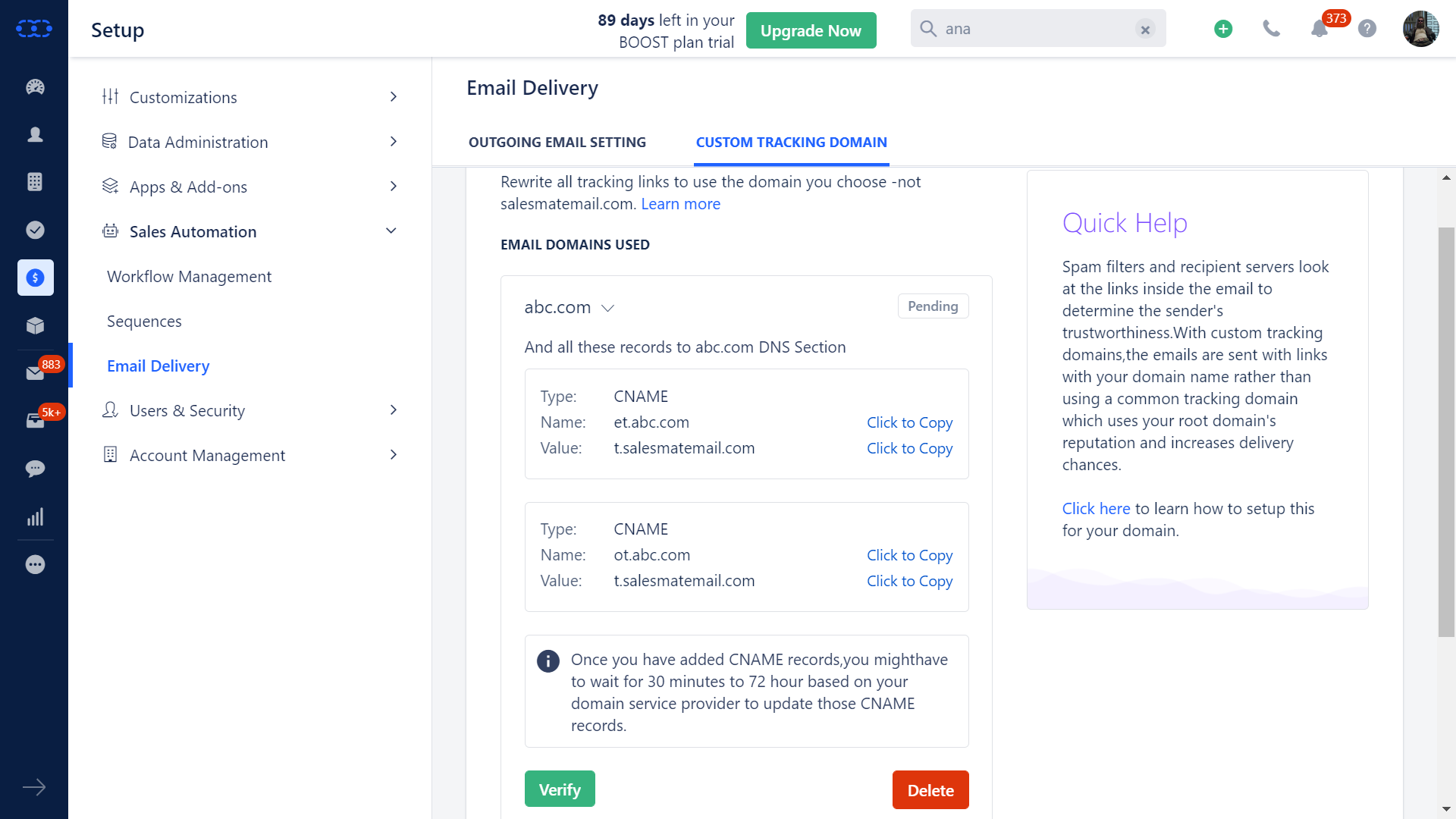 Once the CNAME records are generated, you will have to add these CNAMEs to your DNS server (Domain provider for example: GoDaddy)
How to add CNAME entries to your DNS server:
Log in to your

GoDaddy

DNS Manager. Go to the My Account menu and click Domains.
Under Domains, click the Manage DNS button for the domain you want to verify.
The DNS Manager page will open with information about existing DNS records.
Go down to the Records section and click the Add button to add a DNS record.
Choose CNAME from the drop-down menu, Type.
Enter CNAME records as mentioned on your Custom Domain Tracking page in Salesmate
Finally, click Save.

Type
Host
Points to
TTL
CNAME
et
t.salesmatemail.com
1 Hour
CNAME
ot
t.salesmatemail.com
1 Hour

Note:

- Some domains need you to specify the complete Host thus enter:
et.abc.com and ot.abc.com respectively

- Repeat the same steps for "ot" CNAME as well

- Set the TTL to the minimum time available
Once you have added CNAME records, you might have to wait for 30 minutes to 72 hours based on your domain service provider to update those CNAME records
Once CNAME records are updated, you can come back to the page and hit the verify button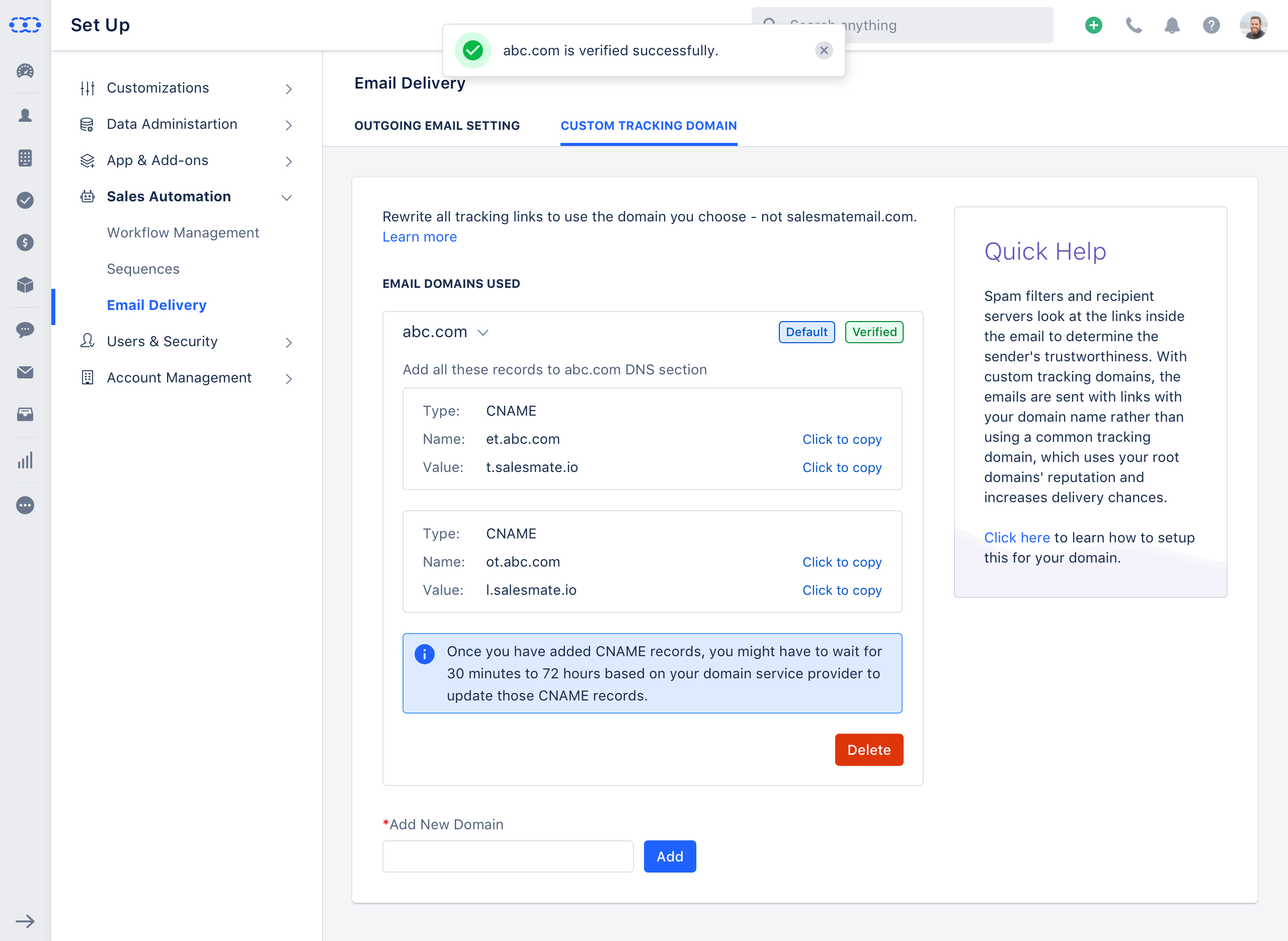 Once the domain gets verified, the outgoing emails will start sending tracking links with your domain name
Note:
You can setup and verify multiple domains

You can also choose a default domain in case of sending SMTP domain is not verified

At the time of sending emails, the system will check the domain name of the outgoing email. If it matches with the domain you have verified, then tracking links will be overwritten with the provided domain name

Please note end-user must have SSL certificates installed for provided sub-domains to avoid any security warning

We always use SSL based images to track the open tracking

If the user has added a URL inside the email with HTTPS, then the tracking URL will also be generated with SSL. If the user has provided a non-SSL URL, then the tracking URL might follow non SSL URLs