Salesmate offers full (two-way) email sync, which allows you to send email from Salesmate and get replies logged automatically in Salesmate.
Salesmate will also auto-log any email that appears in your Sent items, even if it was sent from Gmail or your mobile phone, and emails sent from Salesmate will automatically appear in your Sent items.

By connecting your email account with Salesmate, you can send emails within Salesmate or continue using your current email client.

Setup is extremely easy, and Salesmate will begin to automatically track email conversations with any contacts you have in your organisation.

You can choose to sync all folders or selected folders while you set up the sync.

When sending emails through your current email client (ex: Outlook, Apple Mail, Gmail, Thunderbird, etc.) there's no need to BCC Salesmate. The email conversations will automatically show up in the timeline entries for any contact, activity or deal that you have the recipient's email address.

Salesmate only fetches 60 days old emails to start with. Emails older than 60 days will not be fetched inside. Any new emails coming from today will be auto-pushed to Salesmate.
Salesmate system folders if exist in your email folders list as custom folders duplicate folders (folders with the same name) will be created in Salesmate.
To set up your full email sync or change your email settings: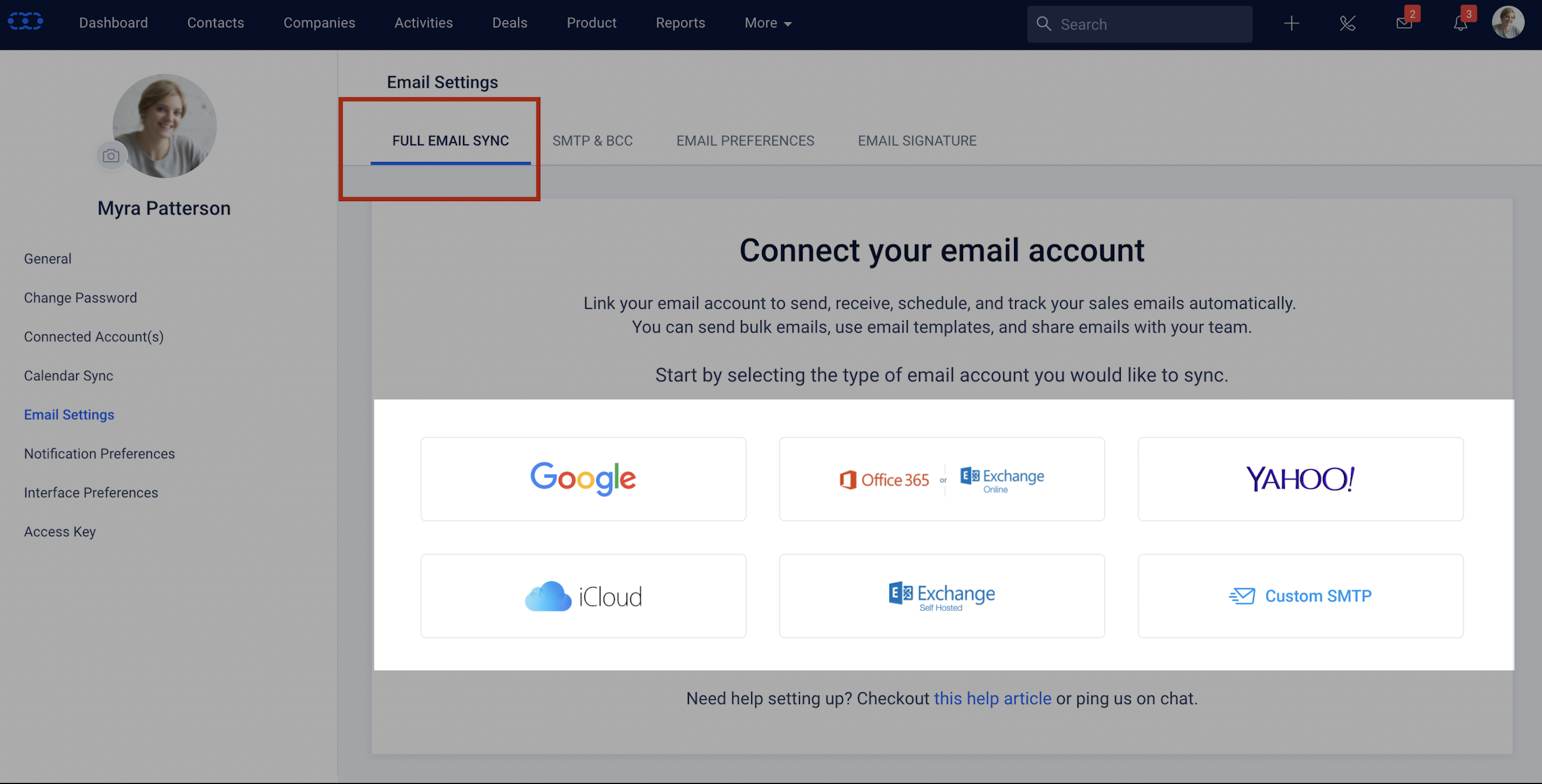 Navigate to My Account > Email Settings > Full Email Sync OR Navigate to your profile icon on the top right corner > Email Settings > Full Email Sync
Start by selecting the type of email account you would like to sync.
Folder listing will be initiated and syncing will start automatically.
You can also set your Delete & Archive options:
Delete emails from Salesmate when deleted from my Mailbox

Delete emails from my Mailbox when deleted from Salesmate

Archive emails from Salesmate when archived from my Mailbox

Archive emails from my Mailbox when archived from Salesmate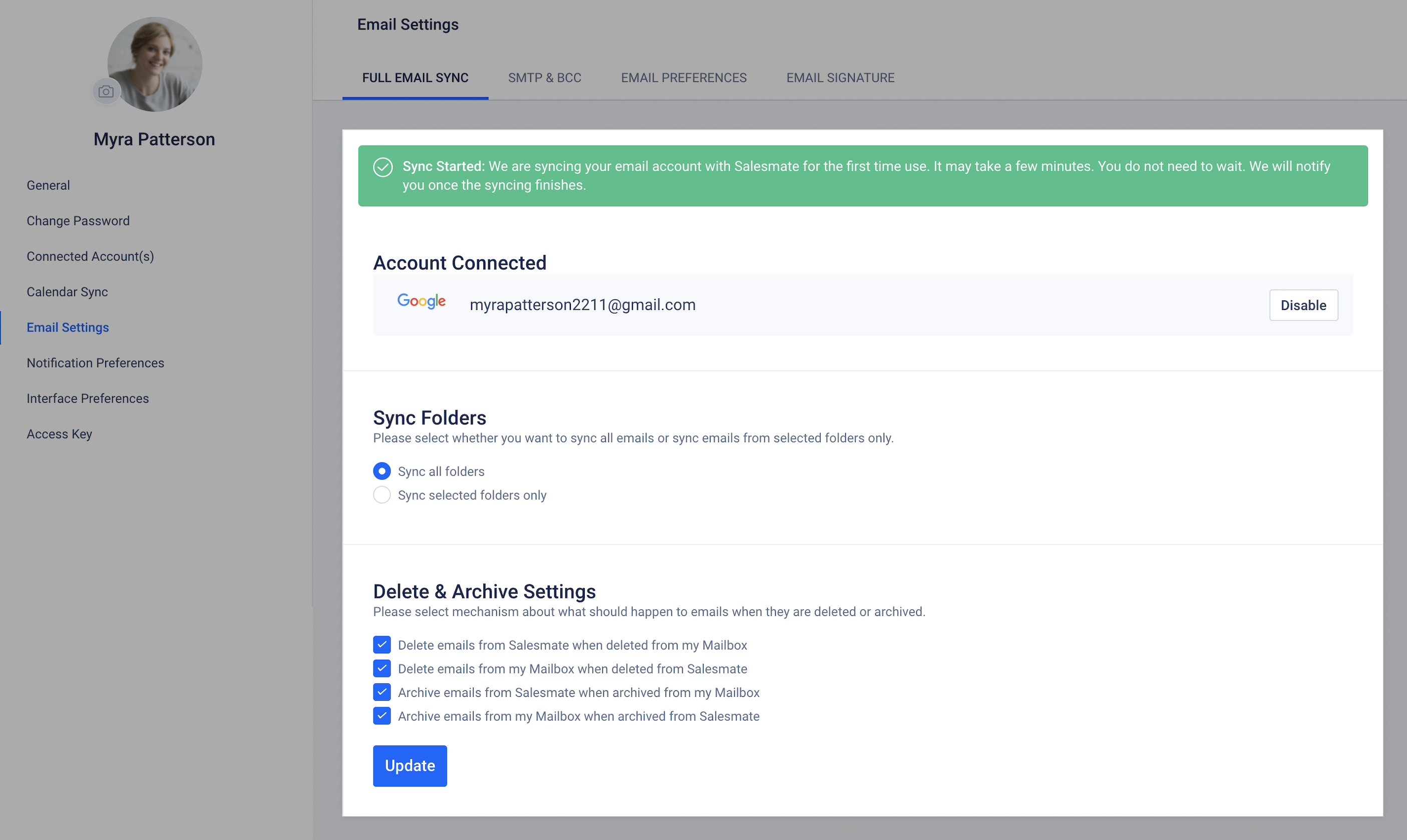 Disable Sync:
You can choose to temporarily stop your full sync email account to sync. Just hit the Disable button to stop syncing your email account.
Note:
Your emails will remain in the same state you left them until you disconnect your account.

Once reconnected it will start synchronizing your emails and update.

Disconnecting will reflect last 60 days emails only prior to the date of reconnection.
Stop Sync:
You can choose to remove your account and stop syncing your emails. Hit the Disconnect button to permanently remove your email account and stop synchronization.
To sum it all up full email sync includes:
Your Live Email Inbox (Real-time sync with your mailbox thus allowing you to view your sent and received emails)

Selective sync ( Choose folders you wish to sync )

Notifies for all received emails
Send emails within the app (new, reply, forward, Cc, Bcc)
Allows using Email Templates
Allows Email attachments
Works with Email SMTP of your choice
Note
:
In case your SMTP details return an error, here is another recommended way through which you try connecting again with the below settings in your full email sync with Custom SMTP option, we have seen a similar case before wherein user was able to connect successfully with below mentioned details  -
143 for IMAP
587 for SMTP
Both with TLS