Managing email from your CRM is a remarkable way for sales geeks to rescue time and effort.
As this feature has come to a point where it has become essential, we've taken a step ahead to make the management of your business email more effective.
How to configure my email account in Salesmate?
We've greatly simplified the process of connecting your email accounts to Salesmate.
Email accounts can be configured in two ways inside Salesmate by using the
In this article, we will cover setting up your email Outgoing and Incoming using SMTP & BCC options.
To configure SMTP (outgoing Email)
Navigate to the Profile Icon

on the top right corner

Click on Go to my account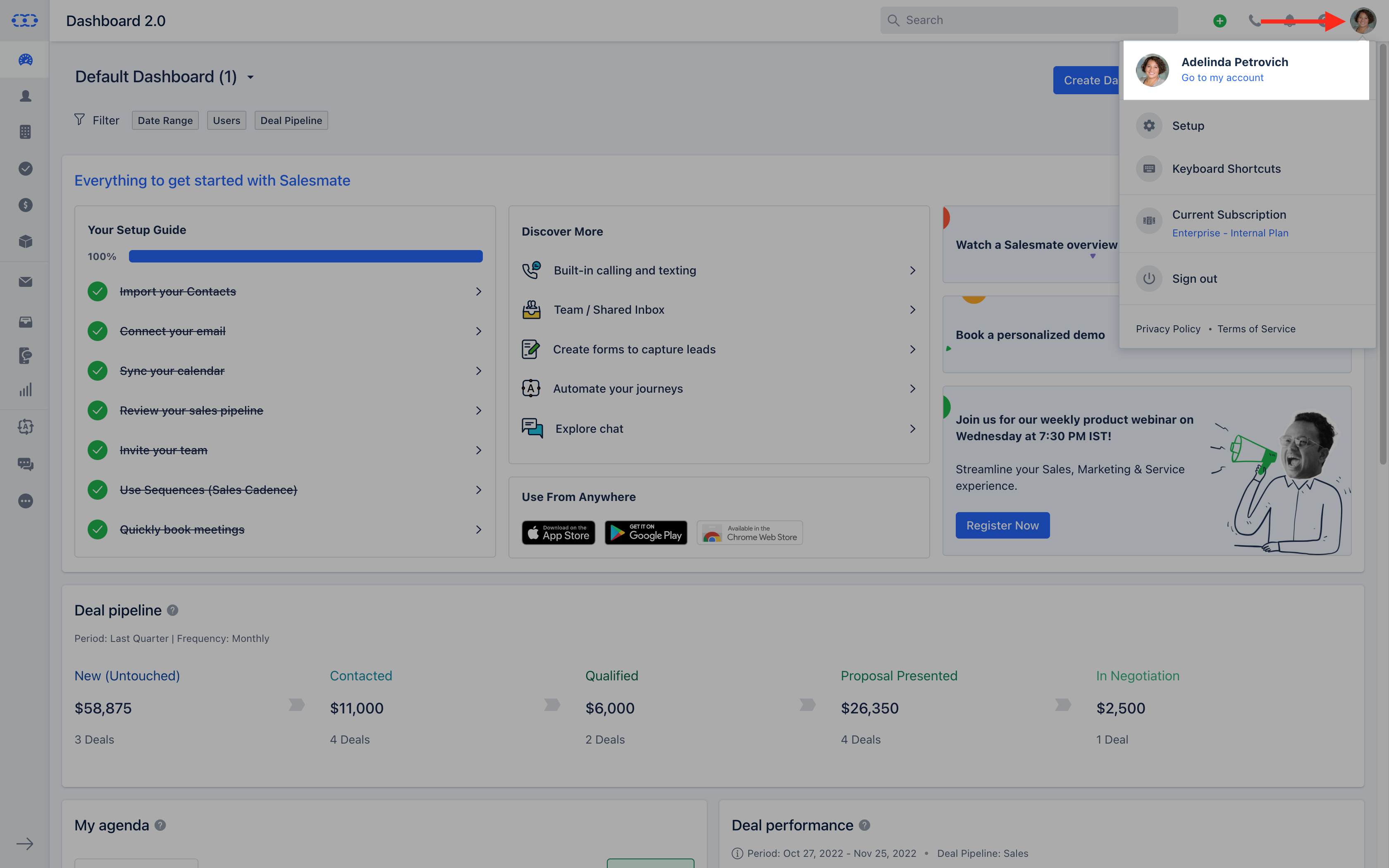 Head over to Email Settings
Select SMTP & BCC section
Go to Outbound Emails (SMTP) section
Click on Add Email Account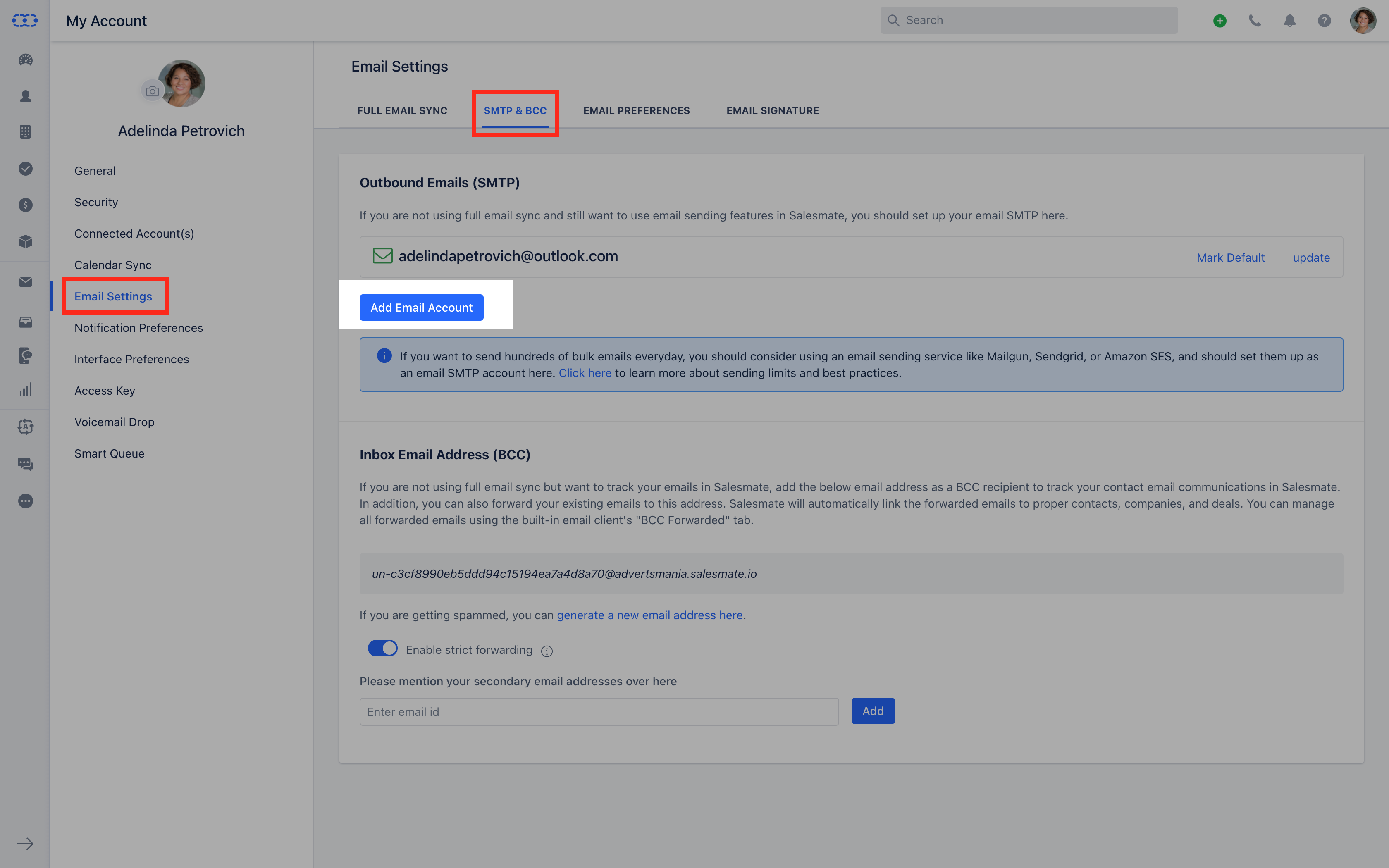 Select your Email Service provider from the below options
You can configure Custom SMTP if you do not find your default email service provider

To Send Emails - Outbound Emails (SMTP) :
To configure your Custom SMTP details you need the following details handy

*User Name
*Password
From Name
*From Email
*Host
*Port
Secure - SSL/TLS/None

Click on the add Email Account button
Choose your SMTP account ( Google, Outlook.com, Yahoo or Custom SMTP )
For Custom SMTP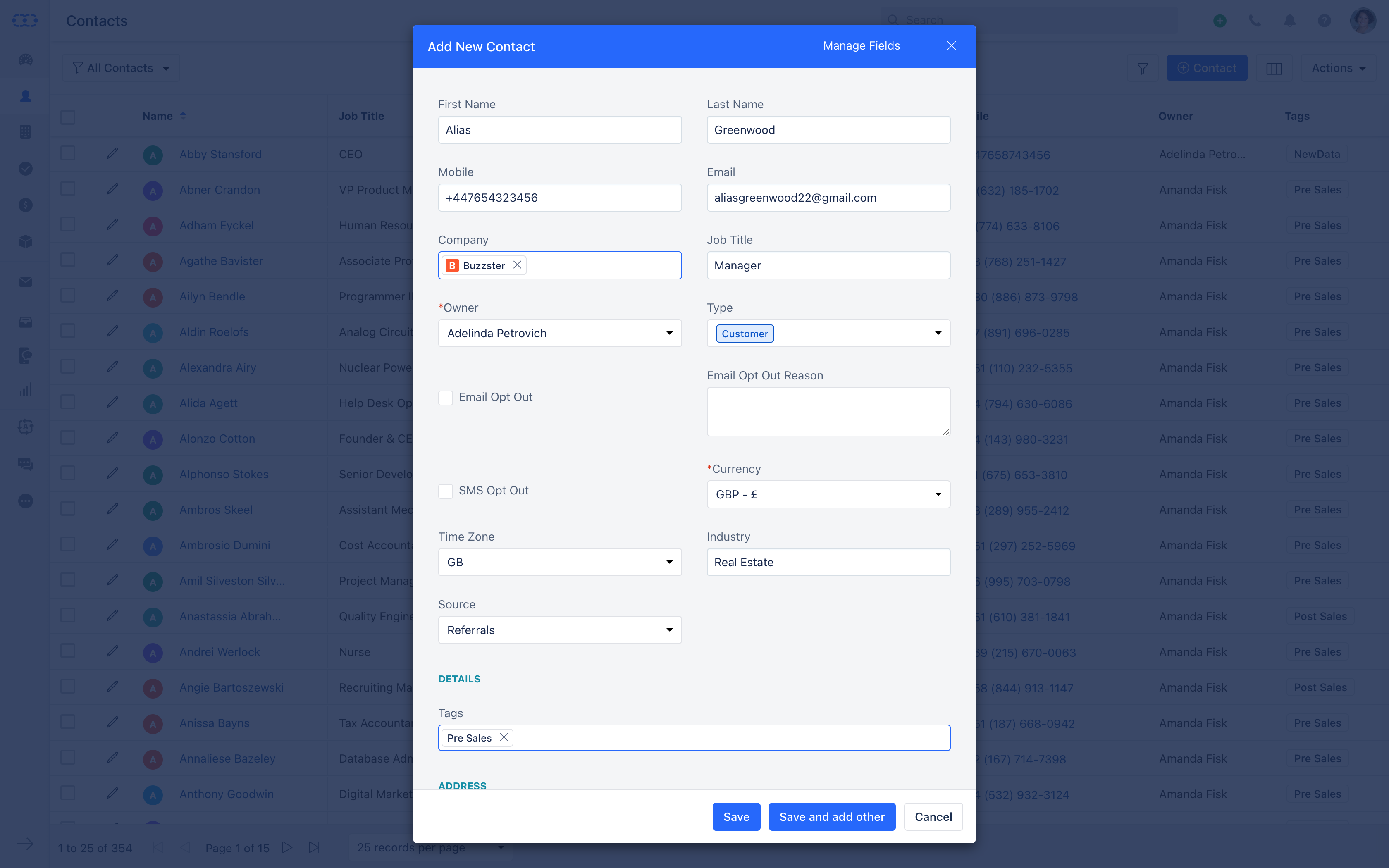 Note: In case your SMTP details return an error, here is another recommended way through which you try connecting again with the below settings in your full email sync with Custom SMTP option, we have seen a similar case before wherein the user was able to connect successfully with below mentioned details -
143 for IMAP
587 for SMTP
Both with TLS
In case of Default selection for the given example -
Google

You will be redirected to the Google Authentication page
Select the Google account you wish to connect
On the Permissions page, click Allow to continue.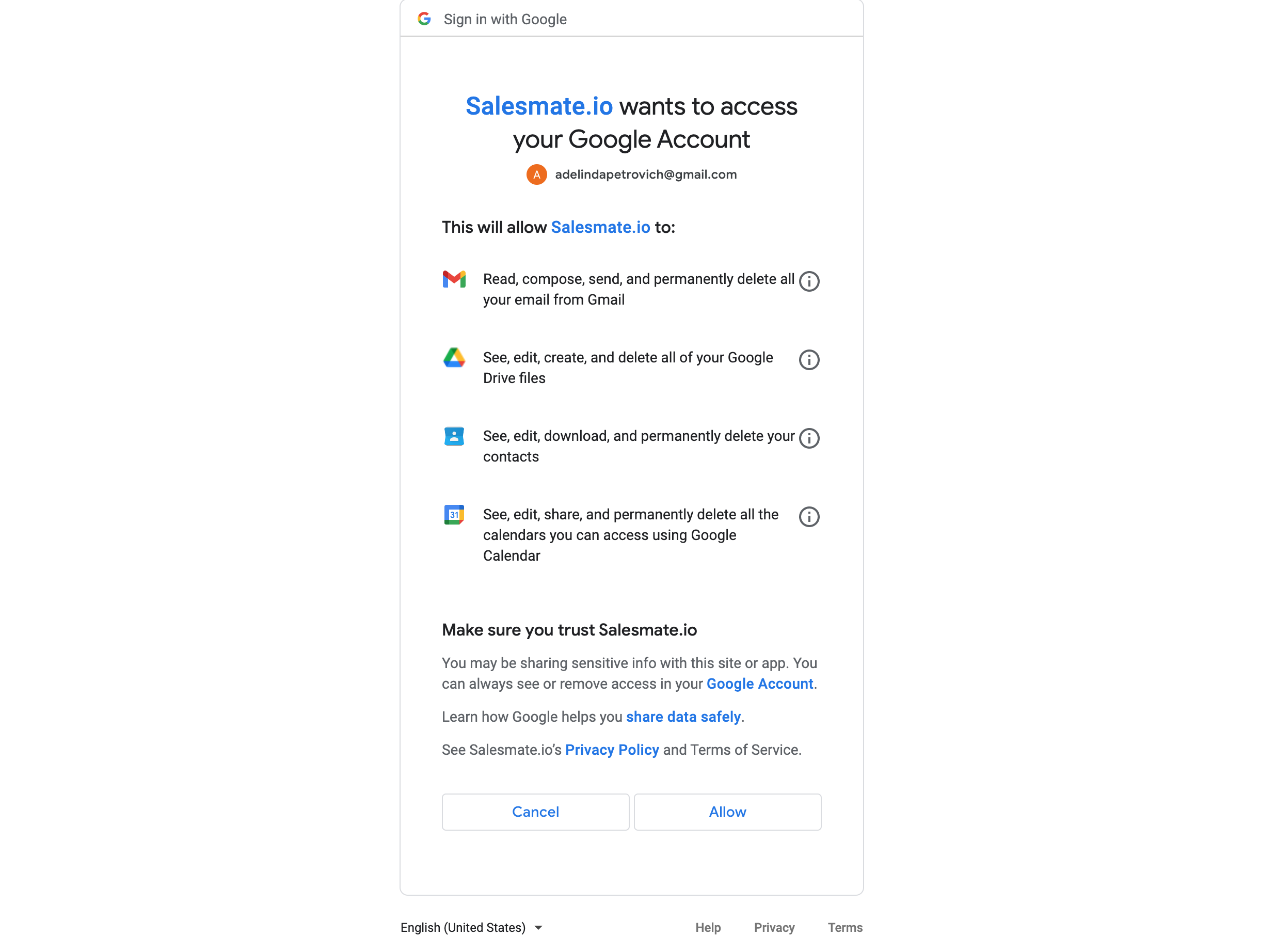 Once confirmed, the system will notify you of the configuration success message
Similarly, you can also add more SMTP accounts
Note :
Host/Port/Secure - will be auto filled for Yahoo and Outlook.com

With this option, you can configure multiple SMTP to send your emails
Set Default Outbound Emails
Users can select the default email address if they have connected more than one email address in Salesmate using Full Email sync or Outbound Emails (SMTP) while composing an email.
Under Email Settings > Go to SMTP & BCC Tab
Under the Connect Email Address List hit the "Mark Default" button to select the default email address for outbound emails.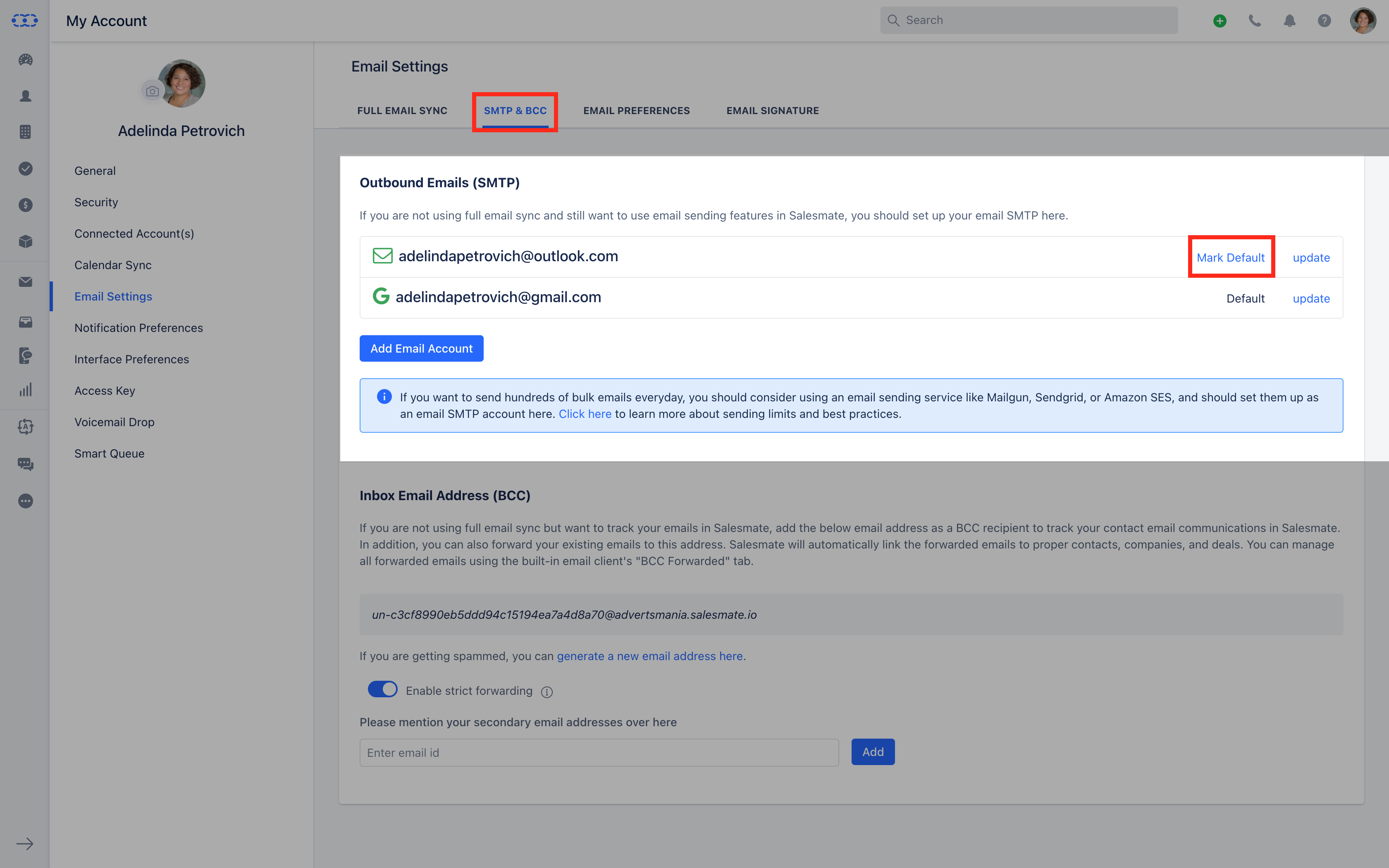 While Composing the Email, users will now get the default selection with the ability to switch the required email too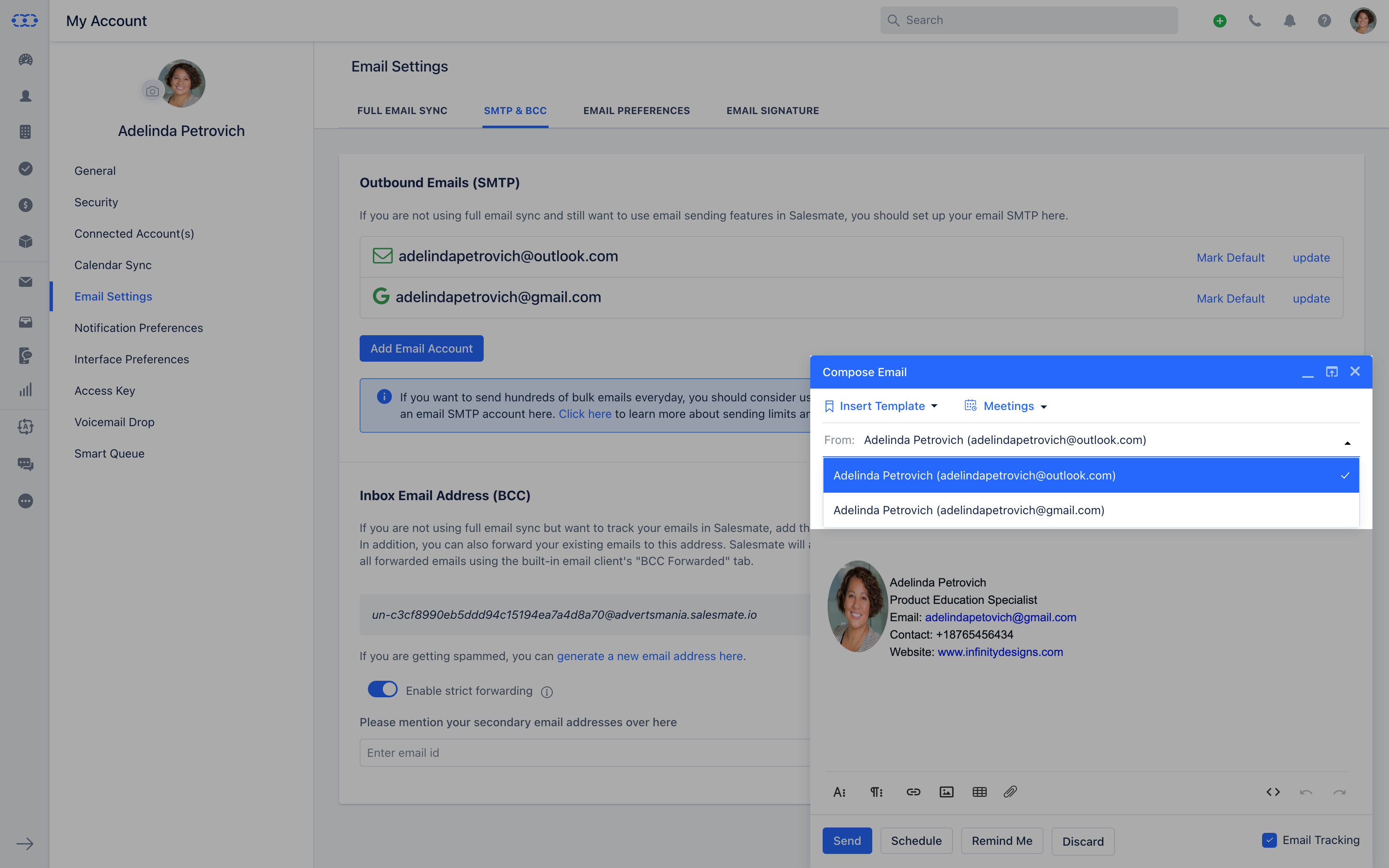 How to configure incoming emails (BCC) in Salesmate?
You get your own email address, which you can add to the BCC field whenever you email a customer, or you can forward existing emails directly to this address. These conversations will all appear in your Salesmate email page, linked to the relevant contacts and deals, when possible. Set the forwarding rule to forward emails to your Salesmate Mailbox address by following the below steps: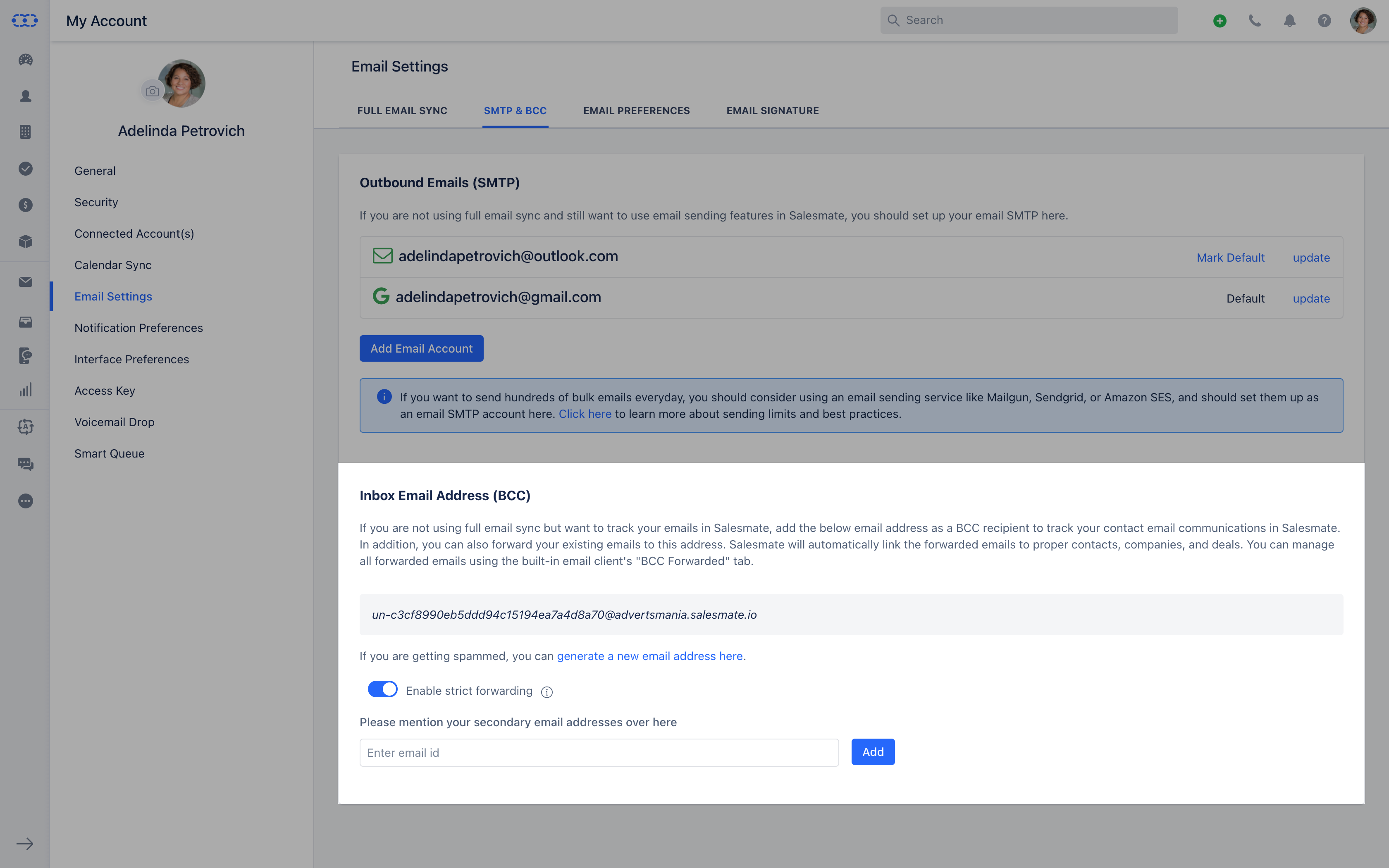 Go to Dashboard
Click on the Email icon
Go to Email settings
Click on SMTP & BCC tab
Copy the Inbox email address (BCC) -Example: "

un-2ab15c4cccec8b894804c7be76cb9cc9@demo.salesmate.io

"
To set forwarding in Gmail, click here
To set forwarding in Yahoo, click here
Note: If you think you are getting spammed, you can regenerate a new Bcc forwarding address and set up the forwarding again.
You will receive the Security Email once you have disabled - Enable strict forwarding
You can also enable strict email forwarding. This means you will receive emails from only the account that you have configured. You can add other addresses from which you want to receive emails by adding them to the secondary email address list.