Save New Livestorm registrants as Contacts in Salesmate
Livestorm is an ideal easy-to-use webinar software that helps you present your product demos, content strategy, or customer training. If you would create and stream online presentations or training sessions at a professional level you have to use Livestorm!
With the power of Webinar registrations and CRM combined, Livestorm/Salesmate integration lets you push any new registrants of all or select webinars in Salesmate CRM to create a new contact, new deal or update an existing one. This further helps you in setting workflow automation on all registrants.
This saves from the tedious data entry job of the list of registrants and having to follow them up manually.
Note: Livestorm captures your basic contact information: first name, last name, email, company name and phone number.
Here's how you can set this up using Zapier.
You will need the following working accounts to configure this integration:
Zapier
Livestorm
Salesmate
In Zapier, follow the below steps to create your Zap:
Choose a Trigger App: Livestorm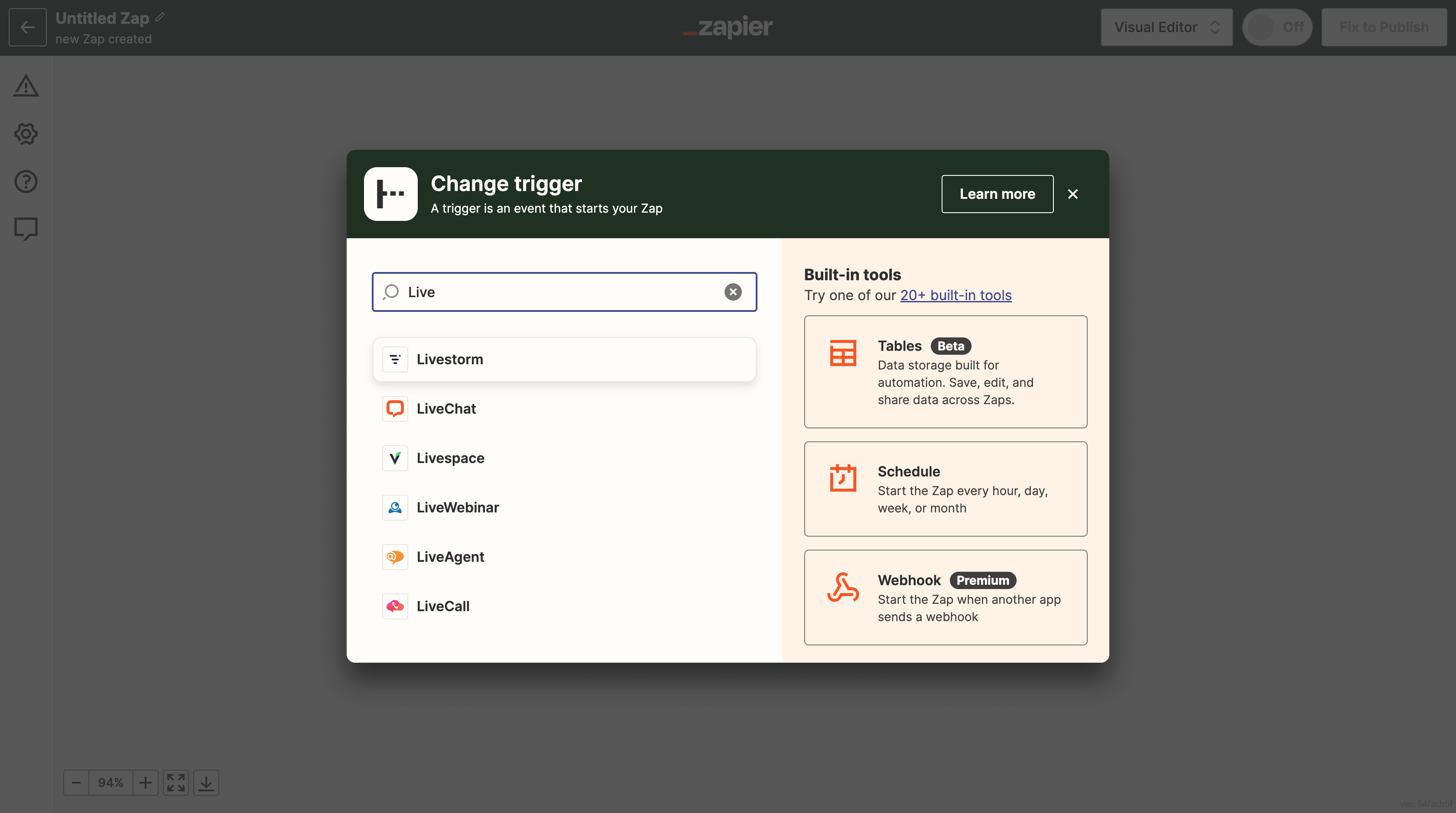 Select the Trigger Event: New Registrant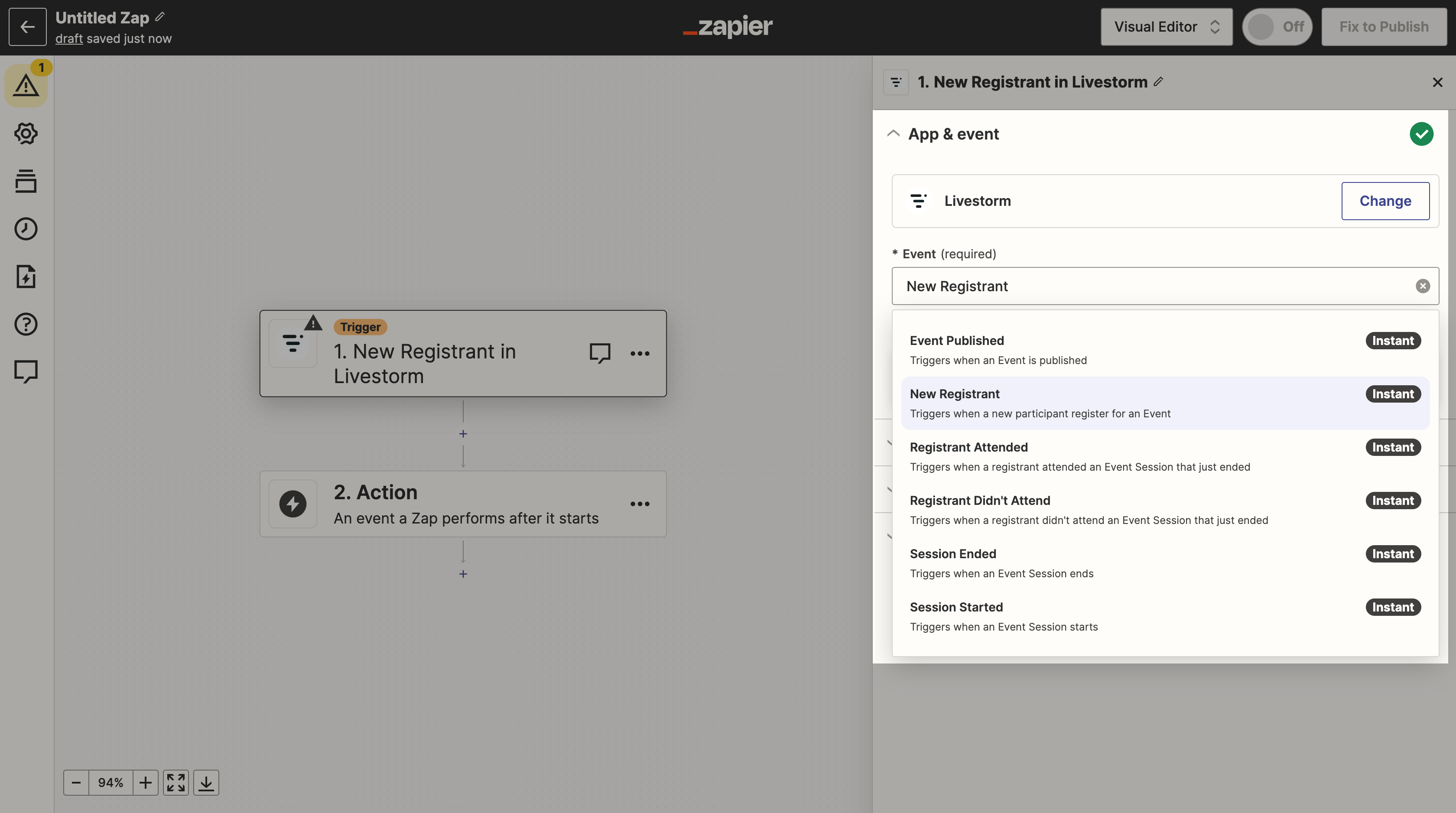 Connect to your Livestorm account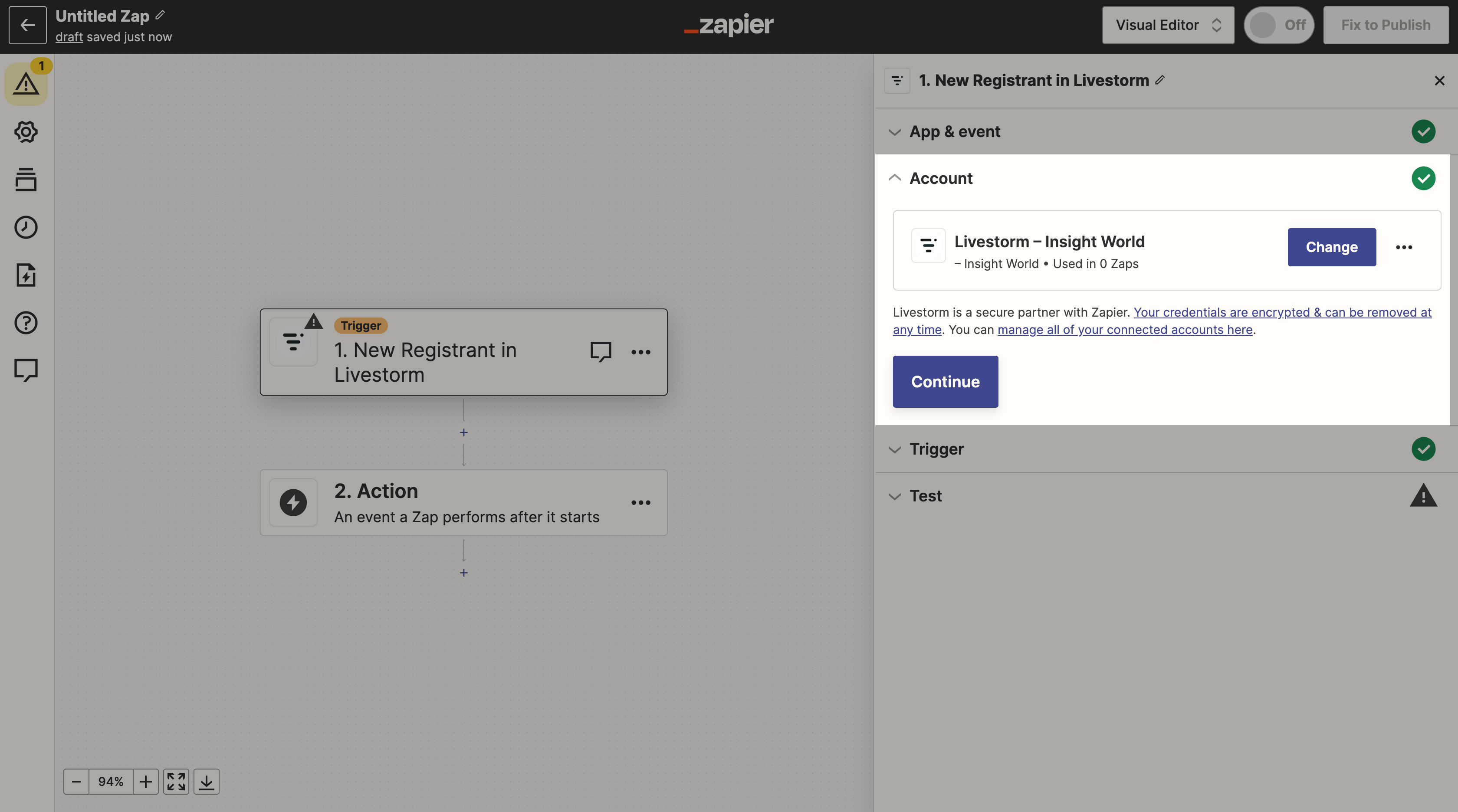 Add details of

Filter by Event Title, Filter by Event, Filter by Session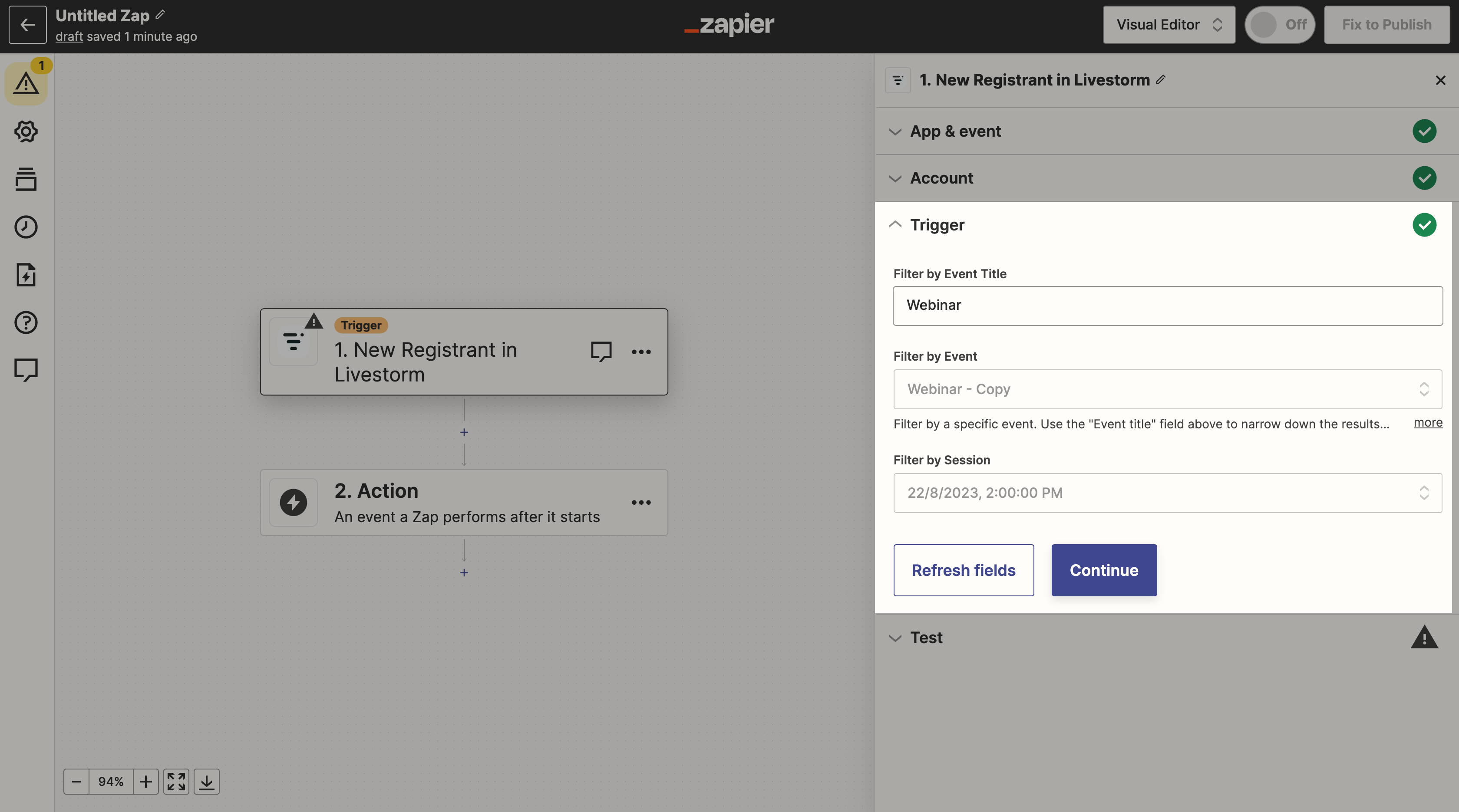 Once you click Continue, you get an option to Test Trigger.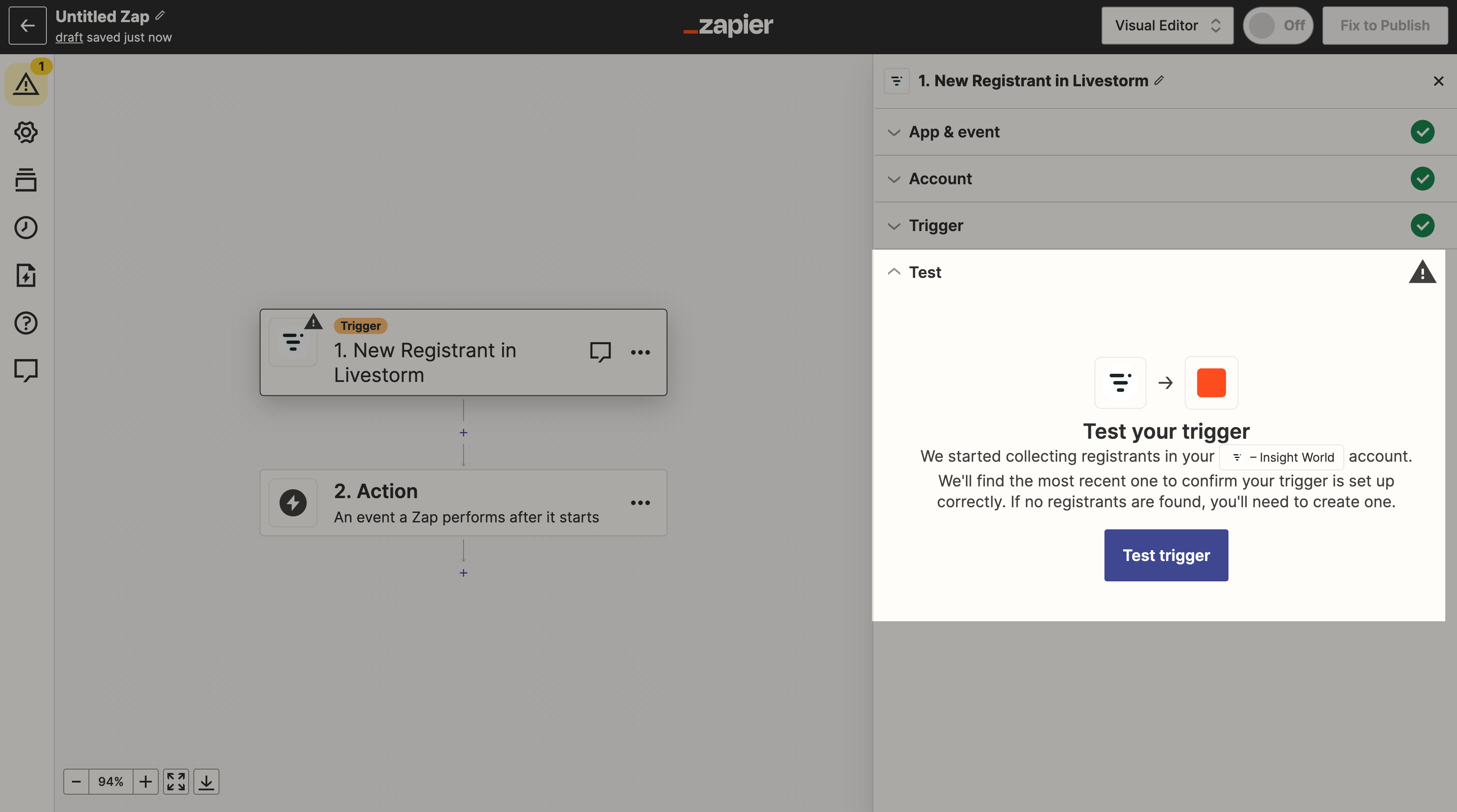 Click on Test Trigger
You'll get the latest registrant as a result.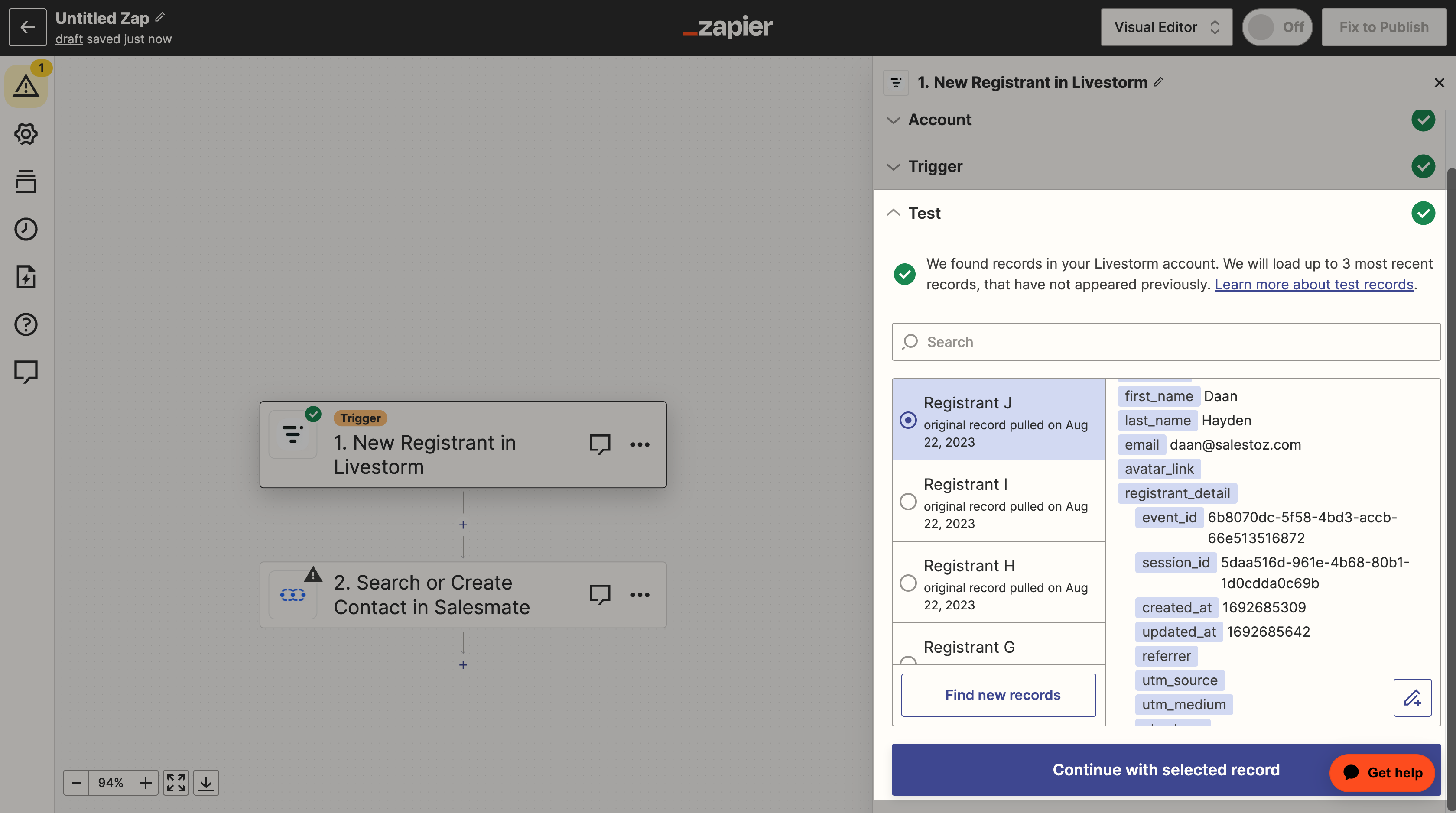 Next, set up your Action app.
Select the Action App: Salesmate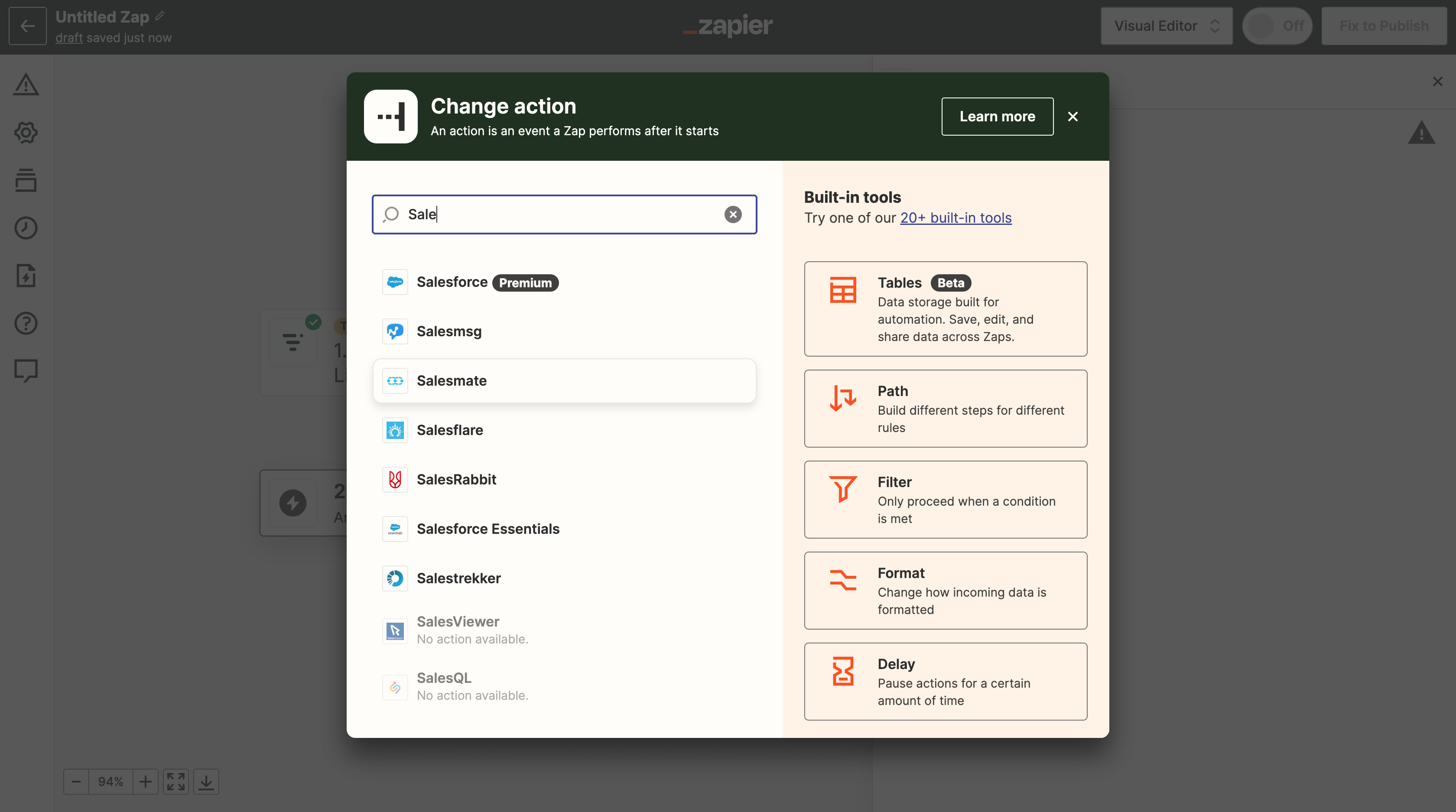 Select Action: For example, we are taking Search Or Create Contact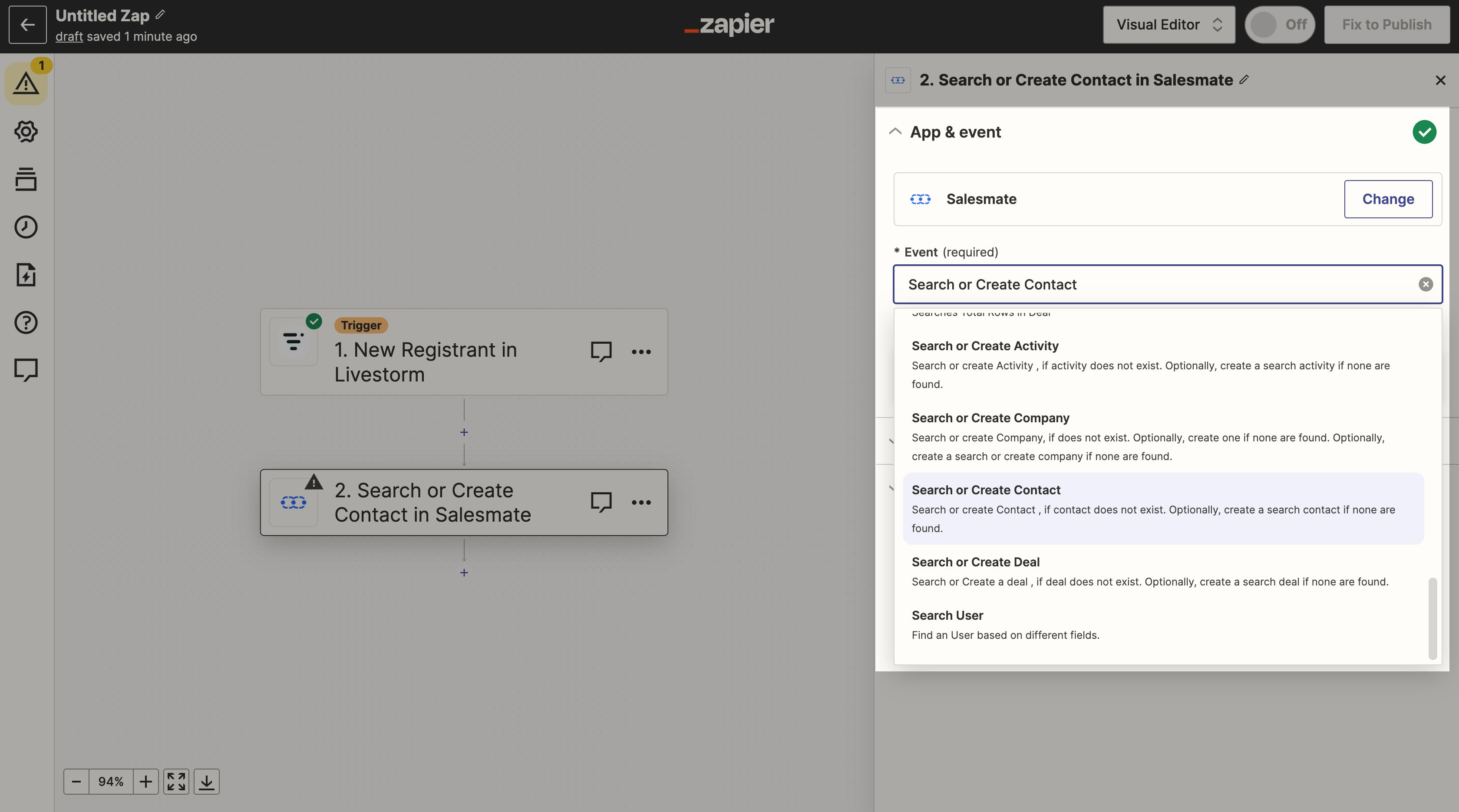 Click on

Continue.
Sign in to your preferred

Salesmate account.
Either select an existing account or Connect to a new Salesmate account Next, you'll be asked to name your Salesmate connection and enter your API Key. To locate your API Key in your Salesmate account, please follow these steps:
First login in to your

Salesmate Link
Login into your Salesmate Link ex. https://demo.salesmate.io

using your credentials
Navigate to the

Profile Icon

on top right corner.
Go to

My Account
Click on

Access Key
Copy the

Session key

to the clipboard.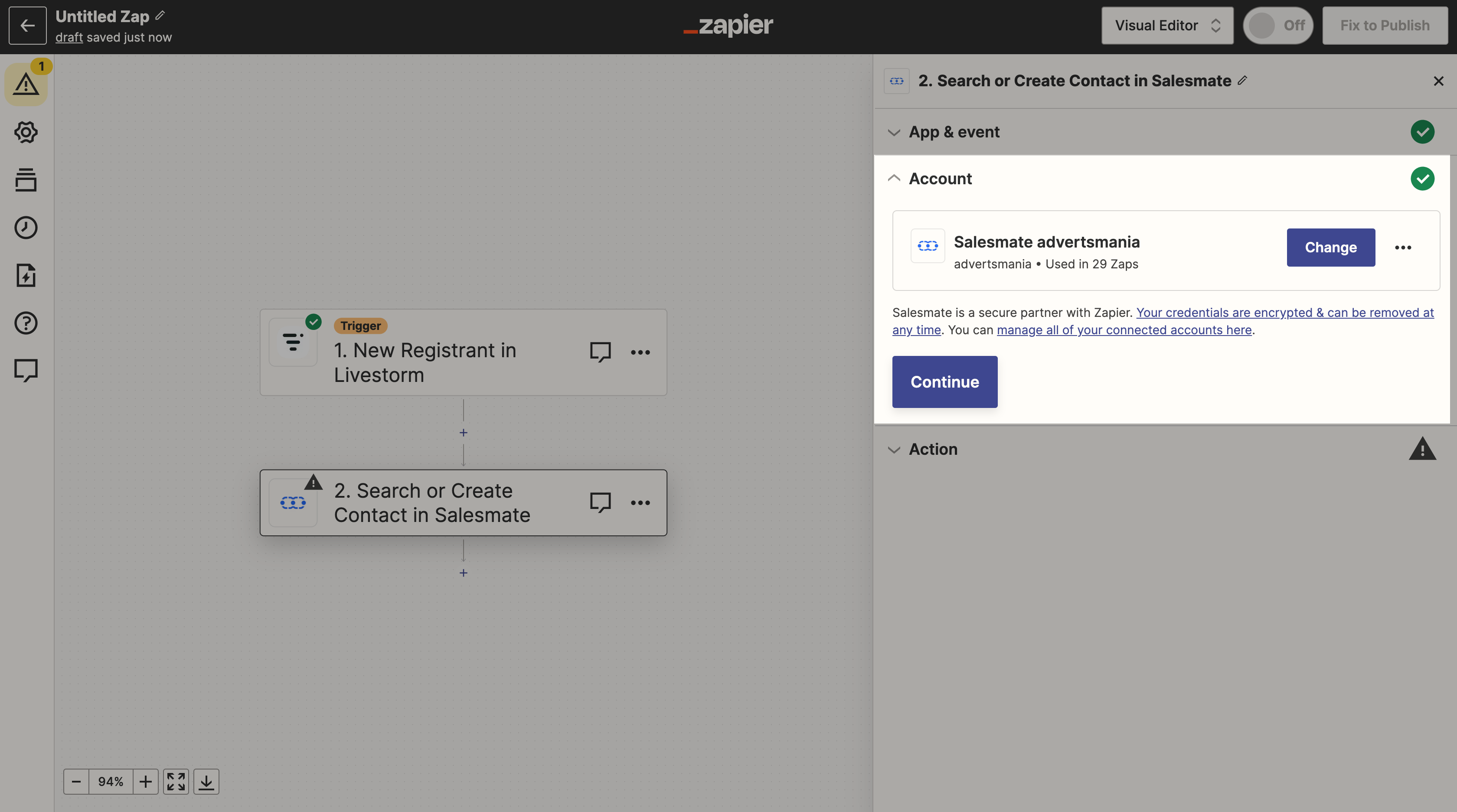 Search for Salesmate Contact using a Mapped Key: Contact ID, Email or Name
Map the respective Mapped value from Livestorm
Choose to create Salesmate Contact if it does not exist (optional)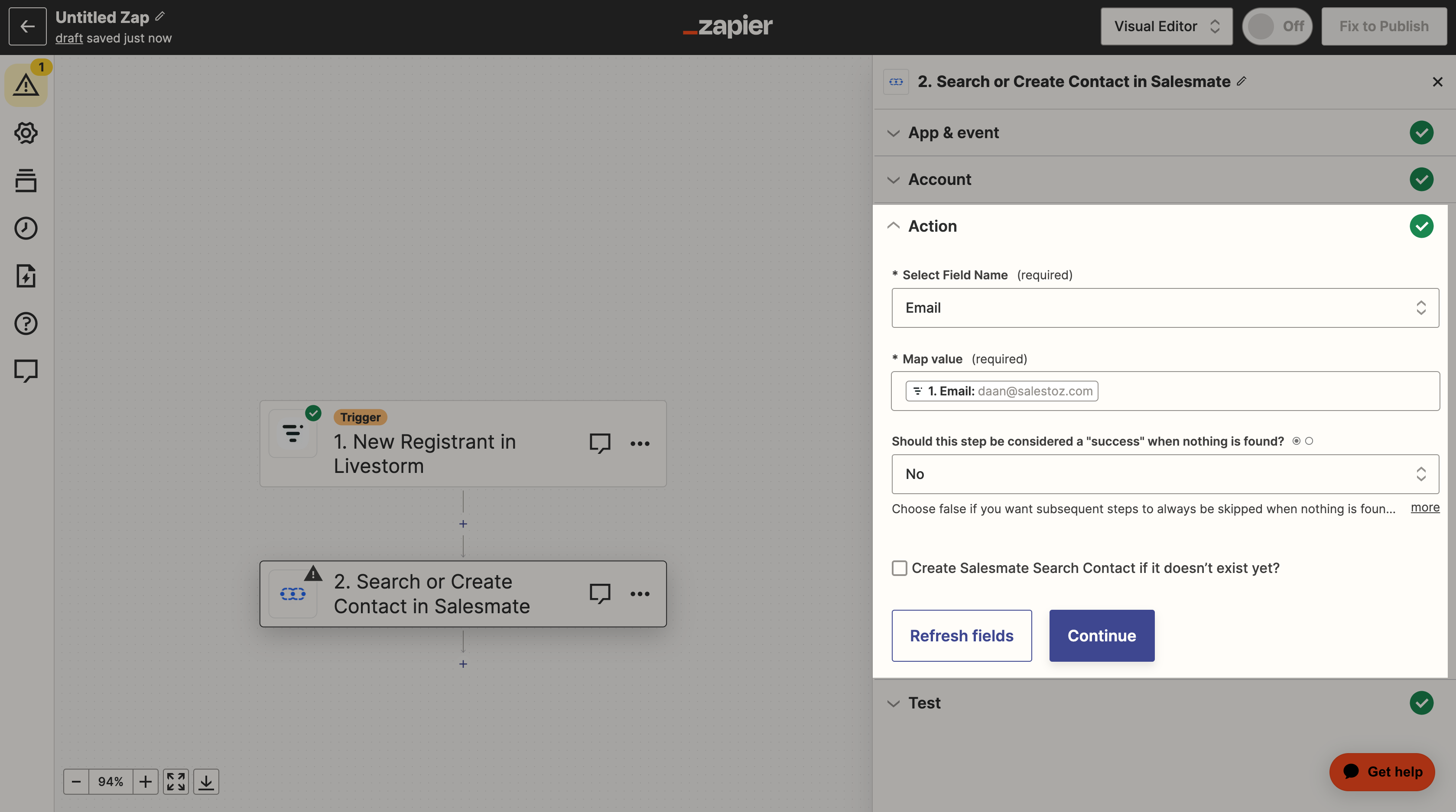 Set up the Salesmate Contact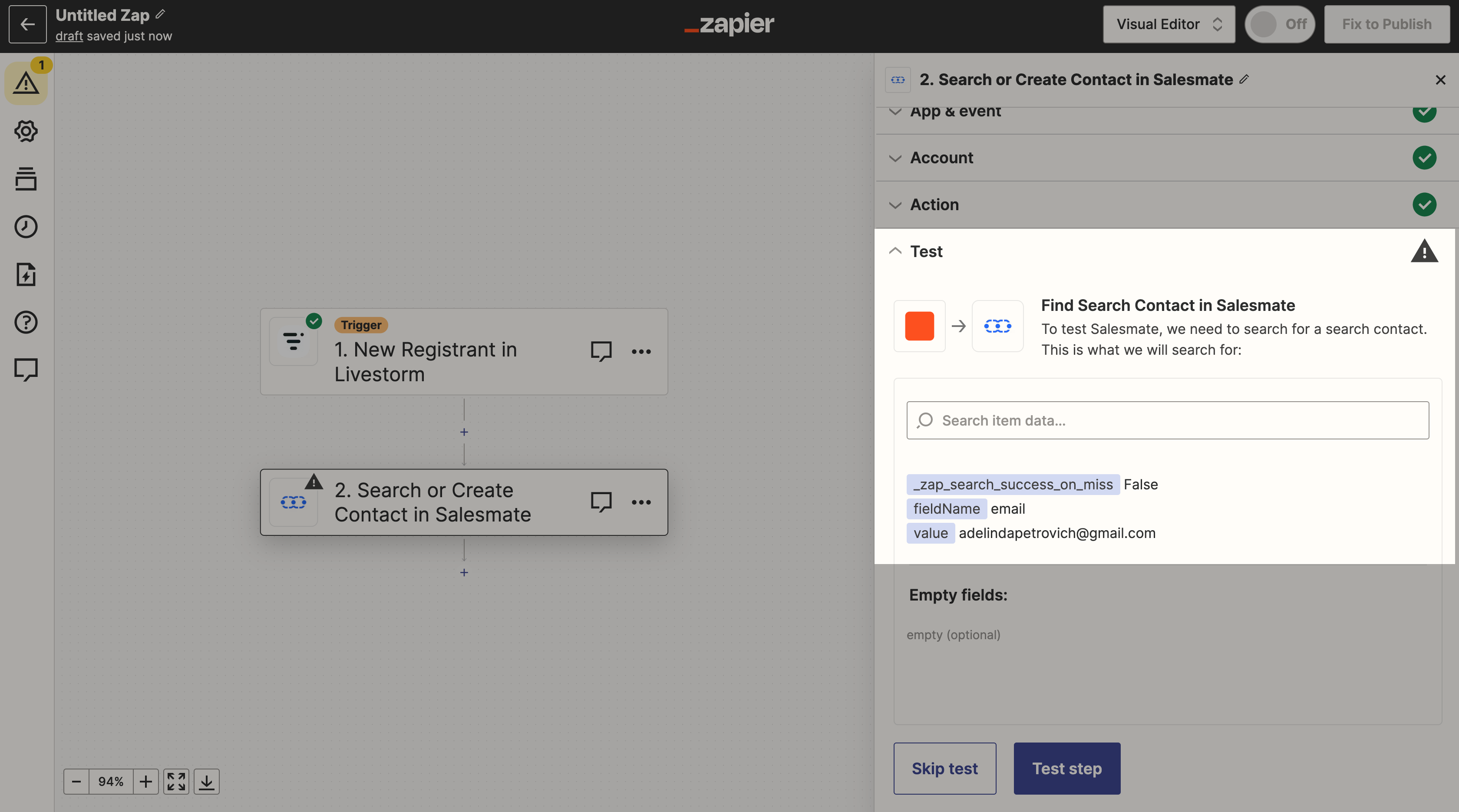 Here, you get an option to Test Step
Click on Test Step
If the tested Action looks good, you can go ahead and Publish Zap.
So go to your Salesmate account and start capturing leads into your CRM with this Livestorm & Salesmate integration!