Controlling what you can see is an important aspect of CRM. You can set your records to public view or can set more privacy settings easily inside Salesmate.
With Salesmate's Users & Security, you can manage:
To proceed to Users & Security,
Navigate to your Profile Icon on the top right corner.
Click on Set-Up
Head over to the User's & Security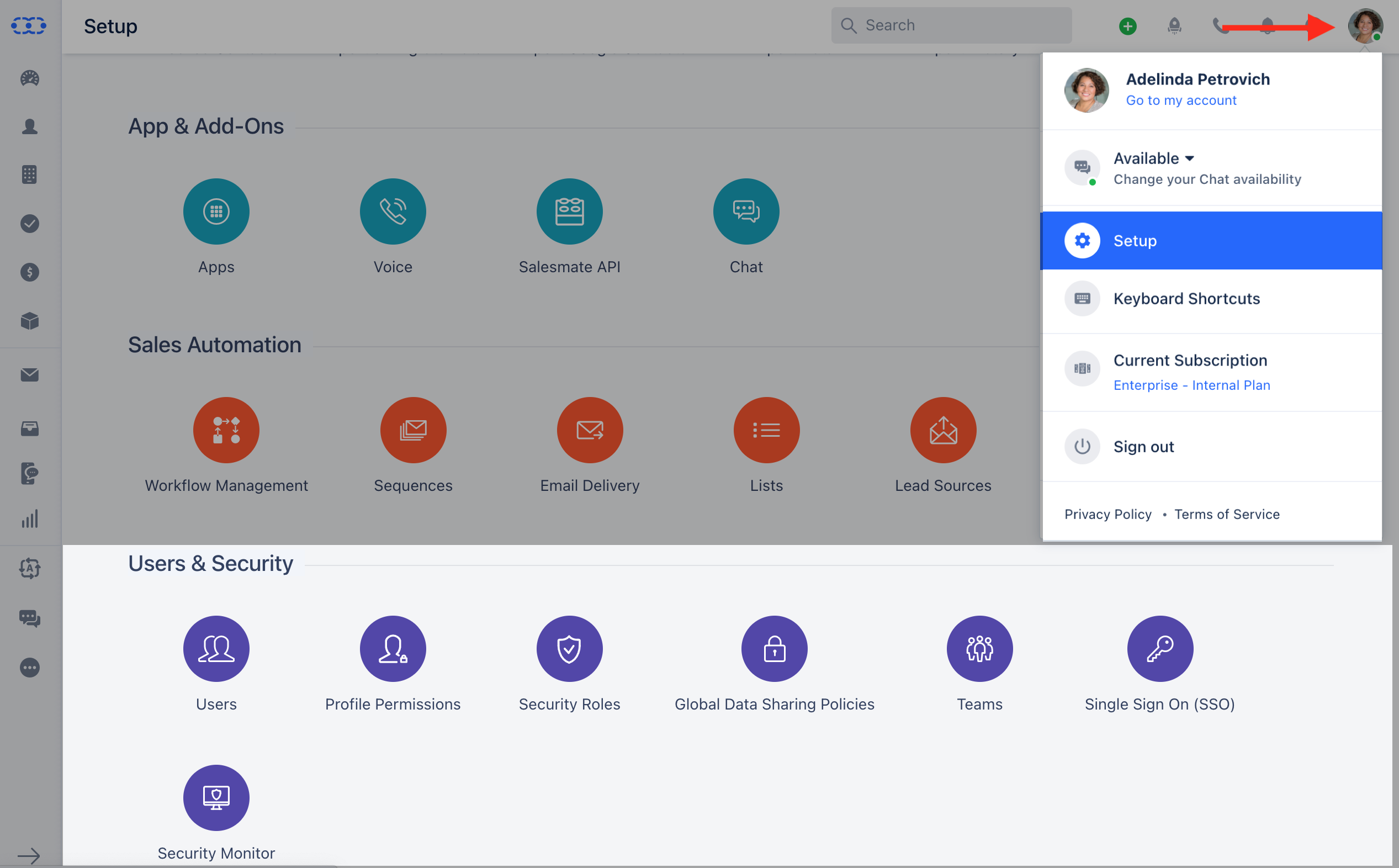 Users
In Salesmate CRM, a user is one who manages records, their own or those shared by other users, within the organization.
In addition to accessing the CRM data, some of the users have to perform administrative functions for the smooth running of the CRM account. Click here to learn more
Profile Permissions
Profile Permissions helps you define permissions for set of Users.

For instance, the permissions required for a person from Sales team might differ from the permissions required by a person in the Marketing team.

You can define the permissions for each profile as needed and specify the profile when adding a user.

Click here to learn more
Security Roles
A security role defines how different users, can access different types of records.

To control access to data, you can modify existing security roles, create new security roles, or change which security roles are assigned to each user.

Each user can have multiple security roles.

Click here to learn more
Global Data Sharing Policies
Inside Salesmate you can set the accessibility to allow or restrict access of the Users over different modules.
Private: Only the record owner and his/her superior can view the record.
Public Read only: Everyone can view all records but can't modify or delete them.
Public Read/Write: Everyone can view all records with the ability to modify and delete them. Click here to learn more
Teams
A team is a group of users that work together to achieve some common goals.

Salesmate allows you to organize your users into teams for reporting and maintaining organization structure for some quick actions

Click here to learn more.
Single Sign On
Single sign-on (SSO) is an authentication method that enables users to securely authenticate with multiple applications and websites by using just one set of credentials

.

Click here to learn more.
Security Monitor
Security

is a very important part of any software and thus it's important to keep track of all

your devices

and the

access history

to monitor for any suspicious activity and change the security settings accordingly. Click here to learn more.