Contact insights give you Graphical view about how contacts are moving inside your sequence. Based on that you can decide which stages require improvements. It will also provide the overall statistics of contacts enrolled in the sequence.
Navigate to the More on the left side Panel
Click on Sequence
Select on any specific sequence that you have created already or click on Create Sequence to create a new sequence.
Click on INSIGHTS
Navigate for Contact Insights
This report shows the data based on the total number of contacts added to the sequence in the specified date duration.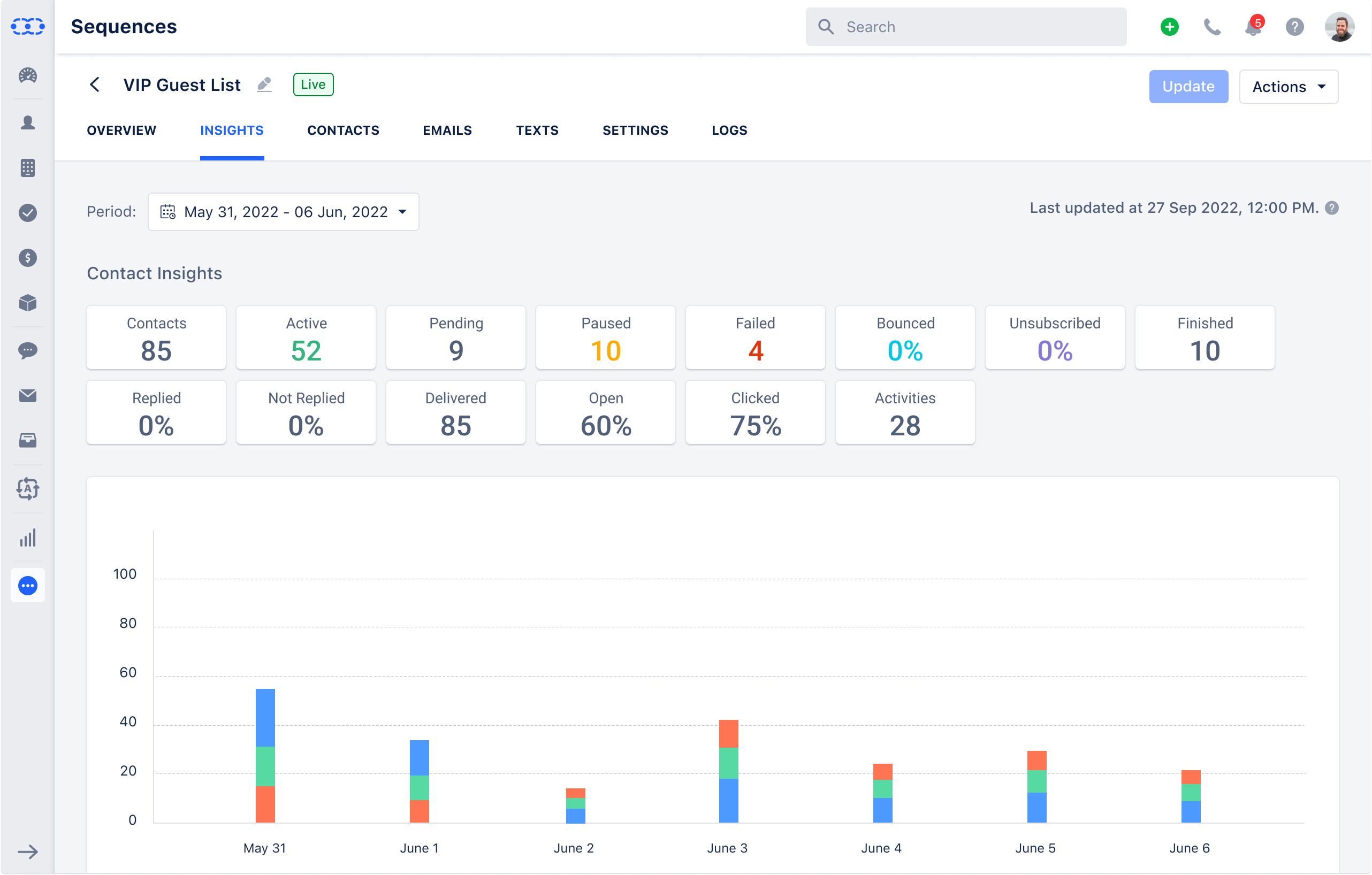 | | |
| --- | --- |
| Field | Description |
| Contacts | Total number of contacts which were enrolled to the sequence between selected date range |
| Active | Total number of contacts who are still active in the sequence (except finished and paused ones) enrolled between selected date range |
| Pending | Total number of contacts with pending Status which were scheduled to be sent through the sequence and enrolled between the selected date range |
| Paused | Total number of contacts which are paused in the sequence which were enrolled between selected date range |
| Failed | Total number of contacts which were failed in the sequence and enrolled between selected date range |
| Bounced % | Percentage of contacts which were bounced ((Total number of Bounced Contacts/Total number of Contacts enrolled in sequence) *100) |
| Unsubscribed % | Percentage of contacts who have unsubscribed ((Total number of Unsubscribe Contacts/Total number of Contacts enrolled in sequence)*100) |
| Finished | Total number of contacts who have finished the sequence |
| Replied % | Percentage of contacts who have replied ((Total number of contacts finished with reply/Total number of finished contacts)*100) |
| Not Replied % | Percentage of contacts who haven't replied and finished the sequence ((Number of contacts finished with no reply/Total number of finished contacts)*100) |
| Delivered | Total number of emails delivered to the contacts who are enrolled between the selected date range. |
| Opened % | Percentage of contacts who have opened emails ((Total number of open count/Total delivered count)*100) |
| Clicked % | Percentage of contacts who have clicked links or URLs from sequence emails ((Number of click on email linked/Total delivered count)*100) |
| Activities | Total number of activities which were completed related to the contacts enrolled to the sequence |