Salesmate gives you ease to manage your day to operations using the Activity functionality like Tasks, Meetings, Calls, etc.
You can add an activity from the following pages:
Activity Listing Page

Go to the Activity Module
Default view selection is List
Click on + Activity

You can now fill in the information as required using the creation Form
Fields available as default:
Activity Title - Purpose for which Activity is Created
Type - Helps you to identify the kind of Activity the user needs to perform
Date & Time - Helps you define:

Start Date
End Date
Start Time and
End Time

Calendar View - You can now find a Calendar view to check for the available date and time for auto "Date & Time" field selection upon click to schedule the upcoming Activity
Calendar Options -

Invitees: Invite Users, Contacts, and Email Addresses (Option to save as Contact) to the Meeting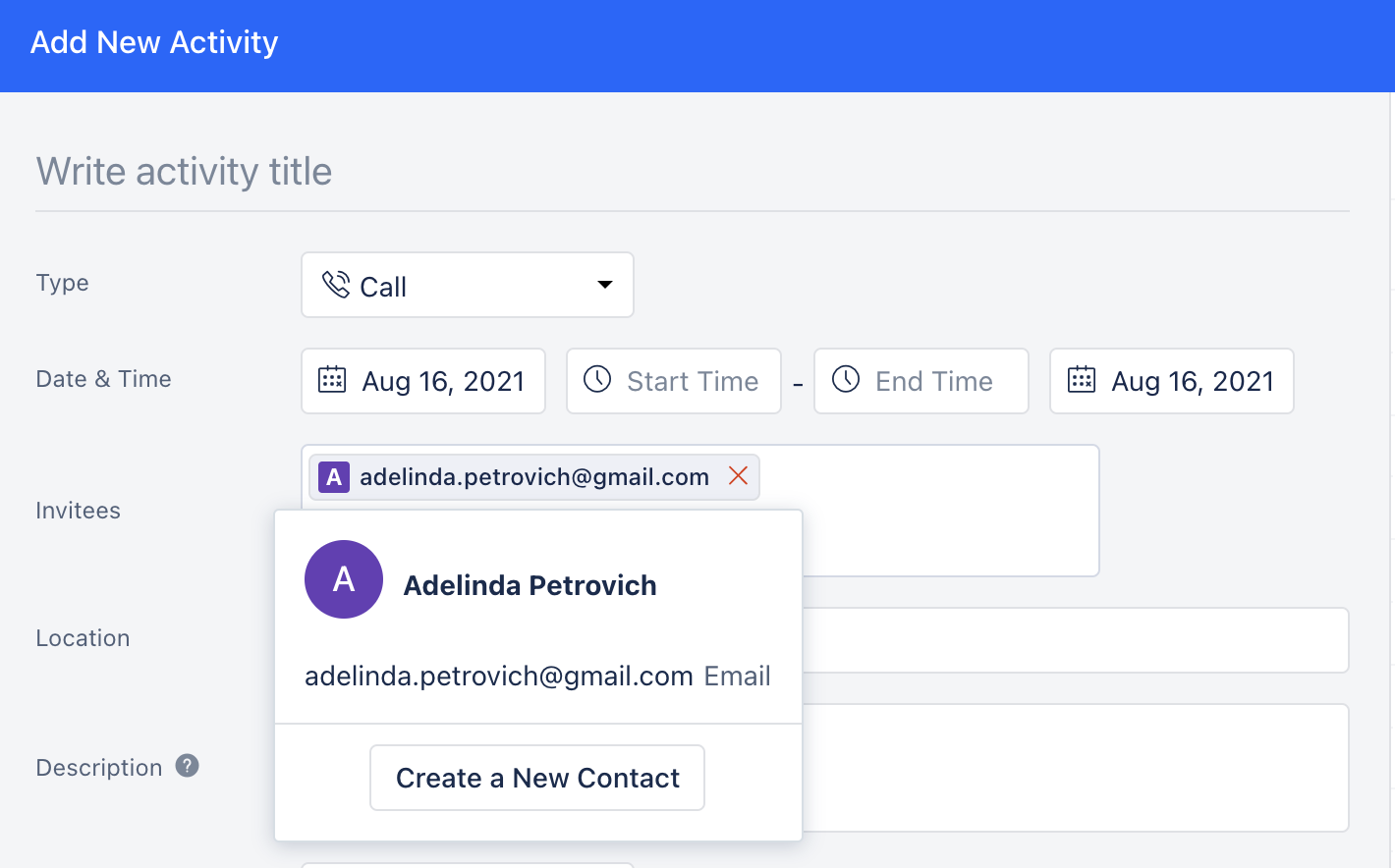 Location - You can provide Meeting Location Details using this option
Description - You can provide minutes of the meeting here or purpose to make the attendees aware of the event. You may Note that the description will also sync with the Calendar Event
Recurrence - You can select this option if the Activity has to be performed on regular basis as a repetitive event

Availability - Busy/Free, this option helps users identify your availability for other meetings
Internal Note - Internal summary can be maintained for quick reference
Owner - The Key Account Manager handling the Activity
Link Records - Let's you associate Contact, Company, and Deal with the Activity
Followers - Associate users or contacts for internal tracking (this does not affect Calendar invite)
Tags - Tags help you easily identify records under Filters and Conditions for the next sets of Action
Hit Save to move back to the last operation page
Or click Save and add other to create a New Activity
Activity Calendar View
Go to the Activity Module
Default view selection is Calendar
Click on the required Date window (Date Box) to create Activity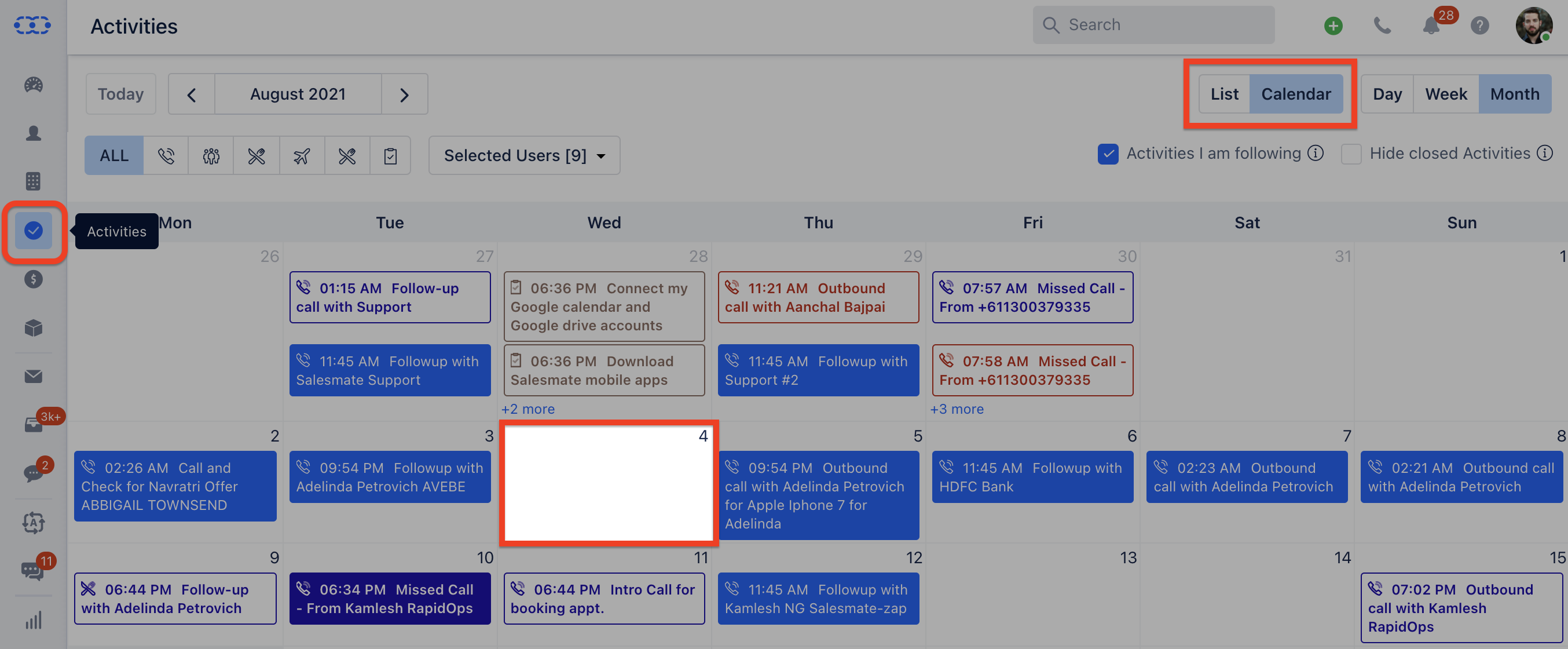 You can now fill in the information as required using the creation Form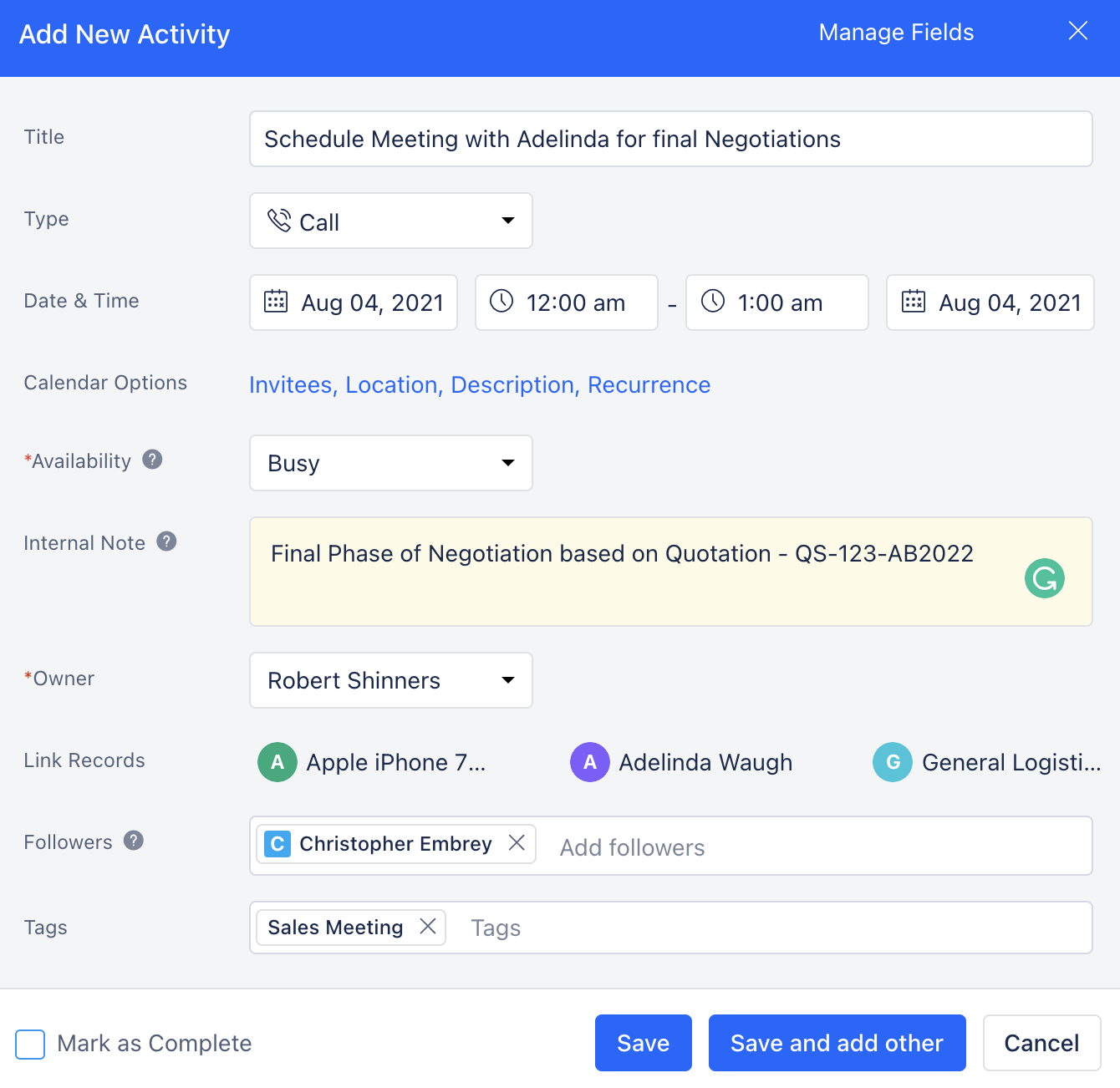 Salesmate offers flexibility for creating records from the details page of records, like Contact, Deals, company.
You can achieve the same by following the below highlighted steps:
Go to Contact/Company/Deal Details Page
On the Detail screen under Operations Menu users will be presented with two options -

Add Activity - Let's you Create an Activity for Current and Future Date.
Log Activity - Let's you log a completed Activity that is not listed in Salesmate.
Add Activity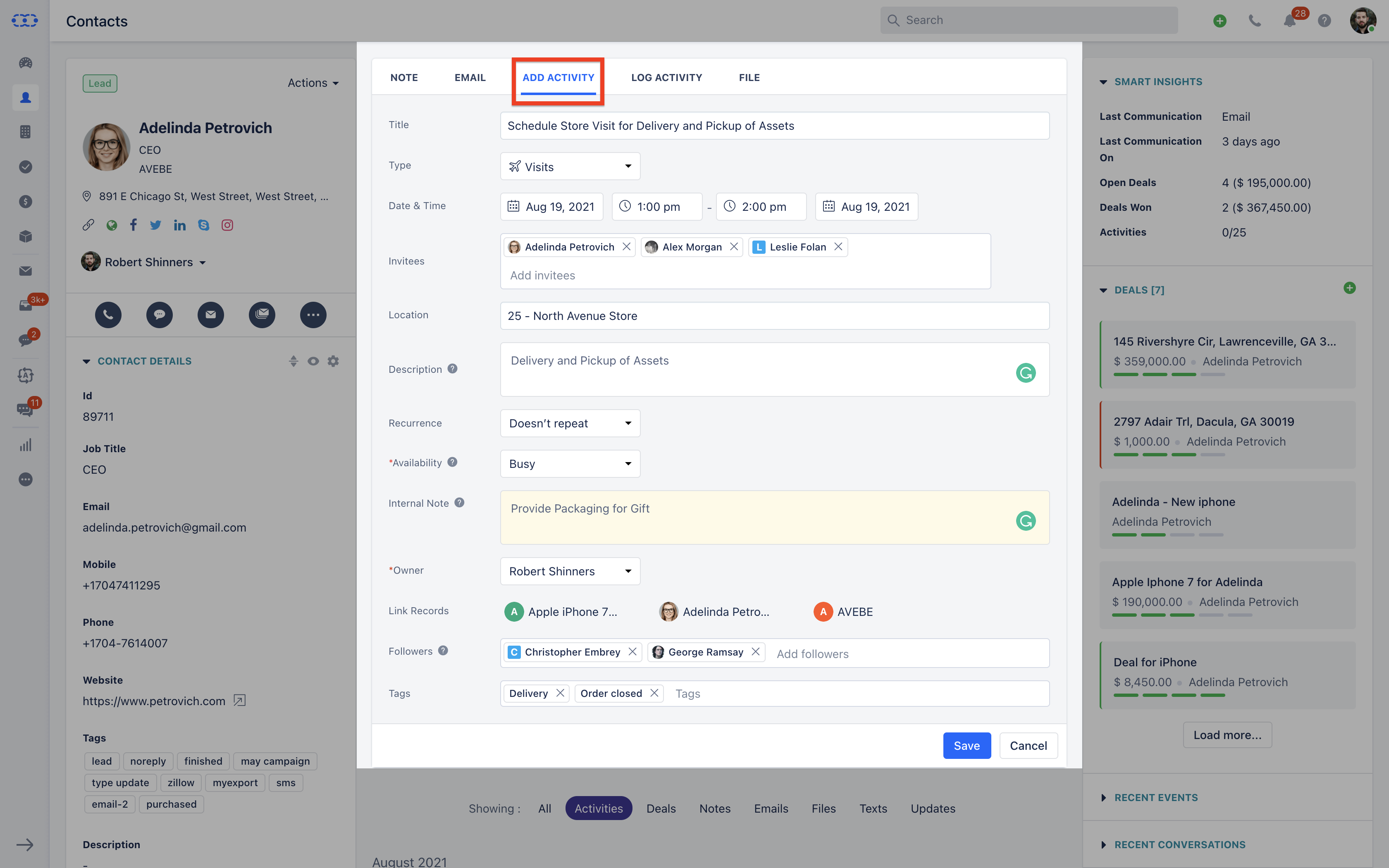 Log Activity

Contact/Company/Deal Quick view: Click the three-dotted Action button > Add Activity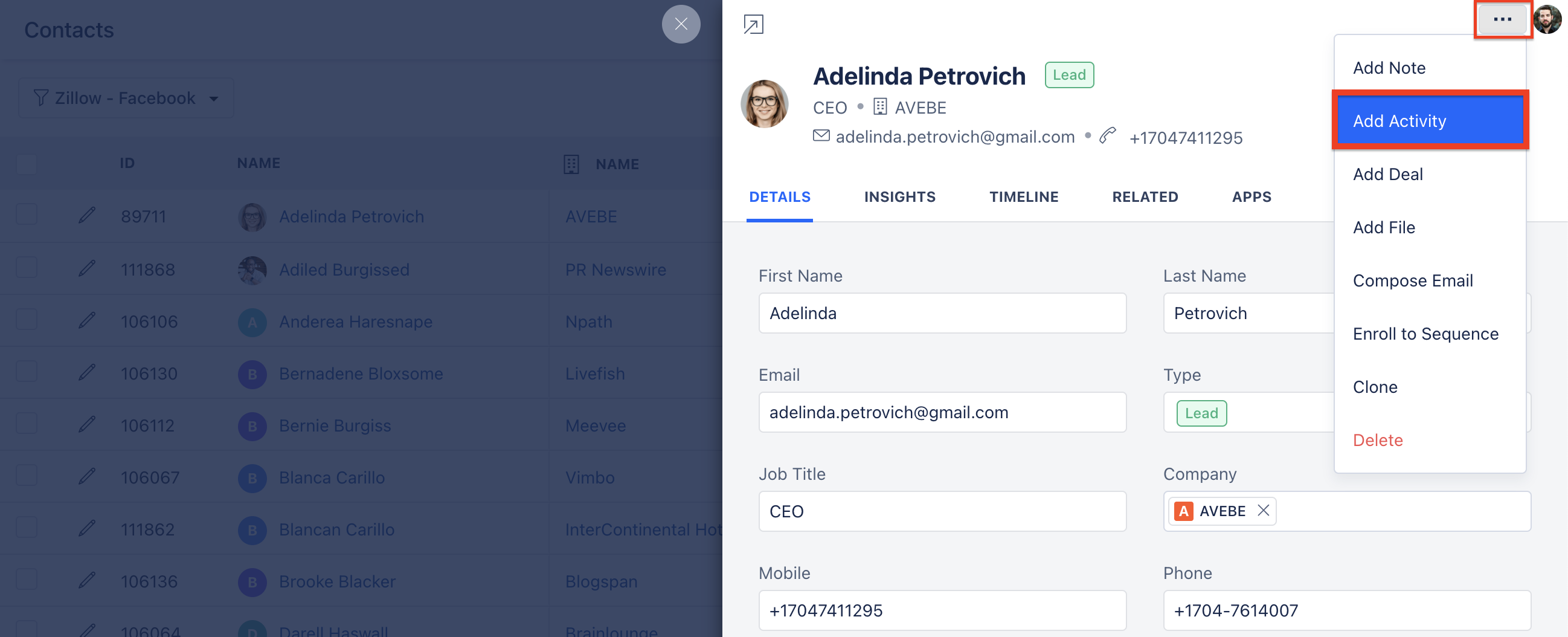 Quick Add + button
This option helps you to create records easily irrespective of the screen you are in from the header section
You can also use the shortcut key combinations - "CA" to Add Activity on the go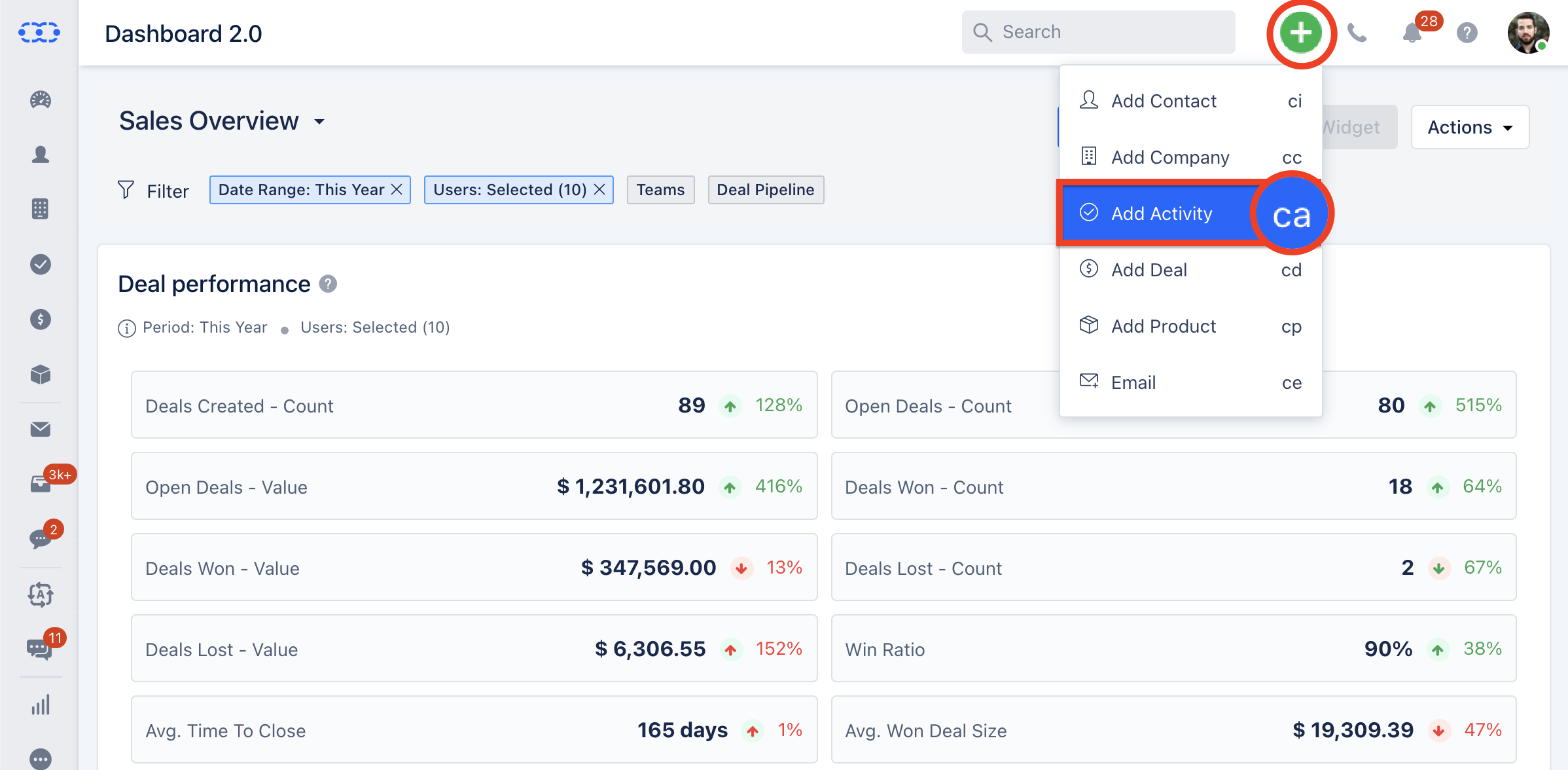 Tip:
Mark Activity as completed by checking 'Mark as complete' while creating the activity.