As part of the phone industry's efforts to combat spam and improve the delivery of legitimate text messages, organizations that send text messages to US ten-digit phone numbers are required to register the phone numbers that they are using for their SMS messaging campaigns.
Ensure delivery of your text message by registering your SMS campaign with an A2P trust vendor.
Such registries use standard ten-digit phone numbers (also known as 10DLC) as part of an industry-wide effort to reduce unwanted text messages. All major communications service providers, including Twilio and DialPad, are members of such trust vendors.
A2P 10DLC Vetting Delays: A2P 10DLC registration currently takes at least 3 weeks or more due to higher than normal volume of requests. Campaign submissions initiated at this time will most likely not be available before the August 31, 2023 A2P registration deadline.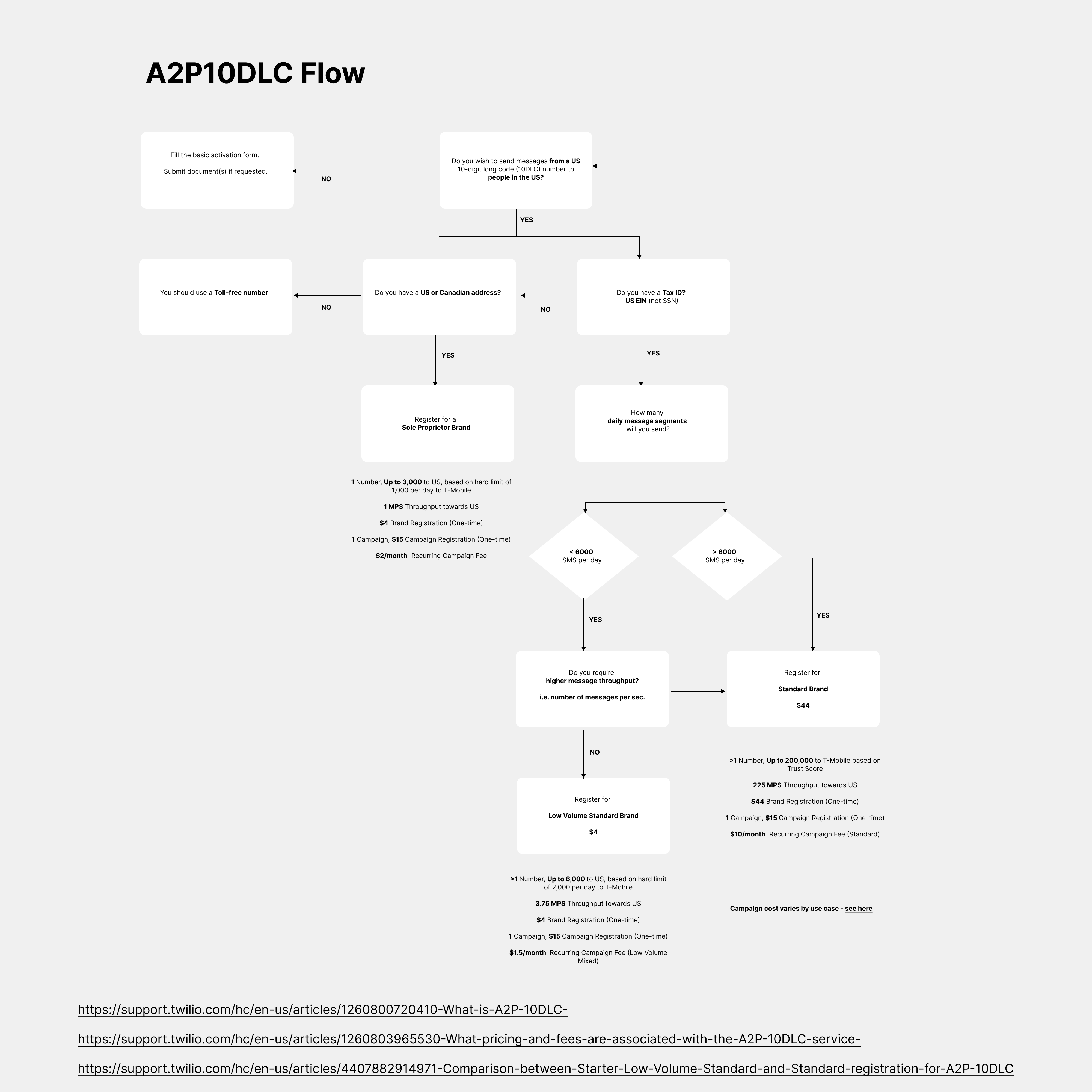 How do I know if I am affected by this?
All companies that use SMS will be affected by the new industry rules, including person-to-person conversational messages, but you are more likely to notice an impact on your messaging if you send a substantial amount of outbound SMS, such as large companies, companies that use messaging for marketing.
Why do I need to register my SMS messaging campaign?
By registering, you validate your company to the United States messaging ecosystem, which will:
Ensure your messages get delivered to your users and customers, and

Reduce the cost to your business based on Salesmate passing through the increased costs of unregistered campaign messages.
What do I need to do?
Business Profile Registration
A2P Brand Selection and Registration
SMS campaign use cases within the ecosystem.
Navigate to Profile Icon in the top right corner
Go to Setup
Click on Voice under Apps & Addons Category
Here, go to Regulatory Compliance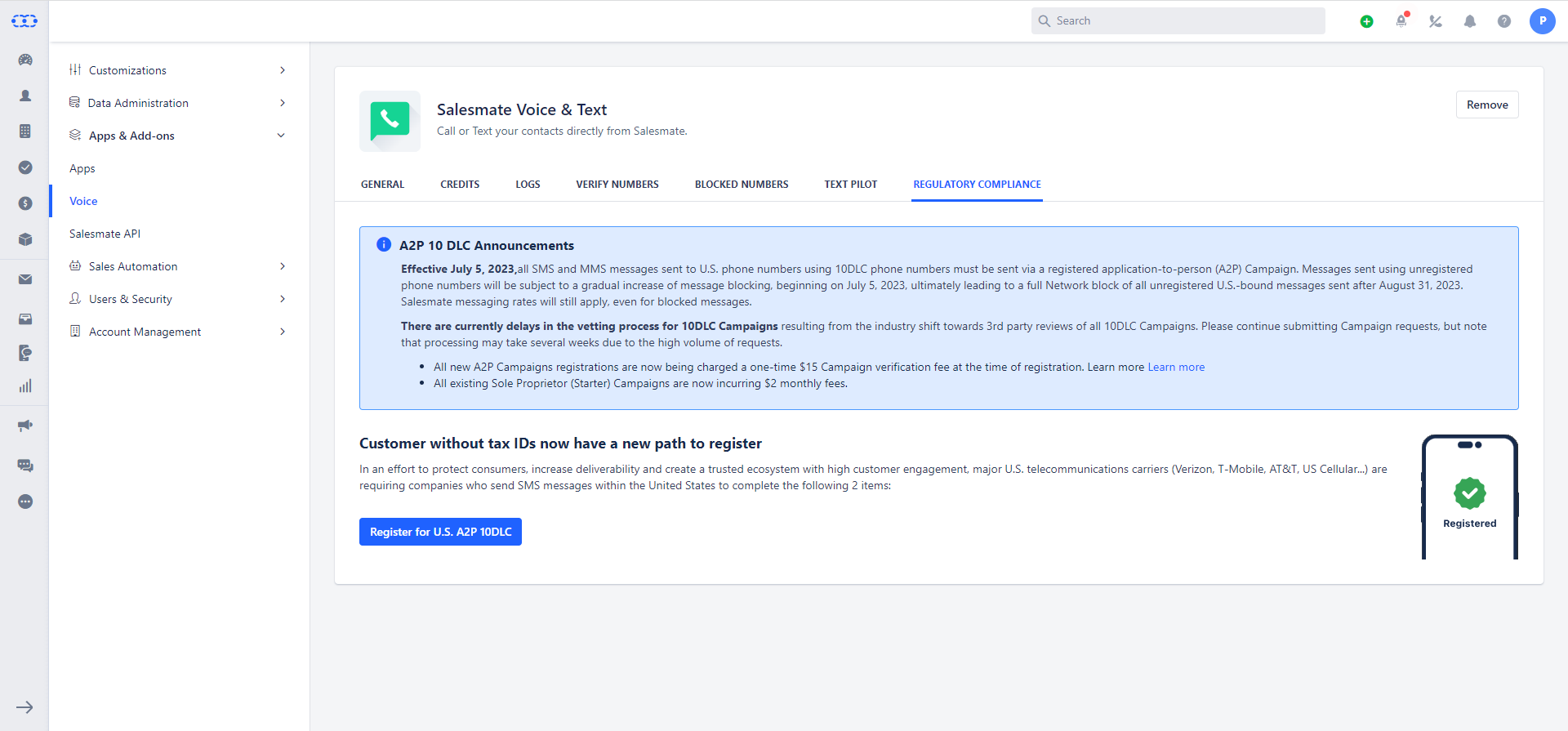 Before you begin the registration process for A2P 10DLC, you will need to have the following information on hand:
Please note: If you have a US entity or an International Tax ID, use EIN to register your business profile and to avoid brand registration failures. Do not use a DUNS number.
Business Profile Registration
Business Information

Business Name
Physical Address (Street, City, State/Province/Region, Postal Code, Country)
Business Identity (Direct Customer or ISV/Reseller/Partner)
Business Type (Sole Proprietorship/Partnership/Corporation /Co-Operative/LLC/Non-Profit)
Company Type (Private/Public)

Stock Ticker & Exchange (if Public)

Business Registration Number/Tax EIN and Type (DUNS or Business License)
Industry
Website
Regions of Operations

Point(s) of Contact

One authorized representative with the following info:

Name
Email
Title
Phone Number
Job Position (Director/VP/GM/General Counsel/CEO/CFO)

You may use one point of contact from your own company as the authorized representative across all of your customers for registration purposes in case of Standard Brands.

For Starter Brands, you should collect unique contact information for each Starter Customer Profile you create. Contact information cannot be duplicated across Starter Customer Profiles.

Providing a second authorized representative is optional.
A2P 10DLC Brand Selection and Registration
Only Business Profile (Sole Proprietor)

Registration

($4 one-time fee)




Customers sending fewer than 3,000 message segments per day to U.S. destinations are now required to complete A2P registration for each of their phone numbers. Messages sent with unregistered phone numbers are now incurring additional per-message carrier fees and may be subject to filtering or blocking.
Standard Brand

with

secondary vetting($44 one-time fee)

Secondary vetting is an additional brand review done by carriers that allows for higher daily message limits and maximizes throughput per campaign. The process ensures accuracy of information and maximizes your

Trust Score, with no additional time for approval.



By skipping secondary vetting, you will not receive a TCR score, and will be limited to register campaigns with a limited set of use cases (

To send under 6,000 message segments per day

). Skip secondary vetting only after you have reviewed this document

, and understand the implications.
Note: Based on the option submitted. This fees will be directly deducted from your Salesmate Voice Credits.
SMS campaign use cases within the ecosystem.
We will be submitting this information to carriers so they understand what type of messages you'll be sending. Each A2P Campaign use case registration fee is $15 (a one-time registration fee at the time of vetting). In addition, carriers charge a monthly fee ranging from $1.5 to $10, depending on your campaign use case. Declaring your exact campaign use case rather than using a mixed campaign use case will generally result in higher limits from AT&T because you're being more specific about what messages you are sending.
Note: All one-time charges during this process will be deducted from your Salesmate Voice & Text credits in case of Salesmate Voice & Text services or billed separately to your account. Recurring charges will appear as an add-on in your invoice.